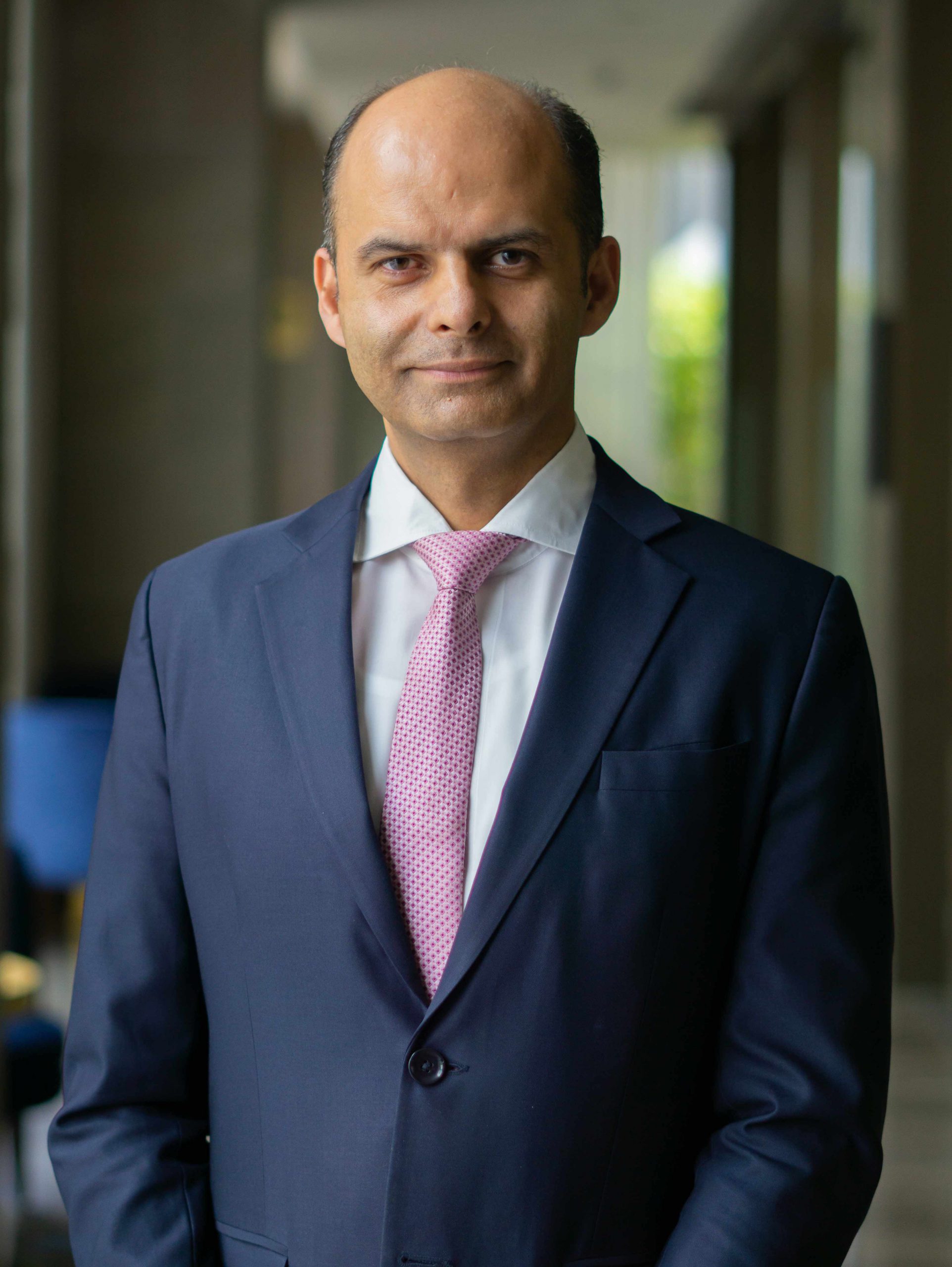 By Kush Kapoor – CEO, Roseate hotels & Resorts
Sustainability is intrinsically a part of who we are and what we do. It is deeply embedded in the Roseate philosophy. It begins with a mindset. A commitment.
We preserved the natural landscape across each of our hotels to the very best possible. The Roseate New Delhi a verdant green oasis in the capital city, conserves more than 1000 trees. Water bodies, lush gardens, birds are a part of the fascinating ecosystem. It is a place to unwind, relax, disconnect to connect with yourself, far from the madding crowd.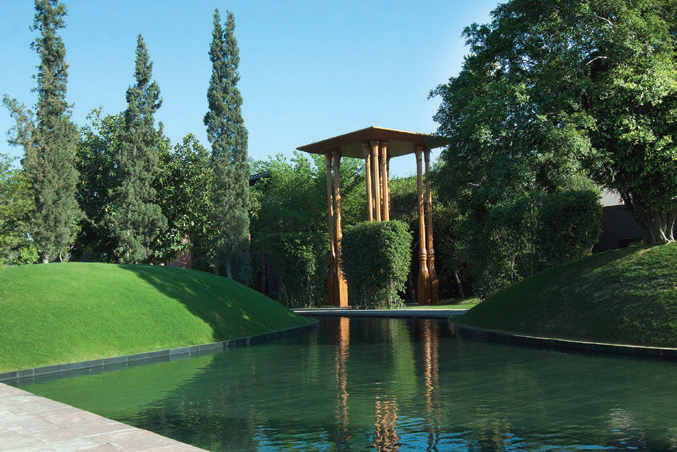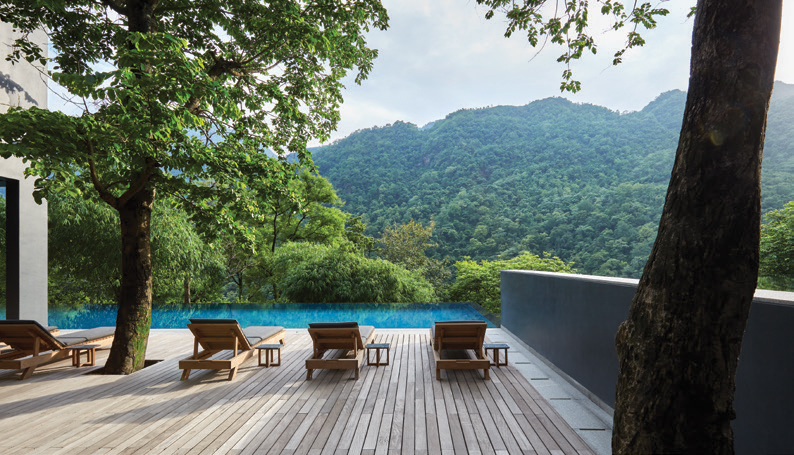 The Rooms & Suites across our hotels are mindfully designed as calming sanctuaries that allow fresh air and sunlight to waft inside. The colour palette is pastel and calm, mostly earthy to induce harmony with the larger ecosystem. Our aim was to reduce the surrounding noise and unnecessary clutter, creating an austere yet warm space for reflection and introspection.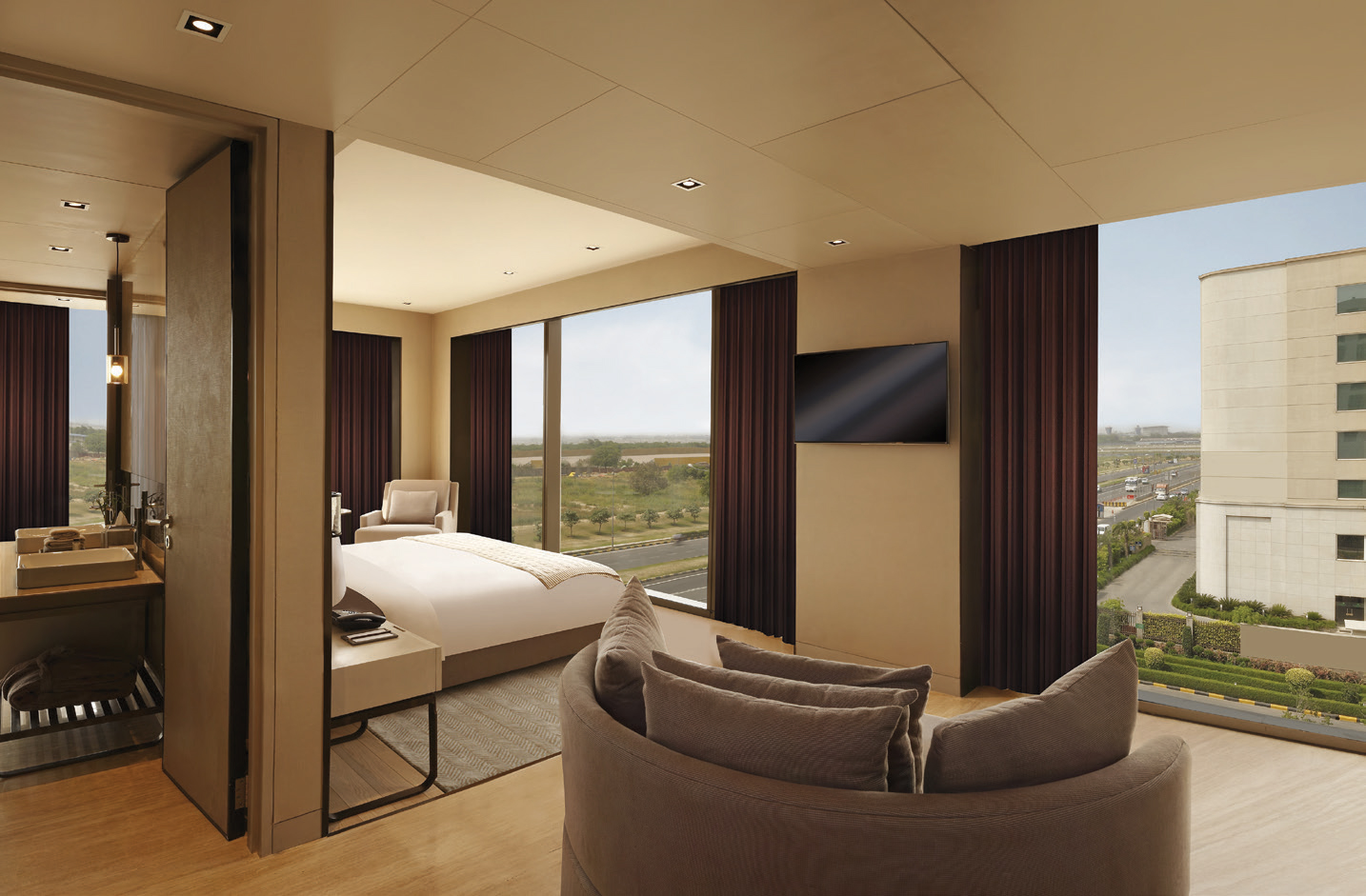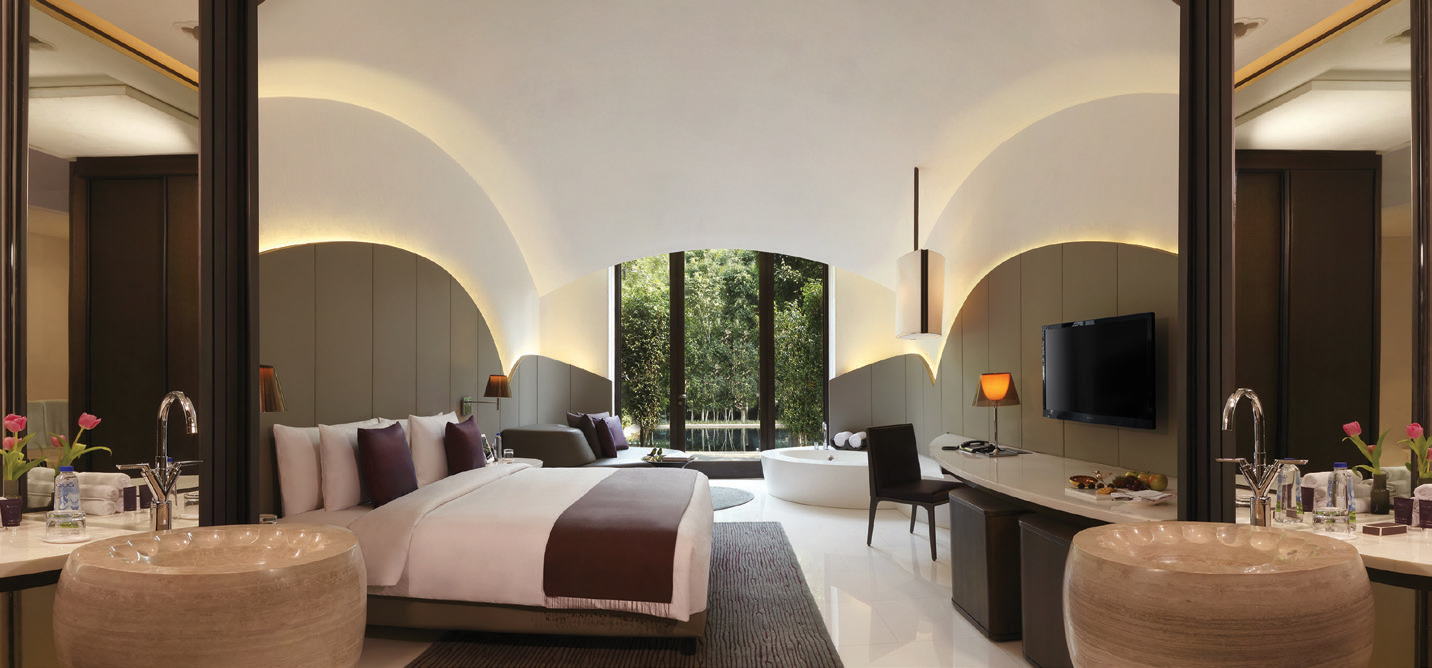 Harmony with the environment has been at the helm of everything. At the Roseate Ganges, the focal point of each room is the view of the forest and connect with the landscape. The skylight in the bathrooms gives a feeling of being in the open and enjoy natural light throughout the day. Large balconies overlooking the verdant valley give a sense of unperturbed tranquility and are a very prominent part of the experience. Usage of white marble and hardwood lend a sense of warmth which is juxtaposed with raw concrete plaster to take away the attention from the indoors. A sense of juxtaposition of the raw and finished, the hard and soft is apparent to create an experience of understated luxury. We've used natural materials such as hardwood, granite, marble and brass to lend warmth to the spaces. These materials have been used thoughtfully for long lasting use and give a sense of permanence.
Roseate Hotels & Resorts are non-smoking hotels. Most of our key departments are paperless. We do not use plastic in either room amenities or straws across our restaurants. In room amenities like combs and toothbrushes are being replaced by those made with high quality bamboo. Carry bags used across our take away Cafés & Patisseries are made with certified recycled paper. We recycle waste water. Specially designed water tanks are used to save, store and reuse water. Kitchen waste is mindfully converted to compost which is used across our organic farms and hotel landscapes. We use biodegradable bags for waste disposal and all single use plastic has been discarded as well.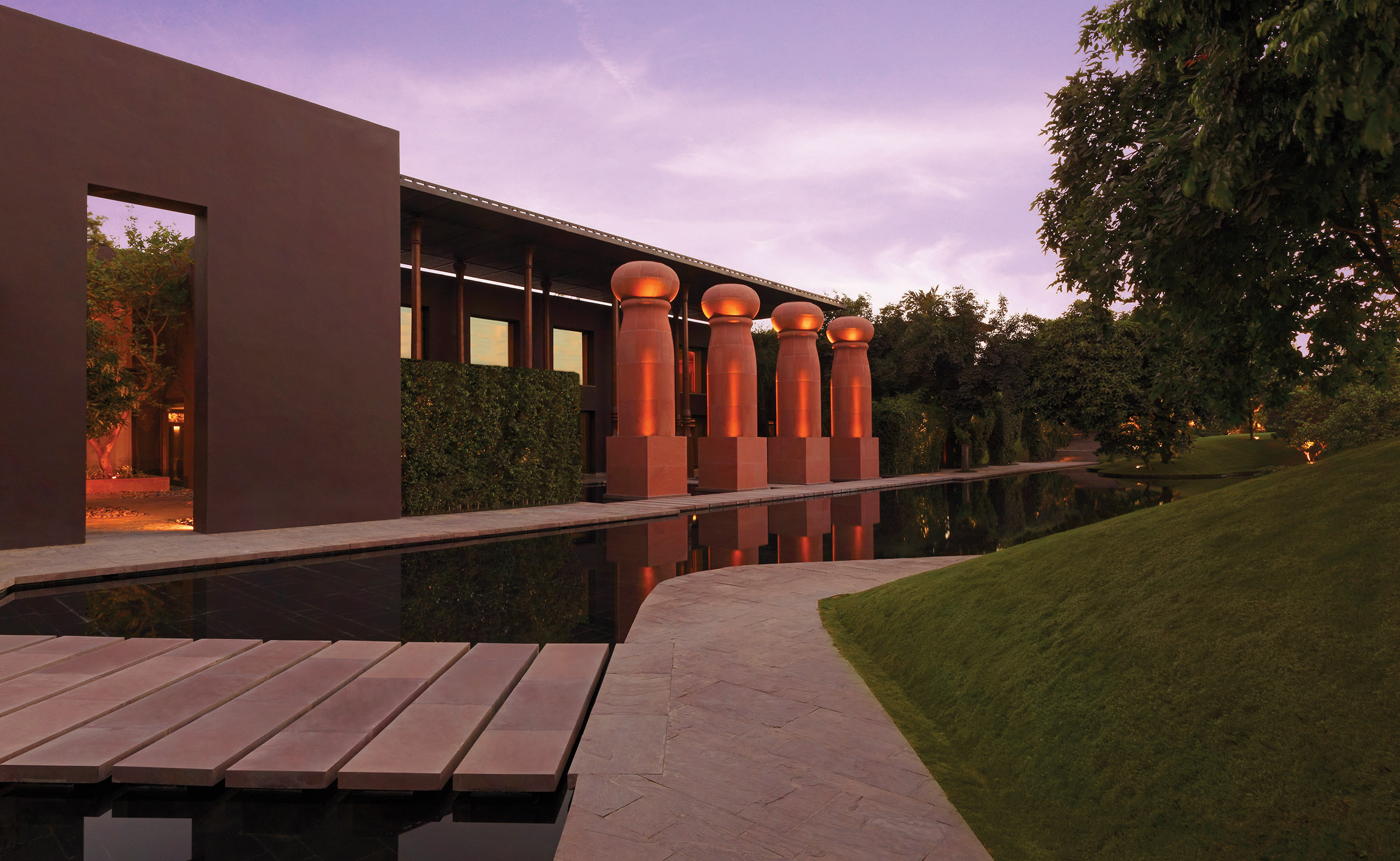 The resort has installed state of the art panels that collect moisture from the atmosphere, purify it and make it safe and healthy. This in-house brand of bottled water is further hygienically packaged in glassware, replacing plastic bottles. It is treated carefully before converting into alkaline water with 8ph value in it and blended with trace minerals.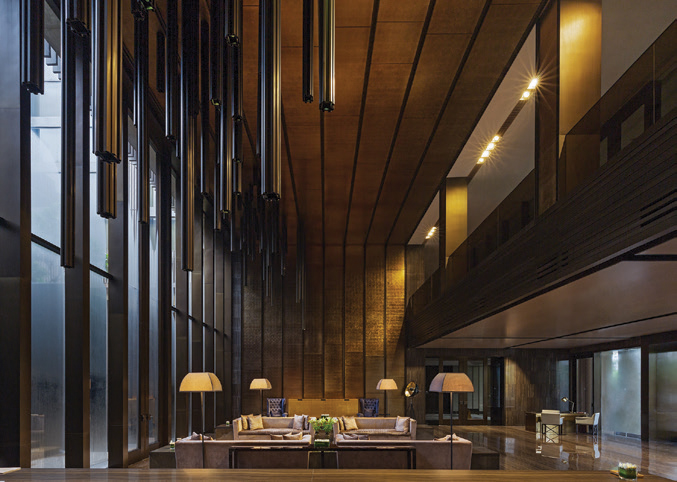 2023 has been declared Year of Millets, which are now used across restaurants and cafes of Roseate Hotels & Resorts. All the produce that comes from Roseate Farms is 100 % organic. Some of the vegetables we grow at our farm, include leafy greens like spinach, mustard, lettuce, bakchoy, napa cabbage, kale and celery, radish, carrot, beet, broccoli, mangoes, ginger, fresh turmeric, mandarins and herbs like thyme, cilantro, mint, rosemary and sage.
Adopting the Farm to Table philosophy seamlessly, we have signed an exclusive MOU with the Sattvik Council of India and are the only brand of hotels certified to offer Sattvik food and rooms. Sattvik products are free from any contamination from animal products or chemicals. Our hotels will shortly be serving Sattvik food prepared in Sattvik certified kitchens at our hotels. Going forward, we will soon have Sattvik rooms that will have linen and toiletries that are certified as Sattvik compliant.
Guests can now enjoy a refreshing array of green salad leaves, Butter head lettuce, Crisp butterhead lettuce, red swish-chard, Romaine lettuce, Baby spinach, Oakleaf from our very own hydroponic farm. Hydroponics is a type of horticulture which involves growing plants without soil, by using water-based mineral nutrient solutions in aqueous solvents. The seeds are sown in the selected substrate – wool rock, leca, sawdust, coconut fibre, or vermiculite to create seedlings. The seedlings germinate in the nursery and are then transferred to a place where they can grow until the plants are ready to be harvested or produce fruit.
Optimal use of energy is a part of our top priorities. We use solar energy for heating hot water. 80% of the hotel is designed with advanced energy conserving LED lighting fixtures. The Hotel HVAC is designed with the energy conserving Variable Frequency Drive. The Hotels are designed and fixed with Air Quality purifying TFA (Treated Fresh Air). We are converting our fleet of vehicles to hybrid vehicles to support our efforts towards sustainability and reduce our dependence on fossil fuels.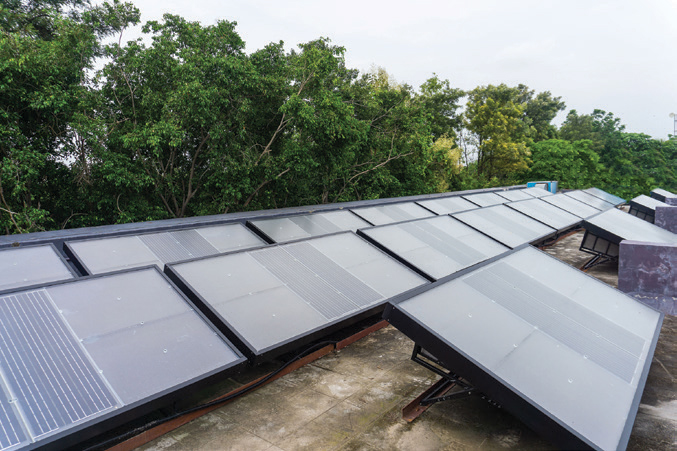 In our quest to offer unparalleled experiences and quality to our guests, an exclusive range of Roseate Tea and Coffee have recently been introduced   across   our   hotels, that   are   being   sourced   direct   from    organic    tea    estates    and    coffee    plantations.
Roseate Hotels & Resorts is proud to innovate and offer opportunities for our team to grow – both professionally and personally. A few initiatives we have introduced in this direction include once a week Yoga or mediation for our teams and 2 days fully-paid to be spent at an NGO assisting those who are lesser privileged than us. This could be an old-age home, children's education centre, health care facility or any other NGO. We also mandate that all leaves are consumed within the same year and are not carried forward. This ensures our teams can spend time away from work with their family and loved ones. Professionally there are multiple growth opportunities for our team. We now have 5 employees who have moved from India to our hotels in the UK. Within India there are always 8-10 employees who are moving between our hotels. This allows them to get greater exposure, break the monotony and expand their network. We also have an employee stay program that gives 2 nights free of cost per year to each employee to enjoy. We even provide our employees with items like the produce from our Hydroponic farm at rates lower than those in the market. These are small steps that we have put in place and will expand on these in due course. Our focus is to have happy and healthy teams at Roseate Hotels & Resorts.
Roseate Hotels & Resorts has been recognized for its commitment to sustainability. Roseate House New Delhi has been accredited with LEED Gold rating- The Leadership in Energy and Environmental Design (LEED – INDIA). The Roseate New Delhi was accredited with Green Hotels 2019 Award in Silver Category.