Heavenly Honeymoons – Build Forever Memories With That First Trip Together
How glorious to get away with your new partner after the seemingly endless, and quite definitely a little stressful, manoeuvrings of the wedding. Couples today like to plan this most anticipated outing together based on a shared interest; sometimes it is food, sometimes it is history, and sometimes adventure, and it always comes with the excitement of that first shared experience.
San Sebastian, Spain:
Set near the France border town of Biarritz and a few hours by car/train from Barcelona, the coastal Basque town of San Sebastian offers easy access from other popular destinations. But once you are here, it would take a great deal temptation to pull you away from this quaint coastal town set on the Bay of Biscay that is a foodie seventh heaven. Apart from the beautiful beaches and an easy-going atmosphere, San Sebastian is a base for globally top-rated chefs and is home to an upscale tapas called the Pintxo. So, it could be a decadent vacation with great wine and world-class food.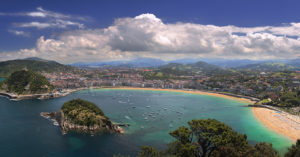 Galapagos islands/Peru, South America:
How does swimming with sharks and sea lions sound? Or hiking up a mountain for spectacular views of an ancient citadel? For adventure fans looking for a honeymoon to remember, the Galapagos islands, which is in Ecuador territory, or a less than three-hour hike up Peruís Huayna Picchu, which offers breathtaking views of the Inca civilisation structures on the nearby hill of Machu Picchu, will surpass all expectations. Continue reading "Offbeat Honeymoon Destinations"