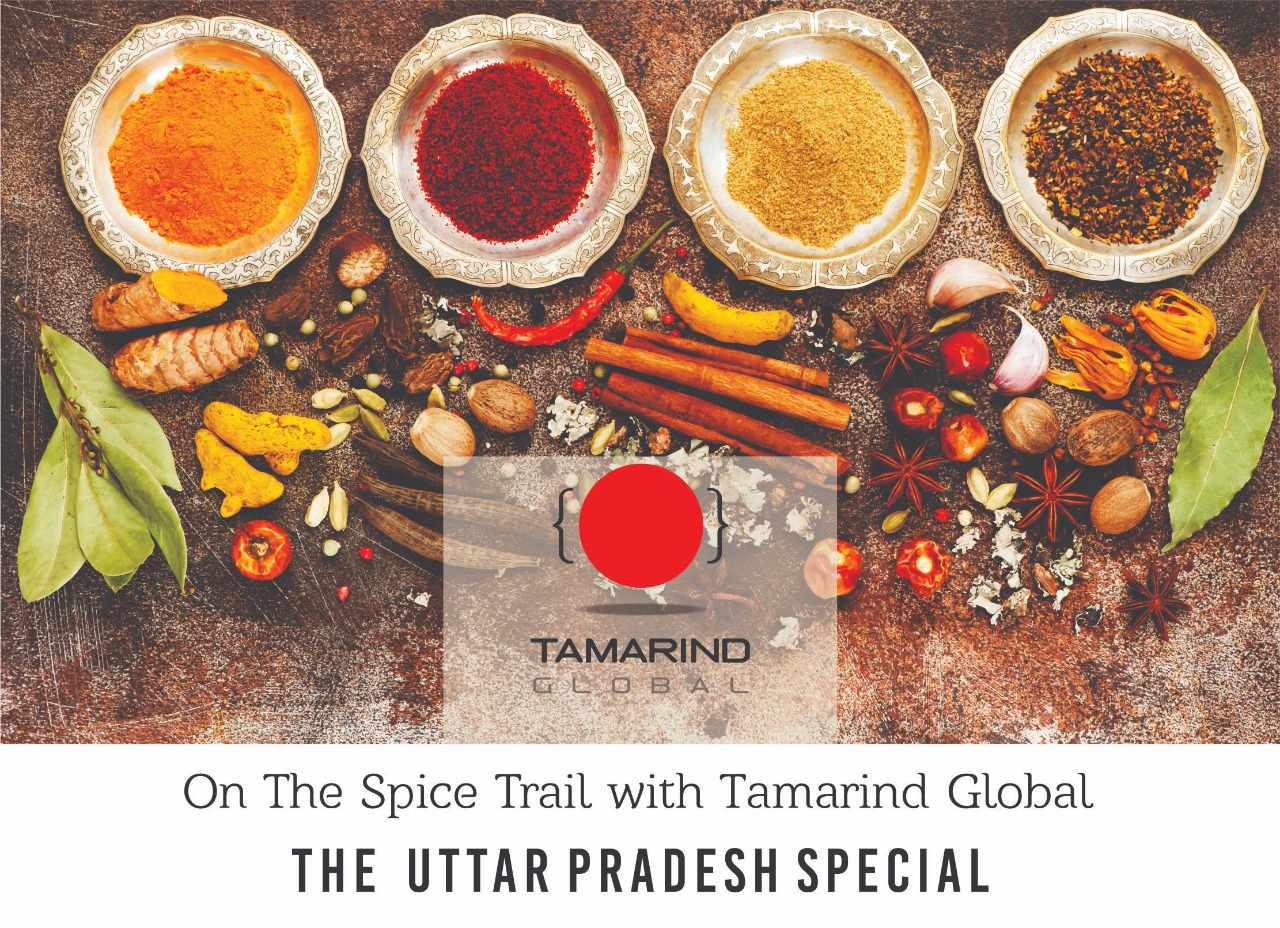 On The Spice Trail with Tamarind Global
The cuisine of Uttar Pradesh is as diverse as its history and geography. The sheer diversity prevalent across the length and breadth of this vast territory covers everything from kachoris, chat, jalebis and samosas of Varanasi and the local litti chokha to a mouthwatering variety of Mughlai and Awadhi kababs, biryanis and desserts.
The Awadhi culinary heritage is marked by an innate elegance which goes into adorning the dastarkhwan (table), and the expertise of its bawarchis (cooks) and their rakabdars (spice masters) who manned the bawarchikhana (kitchen). The royal chefs from Nawabi kitchens mastered a cooking style known p as 'Dum Pukht' – the food is slow-cooked for many hours on a low flame to release the rich flavours and aromatic spices. The opulent Dastarkhwan style dining meant a large ceremonial table laden with delectable mouth-watering delicacies and is legendary in Lucknow even today. Among the popular non-vegetarian treats are the famous Kakori and Galouti Kababs, Nehari (a breakfast dish where the meat is braised and then stewed overnight), Kundan Kaliya (a meat dish with saffron and gold leaf), Lakhnavi Biryani and Nargisi Kofta (hard-boiled egg, wrapped in mutton mince and deep fried). Vegetarian fare includes the delicious Bedmi Puri and Rassedar Aloo, Allahabad ki Tehri (a vegetable pulao), Paneer Pasanda, and Litti Chokha, a wheat dumpling served with spiced vegetable mash. Desserts include Malpua, Jalebis, Khurchan and Petha. The famous Varanasi lassi is served in earthen pots called kulhads, and features delicious variants which include dry fruits, rabri and seasonal fruits. Obviously, no mention of Benares (Varanasi) is complete without Banarsi Paan – betel leaf stuffed with areca nuts, catechu (kattha), tobacco (optional!), slaked lime, rose petals (gulkand), silver foil (varakh) and more!
Our Menu for this Month:
Bedmi Puri with Rassedar Aloo (Deep Fried Bread with Potato Curry)
Tehri (Vegetable Pulao)
Baingan ka Chokha (Roasted Brinjal and Tomato Mash)
Galouti Kabab with Sheermal (Soft Mutton Kababs with Sweet Flatbread)
Malpua (Fried Bread with Condensed Milk)
Please do post your culinary creations of this menu on Facebook and Instagram with #spicetrailtamarindglobal and @tamarindglobaltours
Bedmi Puri with Rassedar Aloo (Deep Fried Bread with Potato Curry)

For the Bedmi Puri Ingredients::
For the pithi (paste):
¼ cup urad dal (split, skinless black gram)
½ tsp fennel seeds
 ½ tsp jeera (cumin) seeds
1 green chili chopped
For the dough:
1 ½ cups whole wheat flour
3 tbsp rava (sooji or semolina)
salt to taste
1 tsp red chili powder
¼ cup + 2 tablespoons water
oil for deep frying
Method:
Wash the urad dal and soak in water for 3-4 hours, then drain the water. Put soaked dal into a grinder along with cumin seeds,fennel seeds and green chili. Make a semi-coarse paste. Set aside.Take whole wheat flour, rava, salt and red chili powder in a bowl and mix. Add the ground paste and mix using your fingertips.Then knead into smooth yet stiff dough by adding little water at a time. Cover it and let it rest for 20-30 minutes. After that again knead and punch to make it smooth – divide into 18 equal portions and make smooth balls, then flatten a little. Roll out one at a time into 3 ½ inch diameter. Once you have few puris rolled, heat the oil in a pan on medium heat for frying. Slide one puri into hot oil,slightly press using slotted spatula so it will puff up. As it gets golden brown and slightly crispy from bottom, flip and fry other side.Follow the same frying process for rest. Serve hot with Rassedar Aloo.
For the Rassedar Aloo Ingredients:
2 ½ cups potatoes boiled, peeled, and smashed into chunks
oil as required
½ tsp jeera (cumin) seeds
½ tsp whole dhania (coriander) seeds, roughly crushed
½ tsp fennel seeds
1 dried red chillies
1 green chilli chopped finely
1 cup tomatoes, pureed
salt to taste
¼ tsp haldi (turmeric) powder
1 ½ tsp red chili powder
1 ½ cups water
1 tsp amchur (dried mango powder)
½ tsp garam masala
2 tbsp chopped coriander leaves
Method:
Boil the potatoes in the pressure cook till soft. When cool to touch peel them and roughly smash them into big chunks. Puree the chopped tomatoes into grinder and keep aside. Heat the oil in a kadai (wok) on medium heat, add cumin seeds, crushed coriander seeds, fennel seeds and dried chillies.Sauté for a minute and then add green chilies, cook for a minute. Mix in tomato puree and cook till it becomes thick and oil starts to release from the sides. Add salt, turmeric powder, red chili powder and mix,cook for a minute. Add mashed potatoes and water. Let it simmer for 4-5 minutes. Mix in amchur and garam masala powder. Turn off the stove and garnish with chopped coriander leaves. Serve hot with Bedmi Puris.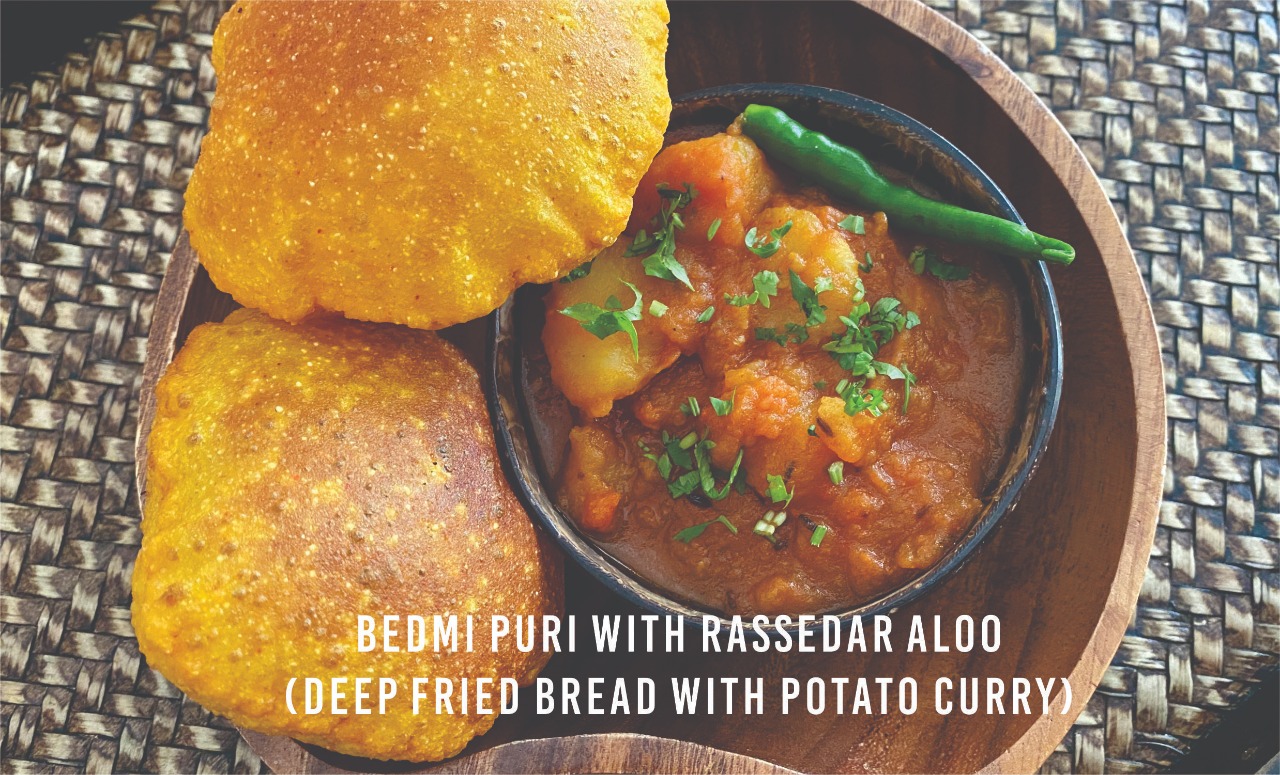 Allahbad ki Tehri (Vegetable Pulao)
Ingredients:
1 tej patta (Indian bay leaf)
4 choti elaichi (green cardamoms)
2 badi elaichi (black cardamoms)
4 lavang (cloves)
2 x 1 inch sticks dalchini (cinnamon)
3 medium onions sliced
1 tbsp ginger-garlic paste
1 cup cubed potatoes, boiled
2 cups chopped cauliflower florets
½ cup chopped carrots
1/3 cup chopped beans
½ cup green peas – fresh or frozen
4 tbsp mustard oil
3 tbsp ghee
1 tbsp chopped mint leaves
3 tbsp chopped coriander leaves
3 green chilies – slit
1 tsp red chilli powder
1 tsp dhania (coriander) powder
½ tsp haldi (turmeric) powder
1.5 cups basmati rice
¾ cup curd (yogurt)
½ tsp lemon juice
1 tsp kewra water or rose water (optional)
3 cups water
salt as required
Method:
Rinse rice in water and soak for 30 minutes. Drain and set aside.Heat mustard oil in a heavy bottomed deep pot or pan. Add the tej patta, all elaichis, lavang and dalchini, and sauté till fragrant. Add the sliced onions, with a pinch of salt for quick sautéing. Stir till onions are golden. Then add ginger garlic paste and continue to cook till the raw aroma fades. Put in the red chilli powder, dhania powder and haldi powder, and fry the masala well. Add boiled potatoes, carrots, beans, green peas and the cauliflower florets. Mix well.
Throw in the chopped mint, coriander leaves, green chillies, Add the curd, well whipped to remove lumps. Stir and add the lemon juice. Then add rice. Mix the rice gently with the masala and salute for a minute. Pour in 3 cups water. You can add rose water or kewra water at this stage. Season with salt. Cover the pan with a tight lid and cook the tehri till all the water is absorbed and the rice grains are fluffy and soft. Rest it for 10 mins and then drizzle with ghee. Serve with a curd raita.
Baingan ka Chokha (Roasted Brinjal and Tomato Mash)
Ingredients:
3 medium tomatoes
2-3 large brinjals (eggplant)
2 green chillies
1 tsp ginger chopped
3 tbsp fresh coriander chopped
2.5 tsp lemon juice
1 tsp red chilli powder
salt to taste
2.5 tbsp mustard oil
Method:
Wash and wipe the brinjals and prick all over with a fork, then apply some oil all over them.Put the brinjals on a direct flame and roast on all the sides, turning continuously till the skin is charred and the brinjals are cooked.Similarly, roast the tomatoes and green chilies on a direct flame till charred from all the sides.
When they cool down, peel off the skin of brinjals and tomato. Chop and mash both nicely and put in a big bowl. Chop the roasted green chili and add to the bowl along with the ginger, salt, chili powder, lemon juice and mustard oil. Mix well and add chopped fresh coriander. Serve with litti or rotis.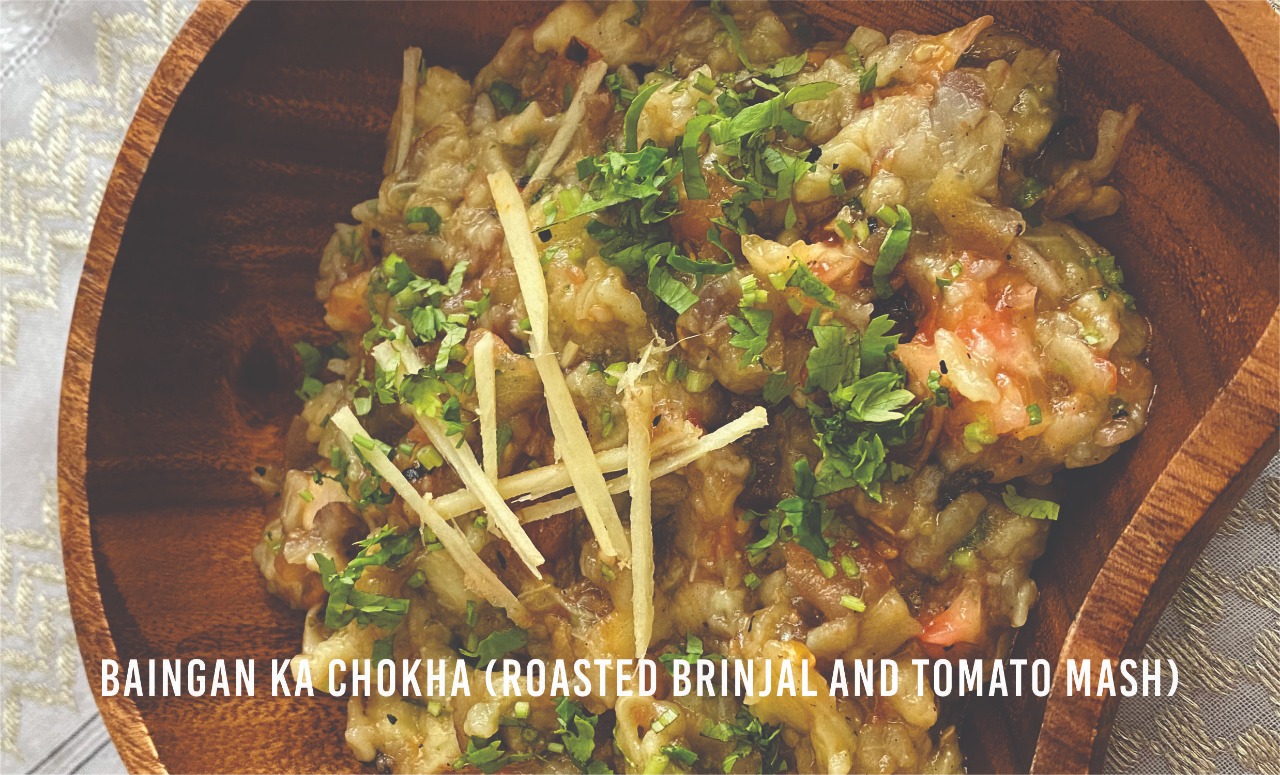 Galouti Kabab with Sheermal (Soft Mutton Kababs with Sweet Flatbread)
For the Galouti Kabab Ingredients:
350 grams keema (minced mutton), ground 3 times to a fine consistency
½ tsp salt, or to taste
1 ½ tbsp raw papaya with skin, ground to a fine paste
1 tbsp ginger garlic paste
For the dry masala:
½ tsp jeera (cumin seeds)
1 teaspoon sabut dhaniya (coriander seeds)
2 green elaichi (cardamom pods)
4 dried red chillies
3 lavang (cloves)
1 badi elaichi (black cardamom pod), broken, only seeds
½ tsp dalchini powder (cinnamon)
¼ tsp javitri powder (mace)
½ tsp jaiphal powder (nutmeg)
For the wet masala:
4 tbsp roasted cashew nuts
2 medium onions, finely sliced and deep fried till crisp
½ tsp garam masala
½ teaspoon black pepper powder 
3 tbsp roasted besan (gram flour)
tbsp kewra water
Method:
Tip keema into a bowl. Add salt, ginger garlic and raw papaya paste – mix thoroughly to combine and set aside to marinate for 2 hours.Make dry masala powder: Add all dry masala ingredients into a masala grinder. Grind to a fine powder. Make wet masala paste: Place all the ingredients under wet masala into a grinder. Grind, adding 2 to 4 tablespoons water as needed, to make a smooth paste.Place marinated keema in a bowl; add dry masala and wet masala paste and mix thoroughly with a spatula. Refrigerate for 15 minutes.Lightly oil your palms so that you can work with the mixture without it sticking to your hands.
Take a tablespoonful of the mixture, roll into a ball,then flatten slightly to form a smooth fat disk. Set it down and repeat the same for the remaining mixture.Place a heavy pan on high heat, add ghee. Once hot but not smoking, carefully place the kebabs in the ghee without crowding the pan. Fry the kebabs till golden brown, about 2 minutes on each side, adjusting heat as needed. Remove from pan and place on kitchen paper to absorb excess oil.Garnish with slit green chillies and onion slices, serve hot with green chutney and sheermal.
For the Sheermal Ingredients:
2 1/2 cups all purpose flour (maida)
½ teaspoon
1 large egg
1 tsp sugar
2 ¼ tsp instant yeast
½ cup + 3 tbsp milk
¼ cup ghee
8-10 strands saffron
4 cardamoms powdered
2 teaspoon melted butter for final brushing of the bread
Method:
In a bowl, dissolve saffron in ½ cup + 3 tbsp milk, warmed up. In a bigger bowl add all purpose flour, salt, sugar, instant yeast,ghee, cardamom and mix. Now add half a cup of the warm saffron milk and egg. Knead well to form a soft dough, then transfer to a greased pan, cover and set aside for 1 hour for first rise. Preheat oven to 200°C. Line a baking tray with parchment paper. Punch down and divide the dough into 6 equal sized portions. Roll out each portion into a circle of about about 3 inch diameter. Prick the rolled dough with fork so that it won't puff up in the oven.
When you are ready to bake, brush them with remaining 3 tbsp saffron milk. Bake at 200°C for 12-15 minutes or until it become golden yellow color. Once the bread is baked and still warm, brush with melted butter. Serve with galouti kabab or a or spicy curry.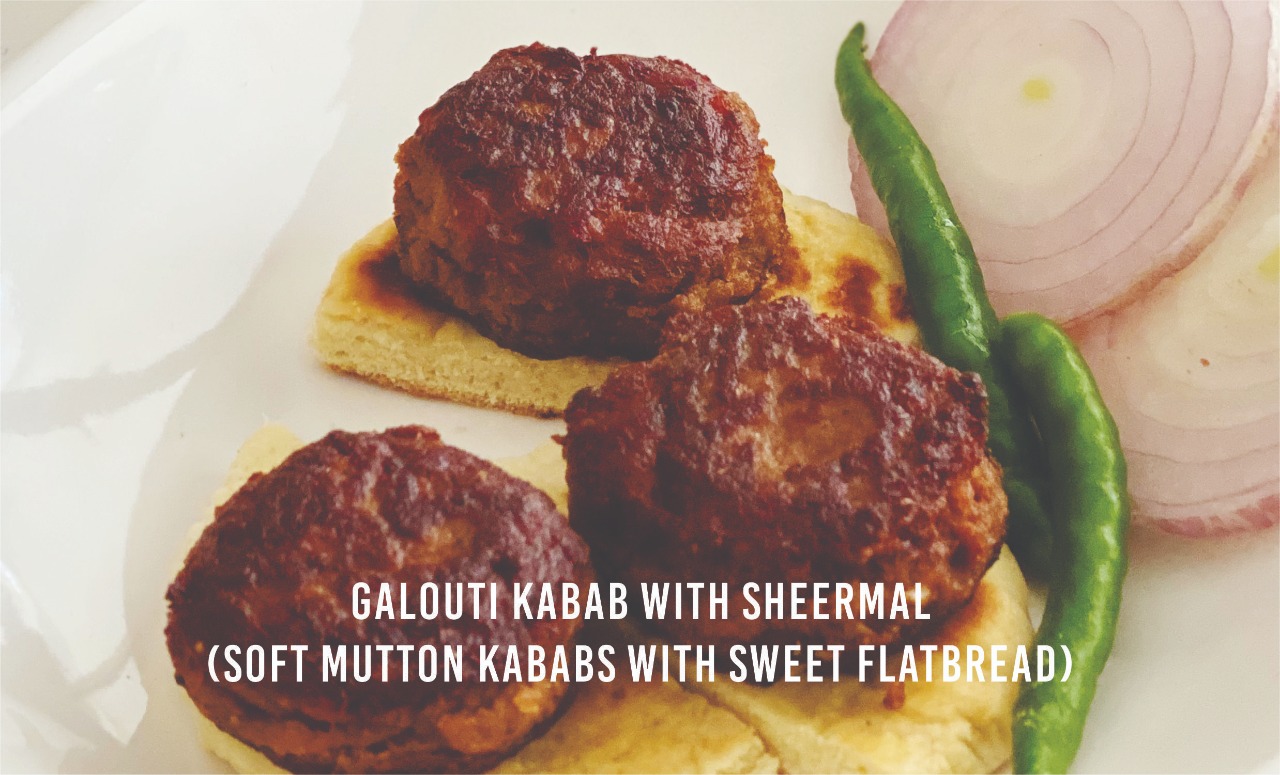 Malpua (Fried Bread with Condensed Milk)
Ingredients:
1 tbsp maida (all purpose flour)
2 tbsp khoya (milk soilds) or milk powder
½ tsp powdered green cardamom
½ tsp powdered fennel
1 tbsp rava (semolina)
saffron as required
milk as required
1 ½ cup oil
½ cup sugar
¼ cup water
Serving:
2 tbsp chopped pistachios and blanched chopped
almonds
half cup readymade rabri
Method: Mix together khoya, maida and rava in a bowl. Next, add fennel and cardamom powders and mix well once again. Add a little milk at a time to make a semi – thick, pourable batter.Keep the batter aside for an hour or two. Heat the  sugar and water in a pan till it melts and bubbles. Once it reaches a syrupy consistency, add the saffron and keep the pan warm. Now, heat oil in a pan over low flame.When the oil is hot enough, pour a ladleful of the mixture and spread evenly. Keep the flame low and cook until the malpua is golden from both sides. Remove and drain the excess oil. Drop the malpua in sugar syrup and allow it to soak for 10 minutes. Repeat the same with the remaining batter. Drain the malpuas from the syrup, garnish with slivered almonds, pistachios and rabri. Serve immediately.
A little more about Uttar Pradesh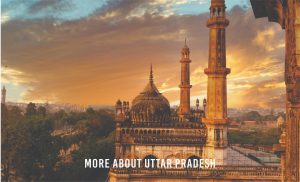 The charm of Uttar Pradesh lies in the confluence of cultures, and in the emergence of cultural and religious traditions along some of the greatest rivers in the Indian sub-continent – the Ganga and the Yamuna. Throughout history, great cities have been established along great rivers, and this Indian state is no exception with Varanasi being one of the oldest and most revered cities on the list. Lucknow, capital of Uttar Pradesh, was once ruled by the Nawabs of Awadh, and is known for its culture, music,dance, cuisine and quintessential nawabi etiquette. The architecture of the city reveals a timeline of its rich and eventful history.
UP is home to the famous Taj Mahal in Agra, and consequently one of the most important states on India's tourism map. Apart from the Taj, Agra also boasts many other iconic monuments. From Akbars Tomb to Agra Fort and the walled city of Fatehpur Sikri, Agra is home to some important monuments that tell the colourful tales of India's fascinating history.
Associated with the birth and legends of Lord Krishna, Mathura and Vrindavan showcase temples devoted to the deity. Prayagraj, the erstwhile Allahabad, is one of the venues for the Kumbha Mela, where hundreds of thousands of devotees come to take a dip in the confluence of the Ganga, Yamuna and the mythical Saraswati rivers. Midway in its long journey from Himalayas to the Bay of Bengal, the waters of the Ganges flow through the holy city of Varanasi. According to Hindu belief, Benaras, or Varanasi as it is known, is the cosmic center of the universe. Its aura of history, religion, philosophy and tradition, is steeped in Hindu rituals and ideals. Every evening, aarti, or prayers, are offered on the banks of the Ganges. As the lamps are lit, it is a sublime experience,and a sight to witness. Kushinagar and Sarnath are important Buddhist places among the main four pilgrimage sites related to the life of Gautama Buddha.
We hope you enjoy cooking this little taste of magical UP – see you next month on the Spice Trail!