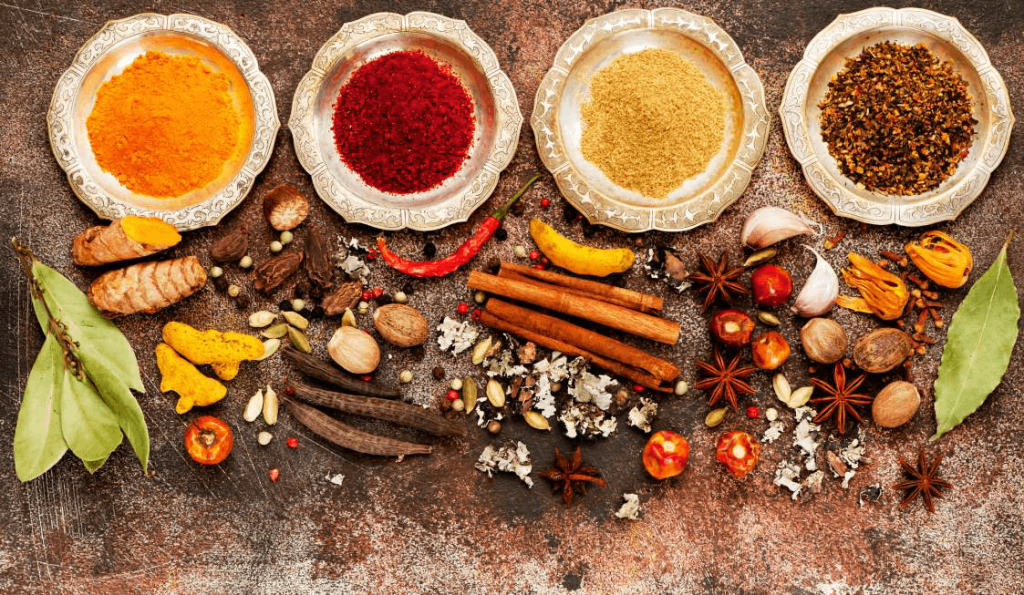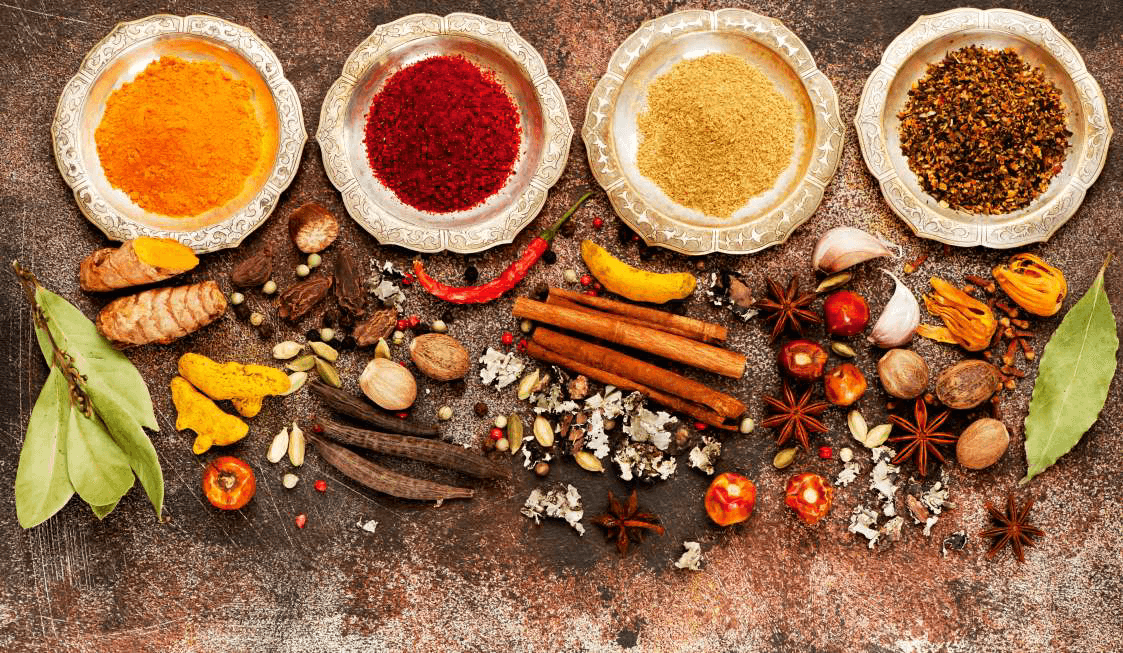 On The Spice Trail with Tamarind Global
Goa, an Indian state located along India's west coast on the shore of the Arabian Sea, is a haven of delicious food – not surprisingly, seafood and coconut are very high on the ingredients list! A variety of vegetables, meat, pork and local spices are used, and the Goan cashewnut. The cuisine of Goa originated from its Hindu Saraswat roots, and was later influenced by the 451 years of Portuguese colonisation. Many Catholic dishes are either similar to or variants of their Portuguese counterparts.
The staple food is rice and fish – nothing can be more inviting than a slice of pomfret or surmai (kingfish) marinated in spices , coated with semolina and fried to crispy perfection! The coconut based curries are flavoursome and made with any freshly caught fish, and served with fried fish and thick Goan red rice. Xit Kodi (rice and curry) is a must have at Goan mealtimes. Ambot Tik (sour and spicy) is a popular preparation made with shark meat, Recheado (stuffed) fish includes pomfret and mackerel, and prawns are made into anything from pulao to balchao and Xeque Xeque. Chicken Cafreal is one of the special Goan delicacies, as is Chicken Vindaloo. Xacuti (pronounced shakuti) is another exotic preparation that must be mentioned – made with either chicken or mutton, the dish is popular both in Catholic and Hindu homes. Pork Sorpatel is one of Goa's signature dishes – a spicy concoction where the meat is parboiled and then fried in its own rendered fat with onions and ground spices. It is often eaten for breakfast, with the soft, fluffy sannas – an idli like dish but with sweet, coconut flavour. Sanna is the perfect accompaniment for spicy Vindaloo, Xacuti or Sorpatel.
Bebinca is one of the most popular local sweets. The local drink Feni is very popular and comes in two variants -palm feni and cashew feni.
Our Menu for this week:
Sol Kadhi (Kokum Coconut Milk Drink)
Kaju Tonak (Spicy Cashew Gravy)
Chicken Cafreal (Green Masala Chicken)
Coconut Fish Curry
Bebinca (Layered Goan Pudding)
Please do post your culinary creations of this menu on Facebook and Instagram with #spicetrailtamarindglobal and @tamarindglobaltours
Sol Kadhi (Kokum Coconut Milk Drink)
Ingredients:
15-20 pieces dried kokum
1 cup fresh scraped coconut
salt to taste
1 clove garlic
1 green chilli chopped
fresh coriander and slit green chilli for garnishing
Method:
Soak dried kokum in a cup of hot water for 30 minutes. Mash the kokum nicely, strain the water and discard the pulp.
Soak grated coconut in a cup of water in the jar of blender for 10 minutes. Blend it along with one clove of garlic and green chilli to make a smooth paste. Strain using a mesh strainer to get fresh thick coconut milk. Again add a cup of water in the same coconut pulp and grind for a minute. Strain again to get thin coconut milk. Add thick coconut milk, thin coconut milk and kokum water in a jar. Add salt and adjust consistency by adding water if required. Mix well.
Garnish with slit chillies coriander leaves. Serve it at room temperature or chill it before serving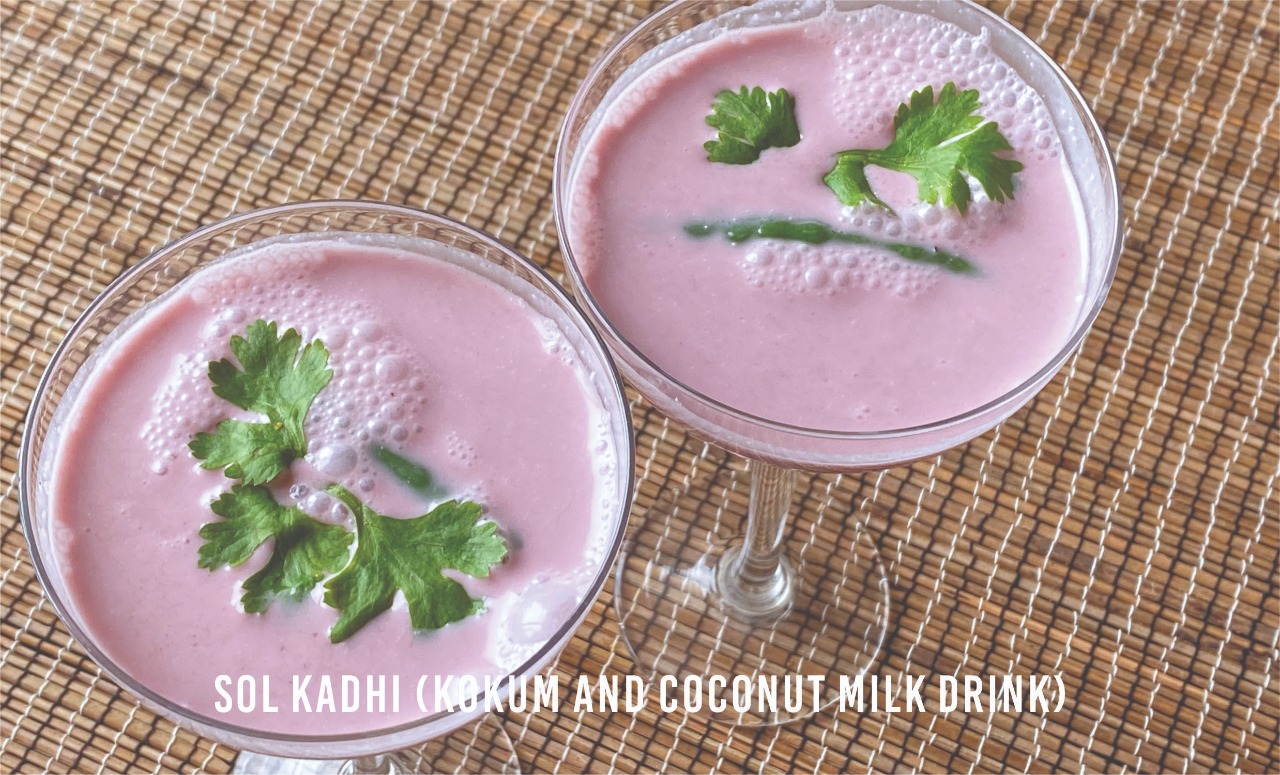 KAJU TONAK (SPICY CASHEW CURRY)
Ingredients:
1 cup cashew nuts, halved
1 medium tomato, finely chopped
1 green bell pepper (capsicum), finely diced
½ tsp haldi (turmeric powder)
oil as required
1 tbsp coriander leaves, chopped
salt as required
For the ground paste:
1 cup fresh grated coconut
2 onions finely chopped
6 cloves garlic chopped
1 tbsp dhania (coriander) seeds
3 byadgi or kashmiri dried red chillies
5 whole black peppercorns
1 tsp jeera (cumin seeds)
2 lavang (cloves)
1 tbsp tamarind pulp
Method:
Soak the cashew nuts into hot water 30 minutes to an hour.
Dry roast the coriander seeds, cumin seeds, peppercorns, cloves and dry red chilies until fragrant. Add the coconut and roast till toasted.
Heat oil in a wok. Add the onion and garlic, and sauté till translucent. Once cooled, grind along with the roasted spices and tamarind pulp to make a smooth paste, by adding a little water if required.
Heat oil in the same pan. Add the chopped tomatoes, turmeric powder and sauté till soft. Add the capsicum and cook for a couple of minutes. Now add the ground mixture, salt and the soaked cashew nuts, and stir fry for 3-4 minutes. Add a little water to adjust the consistency to your liking. Stir and simmer for about 10 minutes. Once done, check the salt and spice levels and adjust to suit your taste. Finally, stir in the chopped coriander leaves and serve. Serve with phulkas or rice.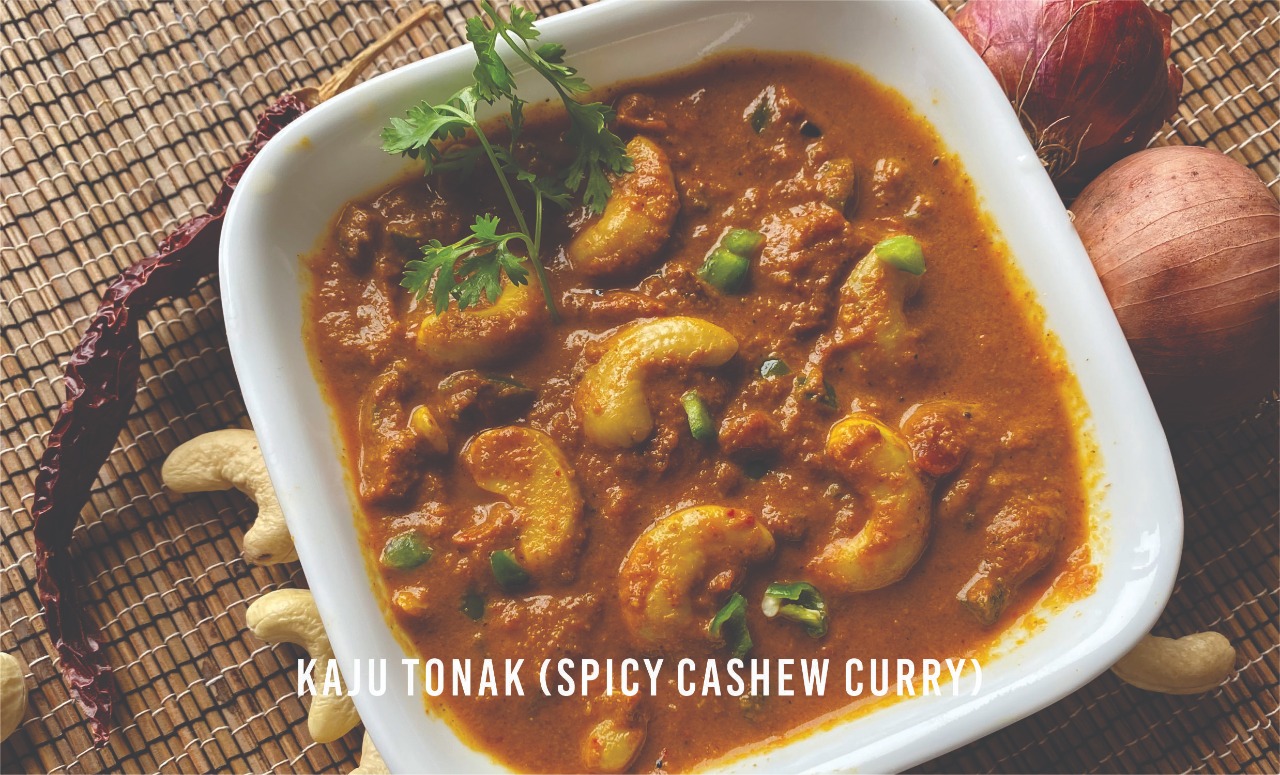 Chicken Cafreal (Green Masala Chicken)
Ingredients:
1 kilo chicken
oil as required
salt as required
For Grinding:
4-5 green chillies
half an onion, chopped
1 cup coriander leaves
2 inch piece of ginger
13 – 14 coves garlic
1 tbsp khus khus (poppy seeds)
10- 12 whole black peppercorns
1 stick dalchini (cinnamon)
1 teaspoon jeera (whole cumin)
½ teaspoon haldi (turmeric powder)
juice of one lemon
4 – 6 cloves
Method:
Put the ingredients listed under for grinding in a blender, and process to a paste. Put the washed chicken in a bowl and add the ground mixture. Rub it well into the chicken. Cover and marinate for 4-5 hours, or overnight if possible. Heat oil in a wide kadai. Add the chicken pieces and saute till well seared. Add a cup of water, cover, and cook till chicken is tender. Now remove cover and saute well till the liquid dries up. Serve hot with rice or poi.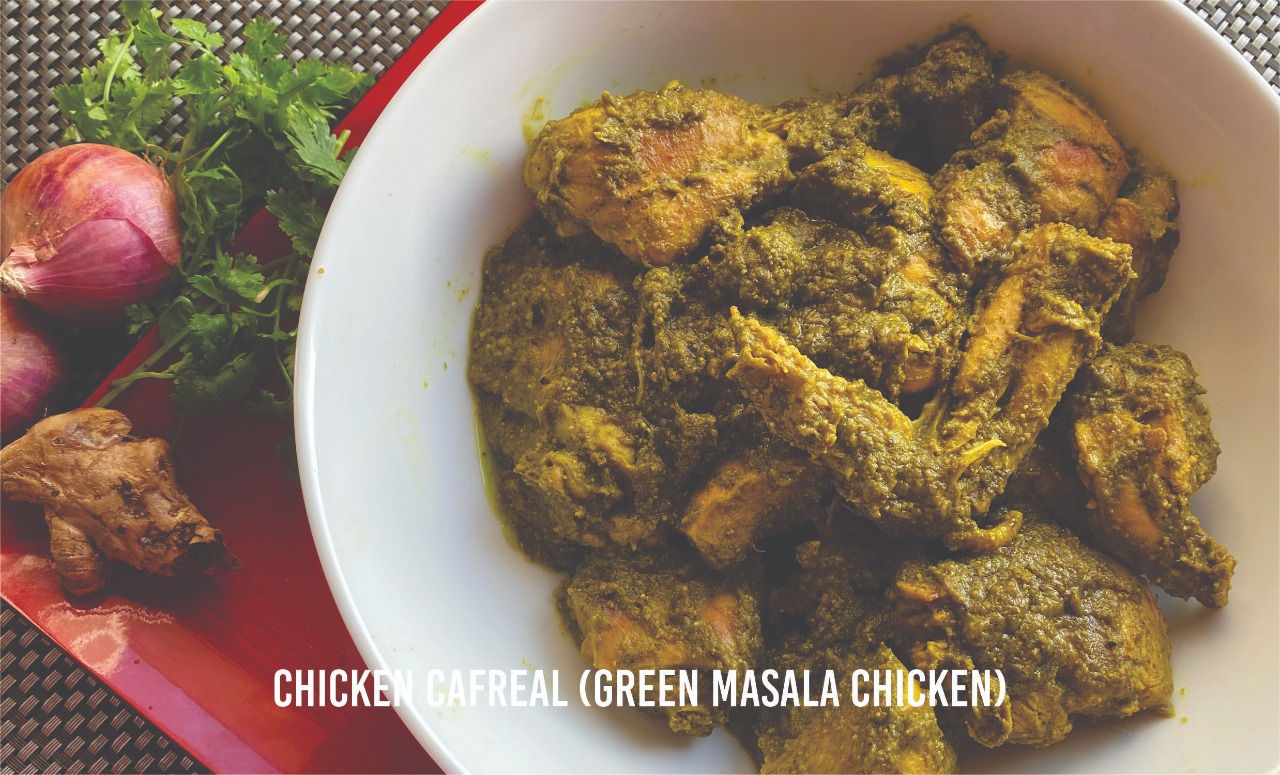 Coconut Fish Curry
Ingredients:
6 – 8 slices fish (pomfret, surmai, rawas, etc)
½ tsp haldi (powdered turmeric)
salt as required
1 large onion, roughly chopped
7 cloves garlic
4 tbsp grated coconut
5 byadgi or kashmiri red chillies
4 tsp dhania (coriander) seeds
½ tsp jeera (cumin) seeds
1 green chilli slit
4-5 pieces kokum, soaked for 10 mins in warm water (if you don't have kokum, use 1-2 tbsp tamarind paste)
1 ½ tbsp oil
Method:
Marinate the fish in salt and haldi for 15 minutes. Put the chopped onion, coconut, garlic, all the spices and the green chilli in a mixer. Process with very little water to a fine paste.
Heat oil in a flat skillet. Add the ground paste to the pan, and stir. Add the marinated fish to the pan and let the fish cook for 3-4 mins, turning over gently. Now add 3 cups of water, kokum or tamarind and salt as per your taste. Turn down the flame and simmer for 5-6 minutes. Switch off and serve with steamed white or red rice.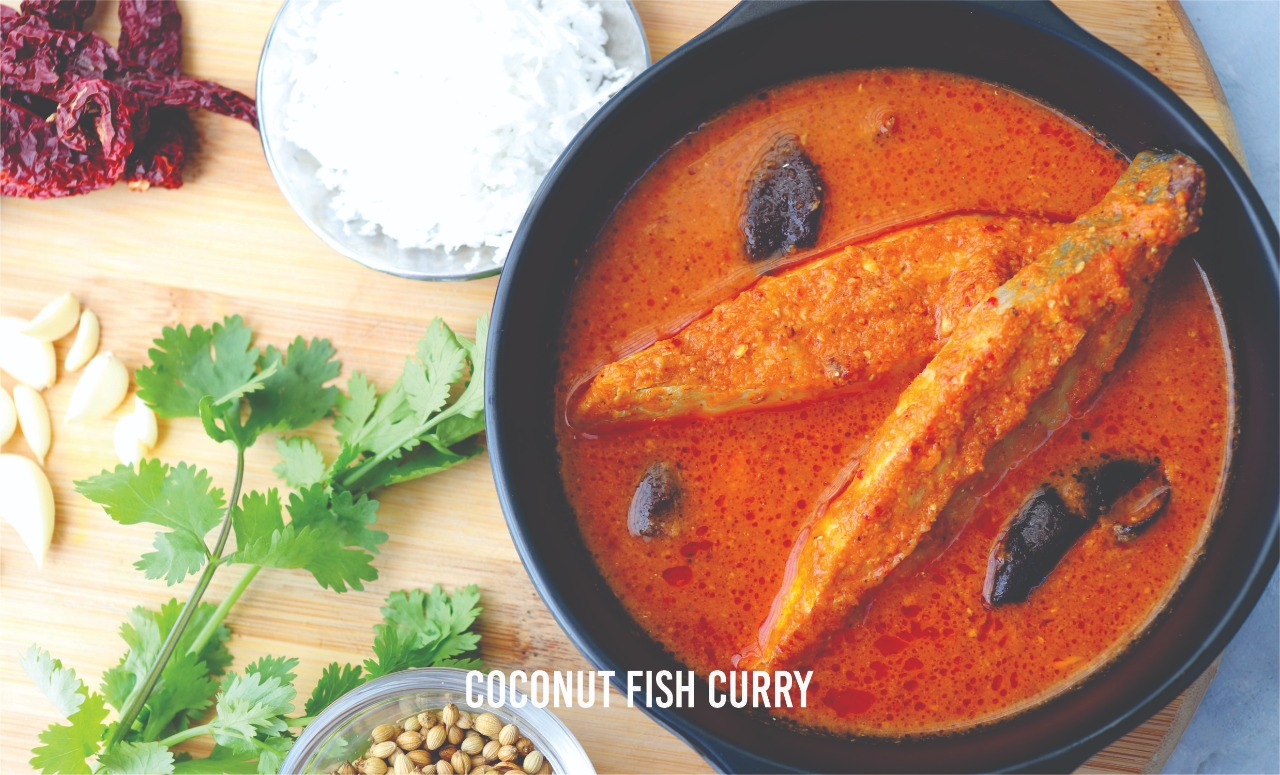 Bebinca (Layered Goan Pudding)
Ingredients:
200 gms all purpose flour
12 egg yolks
400 gms brown sugar
pinch nutmeg powder
650 ml coconut milk
pinch salt
125 gms ghee (clarified butter)
For the caramel:
Method:
Heat the sugar and 1/2 tsp water for the caramel till it turns dark brown. Carefully add remaining water and stir till thick. Set aside. Preheat oven to 180 C and grease a 9×5 inch rectangular pan with ghee. In a mixing bowl, whisk the egg yolks with the sugar till creamy. Whisk in the coconut milk, then add flour a little at a time and mix into a lump free batter. Add salt and nutmeg powder. Divide the batter in half, and add the caramel to one half and mix well. To Bake: First pour 1/4 cup of the lighter batter in the pan – place the pan in the highest shelf and bake for 15-20 mins, or till a toothpick inserted comes out clean. Remove the pan. Now switch the oven to broiler. Spread a spoonful of ghee over the baked layer, then add 1/4 cup of the darker batter. Broil for 3-4 minutes. Once it bubbles a bit, remove and spread a spoonful of ghee again, and pour 1/4 cup of the lighter batter. Broil again – keep repeating the process till all the batter is used up. Once all the layers are baked, remove and spread ghee over the top. Cool, slice and serve.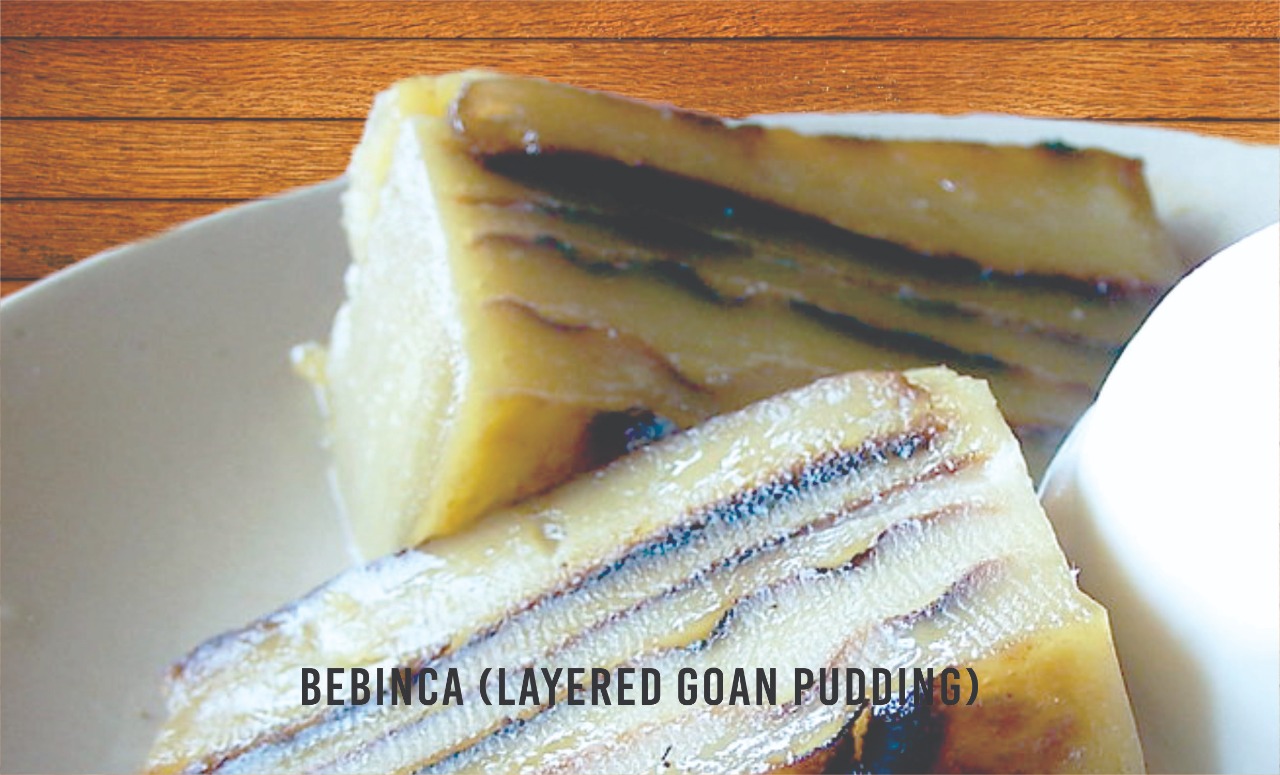 A little more about Goa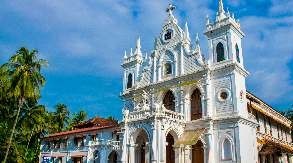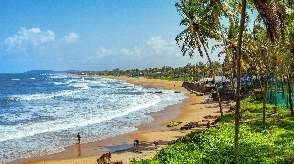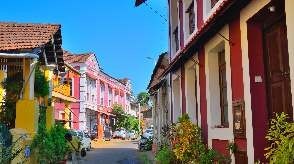 Goa is a paradise of virgin beaches, quaint whitewashed chapels and churches, old temples, crumbling forts, and fun-loving people. Sleepy little villages are set amidst emerald green rice fields, surrounded by coconut groves. In 1510, the Portuguese conquered Goa, and left behind traces of culture and customs that blended with the simple Goan lifestyle. For a real break from the urban jungle, Goa's laid back 'susegad' way of life is a welcome diversion. As for Goa in the monsoons – that's a different kind of romance!
Goa is known for its Gothic churches, one of the largest being the Se Cathedral. The holy shrine of Basilica of Bom Jesus, also in Old Goa, houses the mortal remains of St. Francis Xavier. Roman Catholics consider this a particularly important pilgrimage. You could also visit Goa's quaint temples, the most popular of which are Shantadurga and Mangueshi. Temples in Goa are known as Devasthan and used to be at the center of village life. Enjoy a leisurely walk through Fontainhas, Goa's Latin Quarter, home to the last surviving Portuguese families of Goa. In 1984, UNESCO recognized Fontainhas as a Heritage Zone. The quintessential Portuguese character comes from the cottages and colonial buildings, painted in bright, earthy greens, yellows, reds and blues, and of course the cobbled streets. Take a dive into the many kinds of water sports Goa has to offer – parasailing, wind surfing, jet skiing, banana boating and more. Head out to enjoy a day of surf lessons riding the best swells with uninterrupted views of the Arabian sea. A paradise for birds and bird lovers, Goa's Salim Ali Bird Sanctuary is worlds away from the state's busy beaches. At the break of dawn, sail down towards thick mangrove forests to acquaint yourself with a few colourful locals – kingfishers, cormorants, and several other bird species.
We hope you enjoy cooking this little taste of beautiful Goa – see you next month on the Spice Trail!