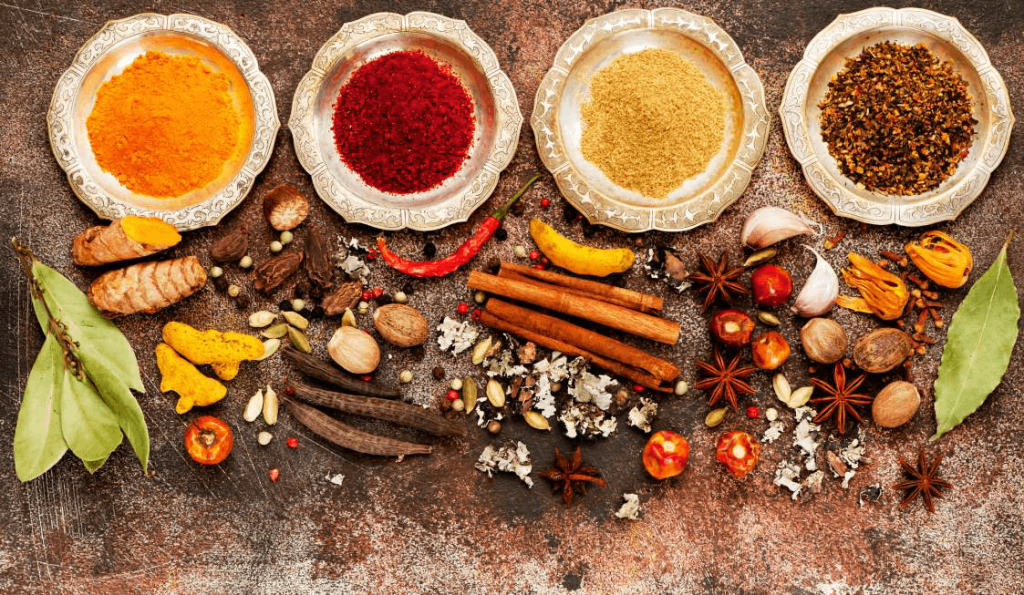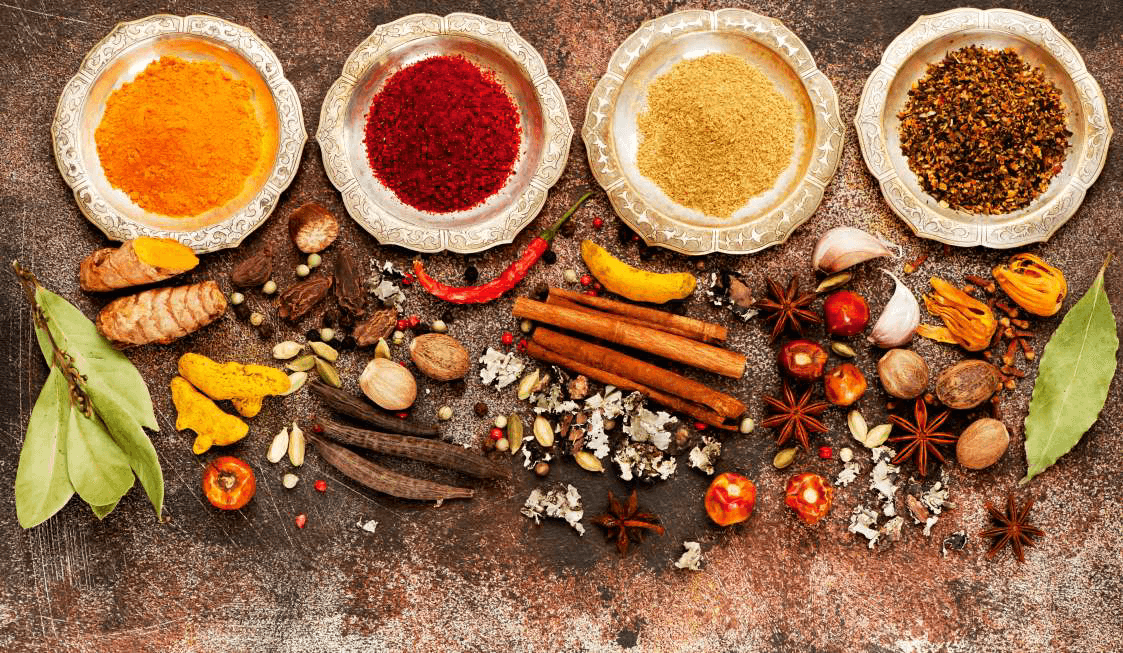 On The Spice Trail with Tamarind Global
Rajasthani cuisine is influenced by its extreme climatic conditions and scarcity of water and vegetation. The Rajasthanis have evolved their culinary styles in such a way that many of their dishes can be preserved for several days and served without heating. A few common ingredients are beans, lentils, gram flour, corn, barley, millet, bajra, bread and plenty of dairy products, especially ghee. Although predominantly a vegetarian region, the influence of the Rajputs who relished non-vegetarian dishes, including game meat, saw the evolution of several lip-smacking non-vegetarian dishes such as laal maas (red meat), jungli maas (wild meat), khad khargosh (spiced rabbit) and safed maas (white meat).
Dal Bati Churma is synonymous with Rajasthan. The crunchy batis, dipped in ghee along with spicy dal and sweet churma are featured on our menu today. Fried snacks like Bikaneri bhujia, mirchi bada and pyaz ki kachori abound here. A common breakfast item, pyaz ki kachori is made of wheat dough stuffed with onions, potatoes and spices, deep fried and garnished with chutneys and yogurt. Typical Rajasthani food platters are incomplete without gatte. Made with gram flour, gatte are versatile. The can be cooked in a spicy gravy, or made into a rice pulao. Ker Sangari is another ubiquitous dish of the region. Ker is a wild berry growing in the heart of Thar Desert and the Sangri is dried wild beans – put together, they make a deliciously piquant Rajasthani vegetable preparation, enjoyed with freshly baked Bajre ki Roti (millet bread), topped with melting, homemade white butter. Chhach or buttermilk is an inseparable part of Rajasthani food culture, a must-have coolant in the dessert climate. Masala Chhach (spiced buttermilk) is usually taken with/after breakfast and lunch. Sweets dishes include Ghevar, Moong Dal ka Halwa, Malpua and Churma Laddoo.
Our Menu for this week:
Gatte ki Sabzi (Gram Flour Dumplings in Yogurt Gravy)
Dal Bati Churma (Baked Dough Balls with Lentil Curry)
Pyaz ki Kachori (Onion StuGed Pastry)
Lal Maas (Red Mutton)
Moong Dal Halwa (Mung Lentil and Ghee Dessert)
Please do post your culinary creations of this menu on Facebook and Instagram with #spicetrailtamarindglobal and @tamarindglobaltours
Gatte ki Sabzi (Gram Flour Dumplings in Yogurt Gravy)
Ingredients:
For the gatte:
2 cups besan (gram flour)
1 pinch hing (asafoetida)
¼ tsp haldi (turmeric powder)
½ tsp ajwain (carom seeds)
½ tsp red chili powder
1 tsp dhania (coriander) powder
1 tsp salt or add as required
3 tbsp oil
2 tbsp dahi (yogurt)
4 to 5 tbsp water or add as required
4 cups water for cooking gatte
For the gravy:
oil as required
2 tejpatta (bay leaf)
2 whole red chillies
1 tsp jeera (cumin) seeds
1 small stick dalchini (cinnamon)
pinch of hing (asafoetida)
1 badi elaichi (black cardamom)
2 small onions, chopped fine
1 tsp ginger garlic paste
1 cup dahi (yogurt), whipped
1 tsp haldi (turmeric powder)
2 tsp red chilli powder
2 tsp dhania (coriander ) powder
2 cups water from the cooked gatte
salt as required
coriander leaves to garnish
Method:
Put the besan in a bowl and add the hing, turmeric powder, ajwain, red chili powder and dhania powder. Add salt and mix. Now add the dahi and oil, and mix well. Adding a tablespoon of water at a time, knead the mixture into a smooth dough. You may need to oil your hands as it will be sticky. Put a pan with 4 cups of water to boil. Now make small balls out of the besan dough and roll each into a cylindrical shape, about 1/2 inch in diameter. Drop them gently into the pan of water and boil for about ten minutes, till they float to the top. Remove carefully and allow to cool. Once firm, cut into 1/2 inch pieces. Reserve the water used for boiling. (You can pan fry the gatte at this stage for a richer curry, but we prefer them as they are!)
In a deep, wide pan, heat oil. Add the jeera, bay leaves, whole red chillies, dalchini, hing and elaichi, and let everything splutter. Add the onion and ginger garlic paste, and fry till golden. Add the dry spices – the haldi, red chilli powder, coriander powder and salt. Sauté. Now add the whipped dahi and two cups of the gatte cooking water , and bring everything to a simmer. Add the prepared gatte, and let it simmer for ten minutes. Serve hot garnished with chopped coriander. It goes well with either rice or rotis.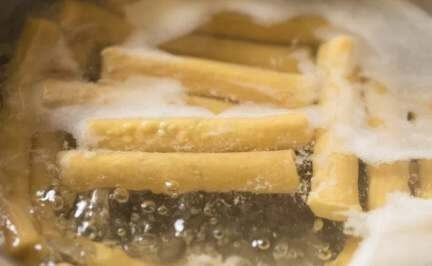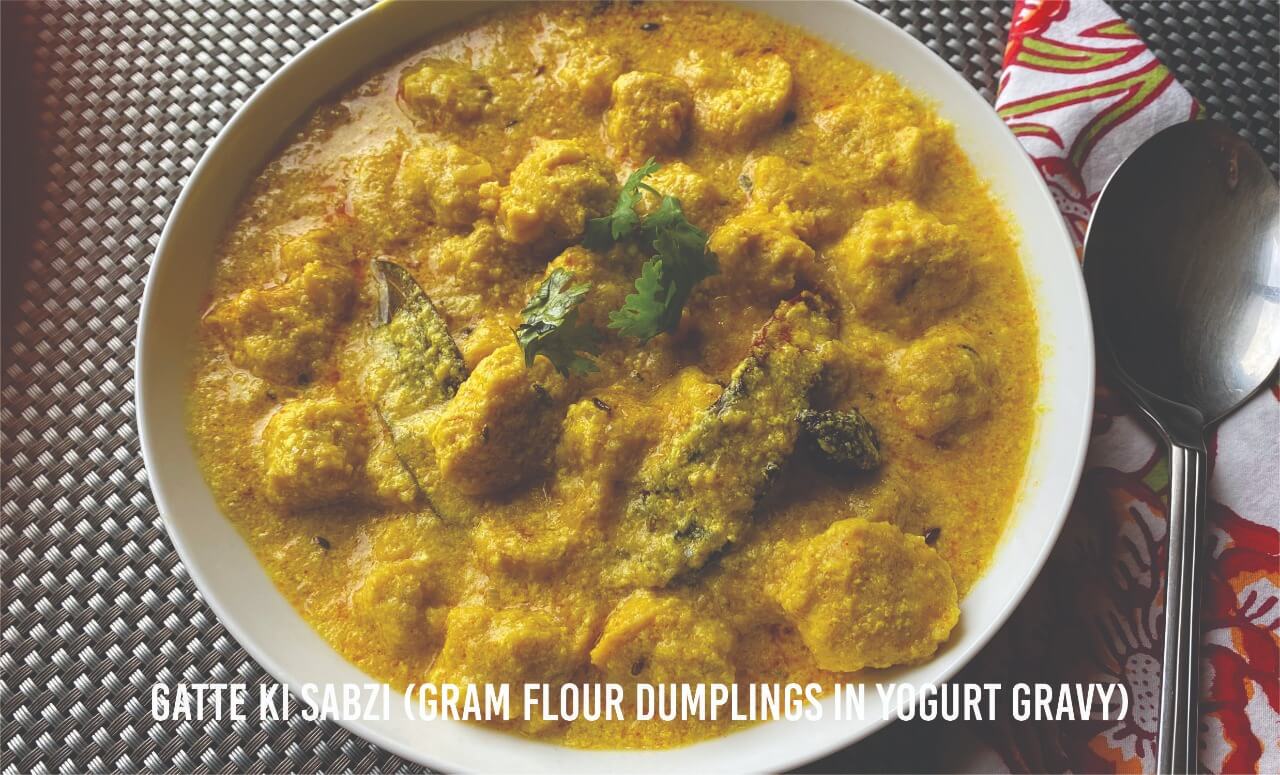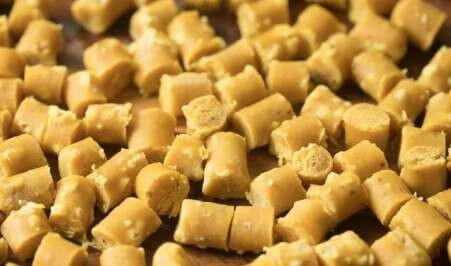 Dal bati churma (baked dough balls with lentil curry)
For Batis:
1 ¼ cup whole wheat flour, preferably coarse
½ cup rava (semolina)
½ cup dahi (yogurt)
½ tsp baking powder 4 tbsp ghee
salt to taste ghee for dipping
For Dal:
¼ cup chana dal (split bengal gram)
¼ cup arhar dal (split pigeon peas)
¼ cup moong dal (split green gram)
¼ cup urad dal (split black lentils)
¼ cup urad dal chilka (split black gram with skin) salt to taste
3 tbsp ghee (clarified butter) 4-5 lavang (cloves)
tejpatta (bay leaf) 2 dried red chillies
choti elaichi (green cardamom) 2 badi elaichi (black cardamom) 1 dalchini (cinnamon) stick
tsp jeera (cumin seeds) 1 green chilli, chopped
a pinch of hing (asafoetida) 2 tbsp ginger-garlic, crushed 1 onion, finely chopped
tomatoes, finely chopped
2 tsp dhania (coriander) powder
½ tsp haldi (turmeric powder) 2 tsp chilli powder
1/2 tsp garam masala powder 1 tbsp lemon juice
For Churma:
cup whole wheat flour
¼ cup rava (semolina)
¼ cup oil or ghee (clarified butter) 4 tbsp almond slivers
tsp cardamom powder
¼ cup powdered sugar 2 tbsp pistachio
tbsp cashew nuts, chopped ghee/oil for deep-frying
Method for Batis:
Preheat oven at 175°C/ 350. Add wheat flour, semolina, ghee, salt and baking to a large mixing bowl. Mix well and add yogurt to it. Mix well to knead into a semi-stiff dough. Use 2-3 tbsp or more warm water, if needed. Divide the dough into 10-12 equal portions and shape each portion into a ball. Flatten the ball, make a small indentation in the center of the dough balls using your thumb. Keep aside. Arrange baatis in a baking tray. Bake for 20-30 mins or until they turn golden brown. Use a kitchen towel and press hot baatis slightly with your palm to crack them slightly. Soak cracked baatis in ghee for few seconds, and drain on an absorbent paper. Keep aside.
Method for Dal:
Wash all the dals, and put in a pressure cooker. Add salt and 5 cups of water, turmeric powder and mix well. Pressure cook for 4-5 whistles. Allow the steam to escape before opening the lid. Heat the ghee in a pan. Add the cloves, dried red chili, green cardamom, black cardamom, bay leaf, cinnamon stick, cumin seeds, and asafoetida. Sauté till it all splutters, then add onion and chopped chilies. Sauté for 3 minutes. Add the tomatoes and ginger garlic paste. Sauté for 2-3 minutes. Now add coriander powder, turmeric powder, chili, and garam masala along with 3 tbsp of water and mix well. Add some more salt, if needed. Cook on a medium flame for 3-4 minutes. Stir occasionally. Add the contents of the pan to the cooked dal and mix well. Cook on a medium flame for 2 to 3 minutes. Remove from heat. Add lemon juice and mix well. Keep aside.
Method for Churma:
Combine the whole wheat flour, semolina and melted ghee in a deep bowl and mix well. Add about ¼ cup of water and knead well to make a stiff dough. Divide the dough into 10 equal small balls. Take each ball in your palm and flatten a little, then press with your fingers in the center of each portion to make a curved shape. Heat the oil and fry the dough balls at low heat until they are golden brown in color from all the sides. Drain on an absorbent paper and allow them to cool. Grind the fried dough shapes in a blender into a fine powder. Add melted ghee, almonds, almonds, cardamom powder and powdered sugar and mix well and set aside.
To serve:
Pour ghee over hot dal. Pour some ghee over baati and churma. Serve hot withred chutney, onions and lemon wedges.
Note: For an easier version of the churma, you can make extra baked baatis and powder them just like the fried version above. You will need to fry the powdered baatis in a little ghee till golden, before adding the sugar and nuts.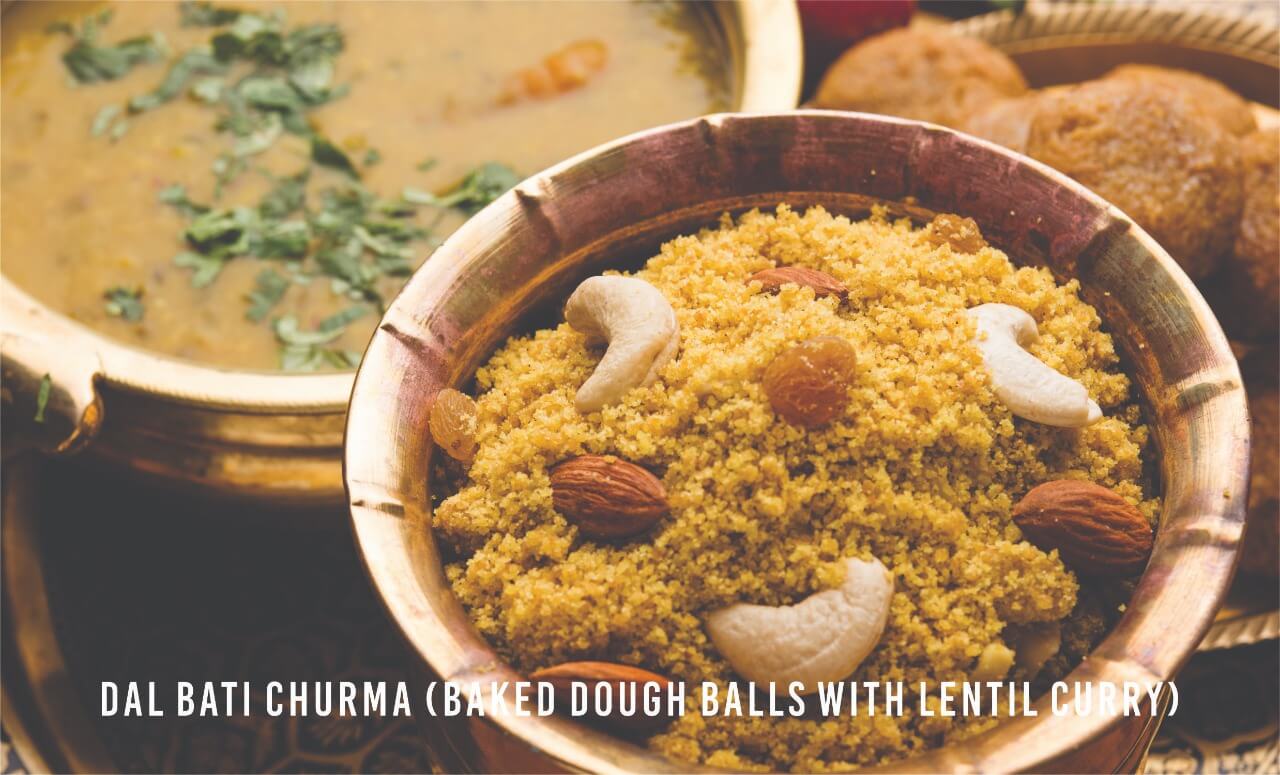 PYAZ KI KACHORI (ONION STUFFED PASTRY)
Ingredients:
2 tsp oil
1 tsp jeera (cumin seeds)
1 tsp dhania (coriander seeds), crushed 2 tsp saunf (fennel)
2 tsp kalonji (nigella seeds) pinch hing (asafoetida)
2 green chillies, finely chopped
½ tsp ginger paste
2 cups roughly chopped onion
1 large potato, boiled and coarsely mashed
¼ tsp chilli powder
¼ tsp turmeric
½ tsp garam masala
¼ tsp sugar
½ tsp salt
¼ cup besan / gram flour
1 tbsp coriander, finely chopped
For Dough:
2 cup maida / plain flour
1 tbsp rava / semolina / suji, fine
½ tsp salt
1 tbsp ghee / clarified butter 1/4 tsp baking powder water to knead
oil for frying
Method:
Combine the dry dough ingredients in a bowl, add ghee. Crumble and mix well, then add water little by little and knead till you form a smooth and soft dough. Cover with a moist cloth and keep aside for 20 minutes.
Heat oil in a pan and sauté cumin, nigella seeds, coriander seeds, fennel and hing. Add chopped chilli, ginger paste and saute for 30 seconds, then add the onion. Fry till soft and browned, then add the besan, salt, sugar, chilli powder and turmeric powder. Add the potato. Sauté for a further 5 mins and turn off. Add the chopped coriander and mix. Divide into 10 parts. Make 10 equal balls out of the dough. Flatten each ball and shape into a cup with your fingers. Now put the divided onion mixture in the dough and bring the sides up to seal. Flatten into a disc shape. Do this with all ten balls. Heat oil for deep frying in a wok, and fry 2-3 at a time on medium heat, so that it cooks evenly. You can also brush with oil and bake them in an oven. Serve hot with chutney.
LAL MAAS (RED MUTTON)
Ingredients:
750 gms mutton with bones, cubed
4-5 tbsp desi ghee (clarified butter)
10 kashmiri red chillies, soaked
½ cup dahi (yogurt)
2 tsp jeera (cumin) powder
2 tsp dhania (coriander) powder
¼ tsp haldi (turmeric powder)
2 tbsp ginger-garlic paste
2 badi elaichi (black cardamoms)
4 choti elaichi (green cardamoms)
1 inch stick dalchini (cinnamon)
3-4 lavang (cloves)
1 tejpatta (bay leaf)
4 onions, finely chopped
½ tsp garam masala powder
salt to taste
coriander for garnishing
1 piece charcoal
Method:
Put the soaked chillies into a mixer and grind to a fine paste. In a bowl, combine the mutton, dahi, jeera powder, dhania powder, haldi powder, one tbsp of the ginger garlic paste and the red chilli paste you just made. Mix well marinate in the refrigerator for 1-2 hours.

Heat the ghee in a pressure cooker. Add all the elaichis, dalchini, lavang, tejpatta and let it fry till aromatic. Add the onions and sauté till they turn light brown. Then add the remaining ginger garlic paste and continue to saute. Add the marinated mutton and fry well on high heat for two to three minutes. Add salt and a cup and half of water. Close the cooker and cook on high heat till the first whistle, then lower the flame and let it cook for 20-25 minutes more. Once you switch it off and the pressure is released, open the cooker.

Meanwhile light a piece of charcoal, place it in a katori (small metal bowl). Place the bowl in the centre of the pressure cooker. Add two to three cloves to the coal, pour some ghee and quickly cover with a lid and set aside for two to three minutes. Remove the coal, put the curry back on heat, add garam masala powder and give a quick stir before removing from heat. Serve hot with parathas or rice.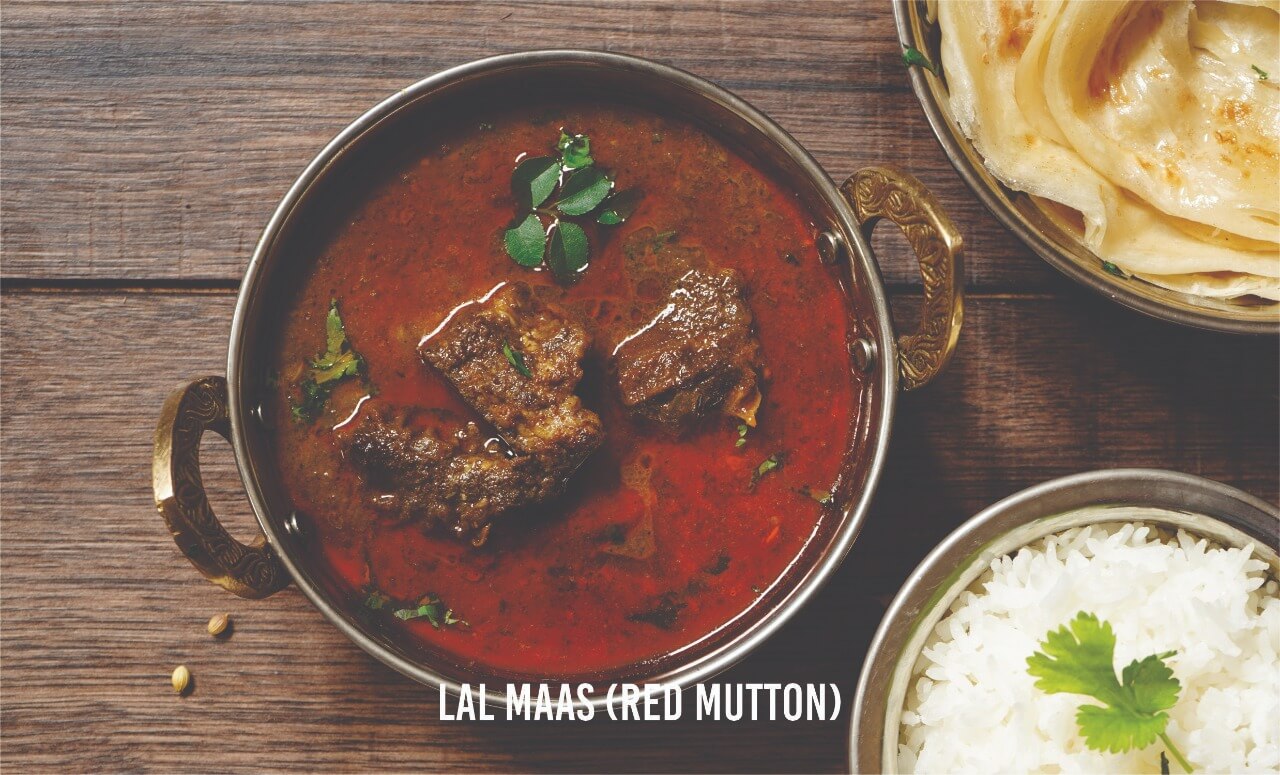 MOONG DAL Halwa MOONG LENTIL and ghee dessert)
Ingredients:
3/4 cup moong dal (split yellow gram)
3/4 cup sugar
1 cup warm water
1 cup warm milk
¼ tsp elaichi (cardamom) powder
10-12 strands kesar (saffron) dissolved in 1 tbsp warm milk
3/4 cup ghee (clarified butter)
½ cup slivered almonds, pistachios, cashew nuts
Method:
Soak the moong dal in water for 3 hours. Drain well and process to a coarse paste in a blender, along with 1 tbsp water. Heat ghee in a non-stick wok or pan, and add the ground dal. Fry on a low flame for 20-25 minutes, stirring continuously. Once the dal browns and ghee begins to separate, add the milk and water, and continue stirring for 5-7 minutes, after which you can add the sugar, and stir for another 5 minutes. Add the saffron, cardamom powder and cook for another 5 minutes. By now the liquid will be absorbed. Garnish with chopped nuts and serve hot.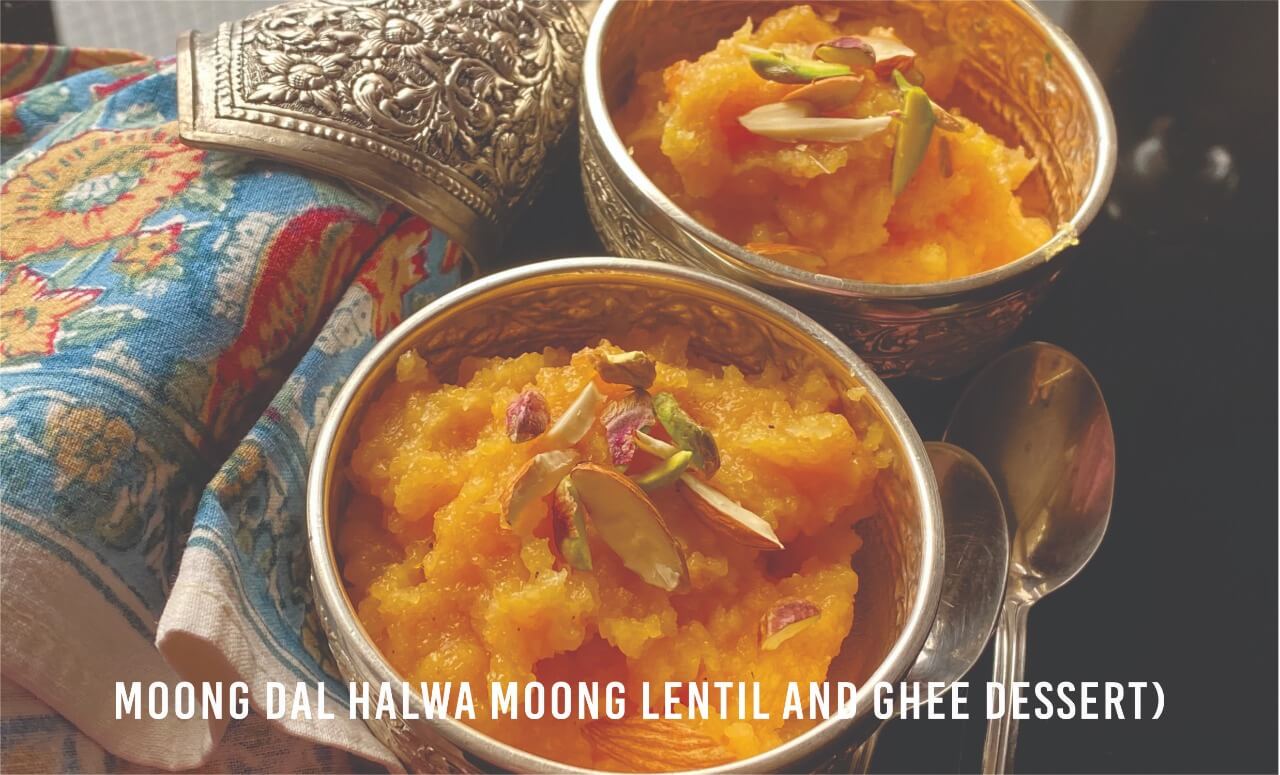 A little more about Rajasthan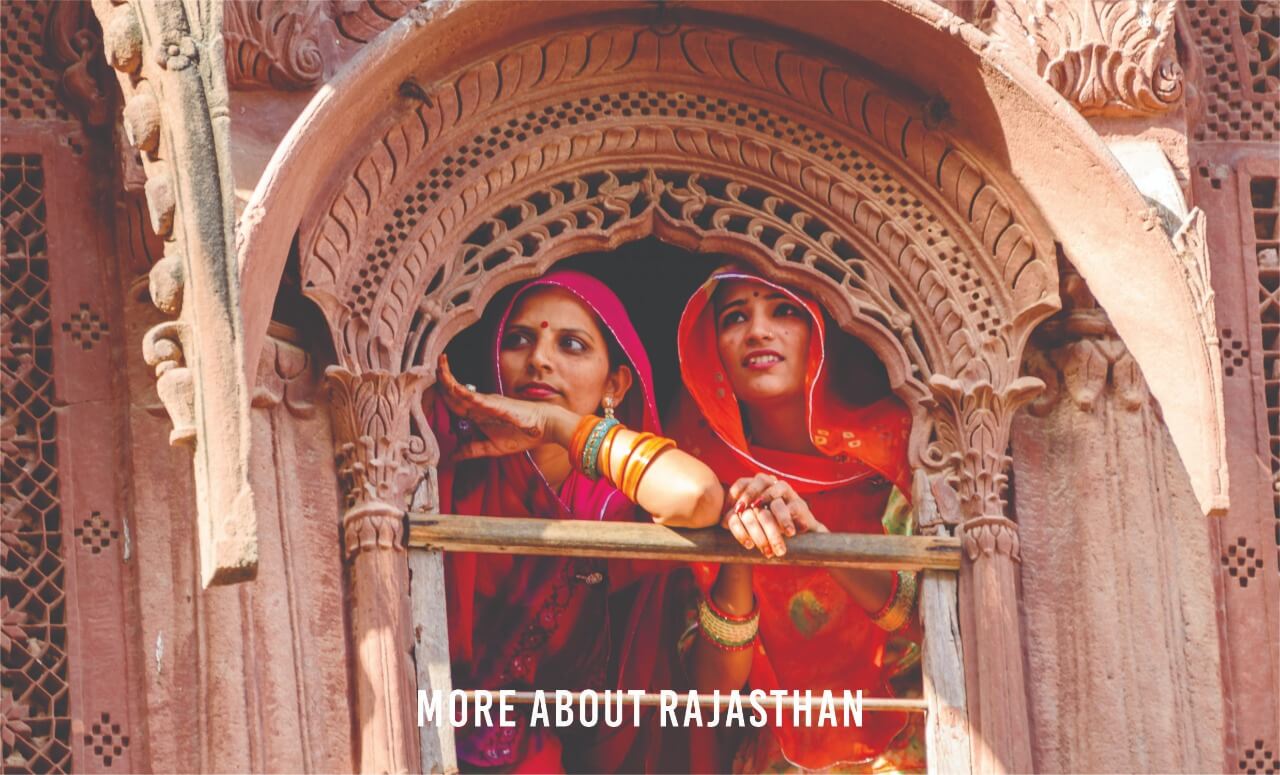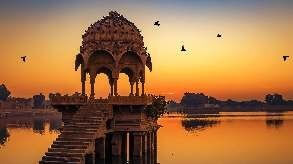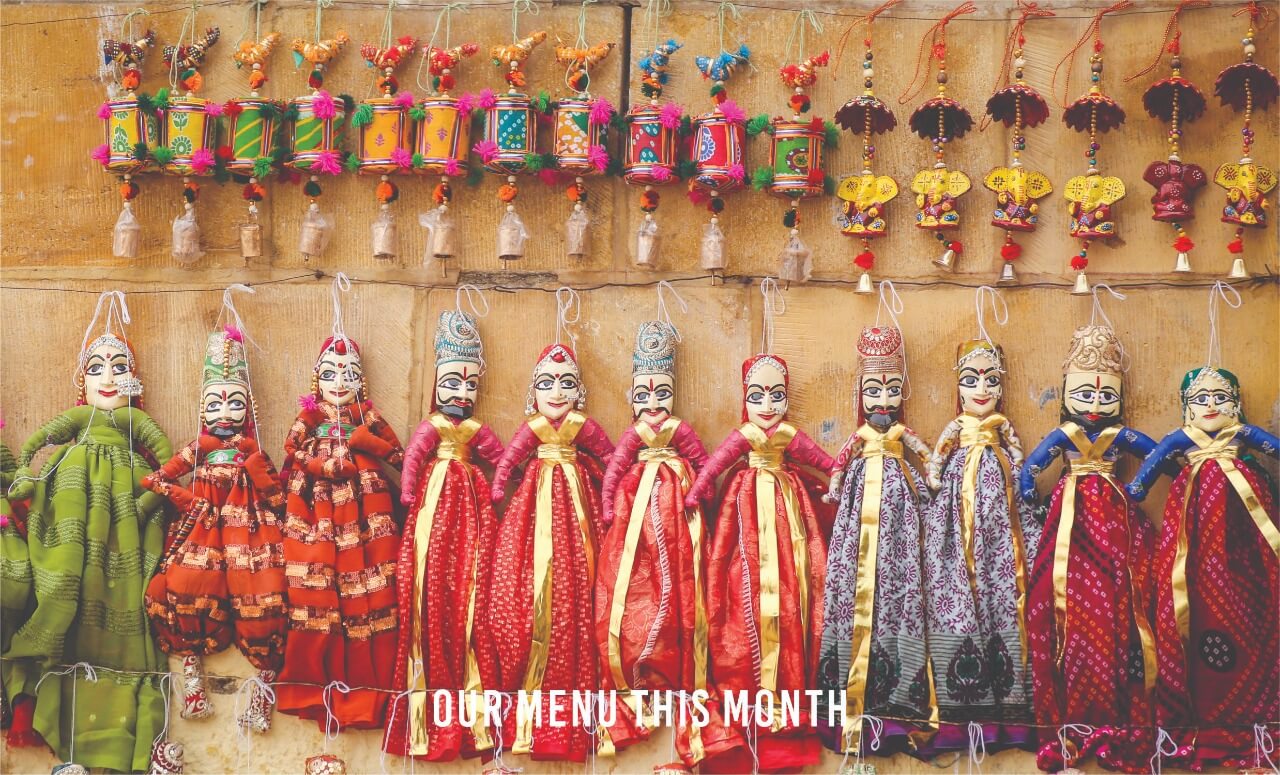 Steeped in legends of chivalry and valour, this land of the erstwhile Rajput warriors is one of India's most colourful states. Replete with historical forts and palaces, wildlife sanctuaries and palatial hotels, the romance of Rajasthan is inimitable. The traditional welcome of 'Khamma Ghani' says it all – you will be welcomed in royal style, with the hospitality for which the locals are famous.

Jaipur, the Pink City, is the capital of Rajasthan, and famed for its culture, forts, palaces, and lakes. Jaipur was originally painted pink to welcome Prince Albert to India. The mighty Amber Fort, by the Maota Lake, is a fascinating blend of Hindu and Mughal architecture, and an elephant ride up to the fort is an adventure in itself! Udaipur, formerly the capital of the Mewar Kingdom, is known as the 'white city' of Rajasthan. One of Rajasthan's most romantic cities, it is set around a series of artificial lakes and is known for its lavish royal residences. Lake Pichola, home to the famous Lake Palace, is the perfect setting for serene sunset boat rides – a must after a day of bustle and activity in the colourful bazaars of the city.

Surrounded by the golden sand dunes of the Thar desert is Jaisalmer, the Golden City of Rajasthan. The majestic honey-gold Jaisalmer Fort is the only living fort in India and houses an entire township within its ramparts. The tumultuous history of Chittorgarh conjures up sagas of tenacity, valour, and sacrifice. The city is known for its famous 7th century Chittorgarh Fort, a vast hilltop complex with the remains of many temples and monuments within its precincts. Ranthambore National Park is dotted with stone structures that hark back to bygone era. The tigers in Ranthambore are accustomed to seeing vehicles, and often hunt in full view of visitors, even during the daylight hours. In the heart of Rajasthan's Shekhawati region, Mandawa is known for its beautiful forts and havelis. The painted havelis – mansions with frescos- are a feature all over the region, and in Mandawa in particular, this art form is seen at its most lavish. Pushkar is renowned for the cattle fair that takes place here every year, bringing in thousands of people from all over the world. If ever beauty has bloomed in a desert, Bikaner is the place to find it! Built in 1400s by Rao Bika Ji, Bikaner features imposing palaces and richly sculpted temples. Opulent havelis grace the city with old-world charm. The imposing Junagadh Fort, built in 1593 A.D. by Raja Rai Singh, was once an unassailable fortress.
We hope you enjoy cooking this little taste of Rajasthan – see you next month on the Spice Trail!