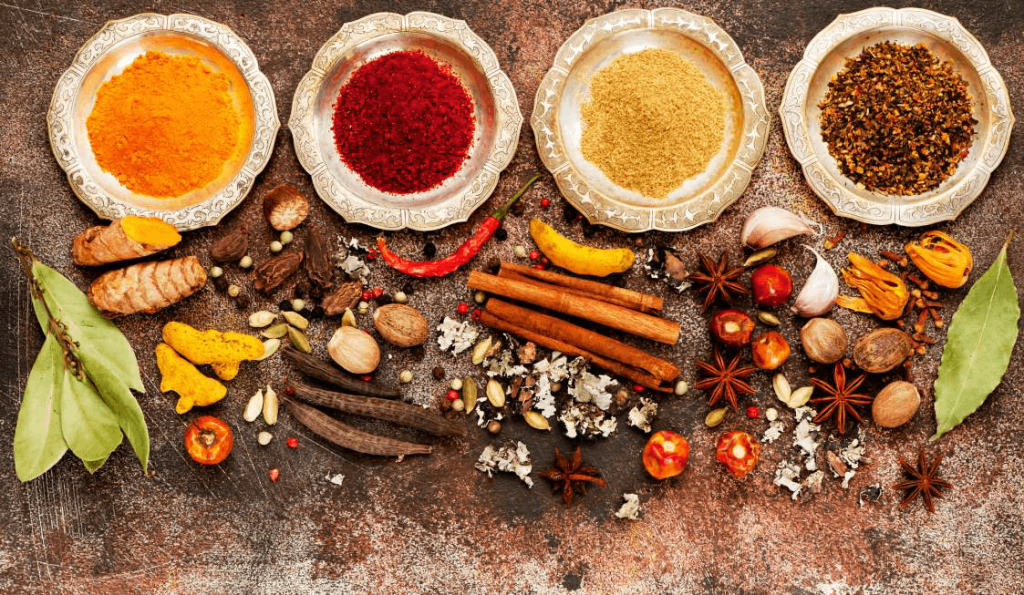 On The Spice Trail with Tamarind Global
Punjabi cuisine is perhaps India's best known, with the ubiquitous tandoori chicken, butter chicken and chicken tikka masala making the cut on every second Indian restaurant's menu! Punjabis are known for their exuberance and zest for life, which is reflected in their music, festivals, dances and of course, their hearty cuisine. Contrary to popular belief, it's not all about chicken! There is plenty of vegetarian fare. Wheat is a staple part of the diet, along with a variety of lentils, beans and vegetables. The curries and dals (lentils) are rich, laced with ghee, butter, cottage cheese and cream, and meals are accompanied by a thick, sweetened yogurt drink called Lassi. Vegetables are seasonal – Aloo Gobhi (cauliflower and potato) and Sarson ka Saag (mustard and other greens) are eaten in winters, and Bharwan Bhindi (stuffed okra) in summers. Flatbreads are varied and many, and a popular dish is the stuffed paratha. This is an unleavened wholewheat flatbread, stuffed with anything from potatoes, peas and cauliflower to white radish, minced meat and cottage cheese, and lathered with homemade white butter. Rotis, kulchas, naan and parathas are made of all-purpose flour, gram flour, makka (cornmeal) and Bajra (millet), flavoured with nigella, sesame, mint, fenugreek and spinach. Deep fried bhaturas are served with that most popular of dishes, Chole (spiced chickpea curry). The bhatti or tandoor is a clay oven which is frequently used for cooking meats and bread. The Punjabi Dhaba concept originated as a truckers stop on highways across India, but these dhabas can now be found in cities as well. They serve typical Punjabi dishes like Chicken Tikka, Chole Bhature, Palak Paneer (spinach and cottage cheese), meat curries, lentils, parathas, naans, vegetables and more. Popular dishes made at home include Punjabi Kadhi with Pakoras (yogurt curry with fried dumplings), Rajma Chawal (kidney beans curry with rice) and Kali Daal (curried black gram) and Baingan Bharta (roasted brinjals). Common desserts include Gajar Halwa (carrot halwa), Gulab Jamum, Jalebi, Rasmalai, Phirni and Kulfi.
Our Menu for this week:
Amritsari Chole Bhature (Spiced Chickpeas with Fried Bread)
Kadai Paneer Gravy (Wok fried Cottage Cheese Gravy)
Dahi Wale Aloo (Potatoes in Yogurt)
Murg Makhani (Butter Chicken)
Karah Prasad Halwa (Wheat and Ghee Dessert)
Please do post your culinary creations of this menu on Facebook and Instagram with #spicetrailtamarindglobal and @tamarindglobaltours
Kadai Paneer Gravy (Wok fried Cottage Cheese Gravy)
Ingredients:
2 tbsp dhania (coriander) seeds
4 dried red kashmiri chilies , cut up 1 ½ tsp saunf (fennel seeds)
2 large onions, sliced
2 large tomatoes, diced 8 cashew nuts
½ cup tomato paste
1 onion cubed, layers separated
1 cup red and green bell peppers, cubed
300 gms paneer or Indian cottage cheese, cubed 1 tsp ginger garlic paste
½ tsp red chili powder
¾ tsp garam masala
¾ tsp kasuri methi (dried fenugreek leaves), optional salt to taste
1 tsp ginger julienne
2 tbsp coriander leaves chopped finely oil as required
Method:
Put the red chilies, fennel seeds and coriander seeds in a blender and grind to a fine powder. Heat 1 tbsp oil in a pan. Fry the chopped onions, tomatoes and cashew nuts until the onions and tomatoes are cooked soft. Cool, then put in a blender and grind to a paste with the tomato paste and a little water. To the same pan, add 1 tsp oil and heat it. Sauté the cubed onion and bell peppers on the highest flame until a little charred, but still crunchy. Remove. Now add the cubed paneer to the pan and fry till golden on all sides. Set all these aside. In a wok, heat 1 tbsp oil and sauté the ginger garlic paste until the raw smell fades. Add the dry ground spices and stir till fragrant. Add the ground onion tomato paste and sauté for 2 minutes. Next add garam masala and red chili powder. Sauté for another 2 mins until the masala turns fragrant. Add ¾ cup water and cover, allowing the gravy to simmer. Open the lid and boil until the gravy thickens and traces of oil appear on top. Then crush and add kasuri methi. Stir well again. Taste the gravy for seasoning. Now add the sauteed paneer, bell peppers and onion. Stir well, put in a bowl, and garnish with ginger juliennes and coriander leaves. Serve with paratha, kulchas or rice.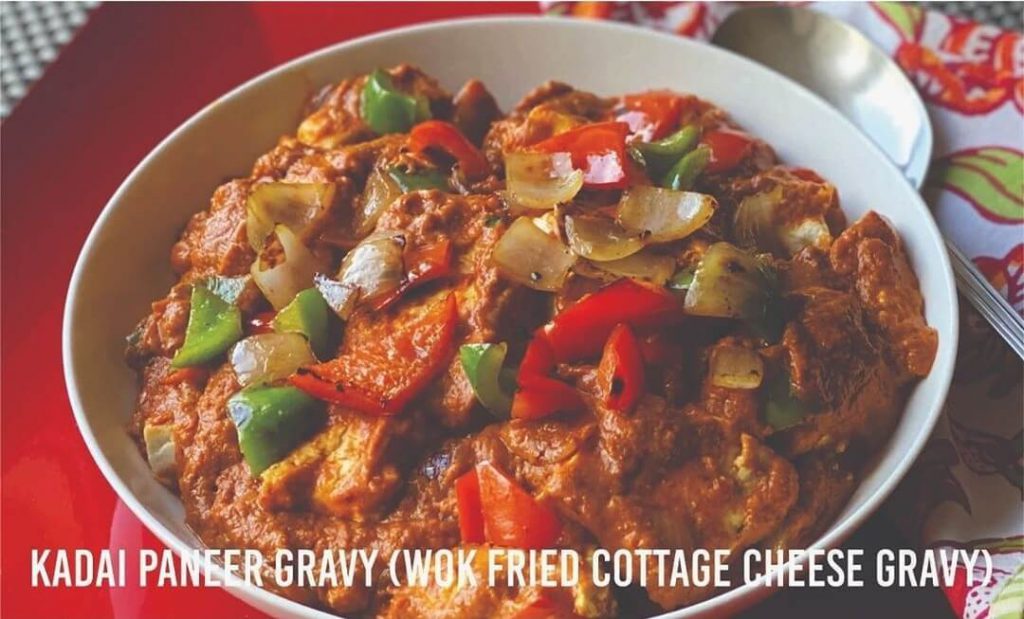 Amritsari chole Bhature (spiced chickpeas with fried bread)
For the Chole:
1 cup kabuli chana (chickpeas)
1 tea bag
1 inch dalchini (cinnamon)
1 tej patta (bay leaf)
3 pods badi elachi (black cardamom)
¼ tsp baking soda
For the curry:
oil as required
1 bay leaf / tej patta
1 onion, finely chopped, 1 tsp ginger garlic paste, 1 chilli, slit
2 tomatoes, finely chopped
1 tsp salt
For the spice powder: (substitute with ready made Chole Masala if desired)
½ tsp jeera (cumin seeds)
1 tsp dhania (coriander seeds) ? ¼ tsp shahi jeera (black cumin) ? ¼ tsp pepper
¼ tsp saunf (fennel seeds)
1 tsp kasuri methi (dry fenugreek leaves)
3 lavang (cloves)
2 pods black elachi (cardamom)
3 dried red chillies
¼ tsp haldi (turmeric)
¼ tsp aamchur (dry mango powder)
1 tbsp anardana ( dried pomegranate seeds)
pinch hing / asafoetida For tempering:
1 tbsp ghee (clarified butter)
1 green chilli, slit
1 inch ginger cut into thin julienne
¼ tsp kashmiri red chilli powder
Method:
Soak the channa in enough water overnight, or for eight hours. Drain, and cook in a pressure cooker for 4-5 whistles, along with tea bag, dalchini, tejpatta, badi elaichi, baking soda and 3 cups of water. Once the cooker cools, open and check – the channa should be soft enough to press between your fingers. Discard the tea bag. In a pan, dry roast the spice powder ingredients on a low flame till they become fragrant. Cool, and grind to a fine powder. In a large kadai (wok) heat 2 tbsp oil and sauté the bay leaf. Add the chopped onion, ginger garlic paste and one chilli. Sauté till onions turn golden brown. Add the prepared spice powder (or 3-4 tsp ready chole masala) and stir on low flame till the spices turn aromatic. Now add the tomatoes and continue to fry, until the tomatoes turn mushy and oil begins to separate. Put in the cooked channa with the cooking water and salt. Cover and simmer for 15 minutes. Remove into a bowl. In a small pan, heat 1 tbsp oil, and add the tempering ingredients in the order given. Once it splutters, pour over the chole. Serve with hot bhaturas.
For the Bhature:
Ingredients:
2 cups maida (all-purpose flour) 1 tbsp rava (semolina)
1 tsp sugar salt to taste
½ tsp baking powder
¼ tsp baking soda 2 tsp oil
1 cup yogurt
½ cup maida (all-purpose flour) for dusting oil for deep frying
Method: In a mixing bowl, add the maida, rava, salt and sugar. Put in the baking powder and baking soda, and mix well. Add the oil and mix till it is well incorporated. Now add the yogurt, and begin to knead the dough. Knead and punch with the back of your hands for five minutes. Make a ball of the dough and grease with a little oil, then cover and set aside in a warm place for 2-3 hours. Divide the dough into medium sized round balls. Roll the balls out into circular discs, about 6 inches in diameter, neither too thin nor thick. Dust with as little flour as possible while rolling. Heat oil for deep frying in a wok. When the oil is sufficiently hot, add one bhatura, and, press with the spoon lightly to help it puff up. Once it begins to puff, splash oil over the bhatura from the sides. Flip over and fry till golden brown on the other side. Fry all the bhaturas like this and serve hot with Amritsari Chole.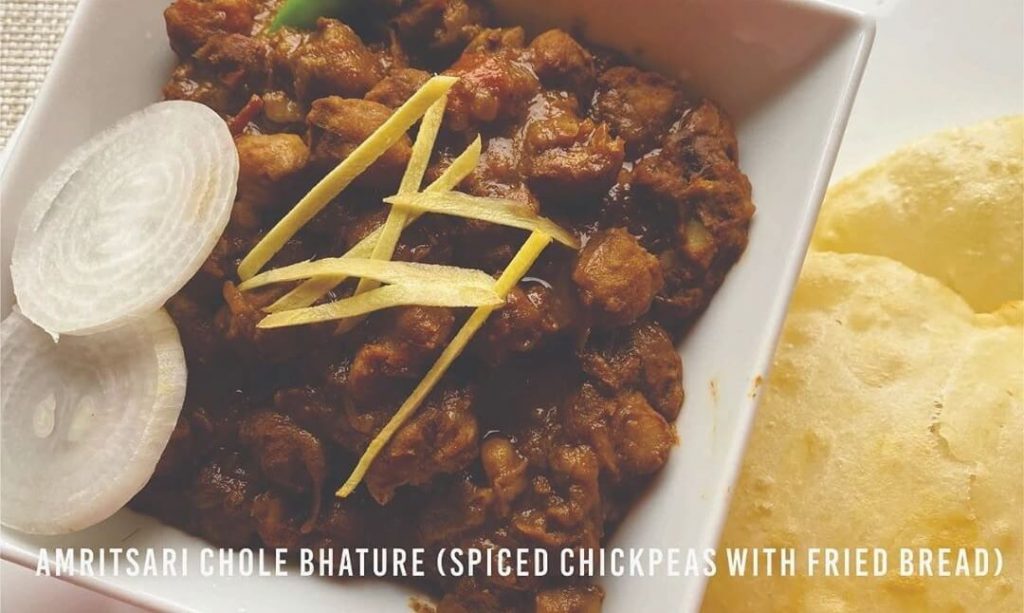 Dahi wale aloo (potatoes in yogurt)
Ingredients:
4 potatoes, chopped 1 ½ cups dahi (yogurt)
2 tbsp besan (gram flour) 1/3 tsp hing (asafoetida) 1 tsp jeera (cumin seeds)
1 sprig curry leaves
1 onion, finely chopped
1 tsp ginger and garlic, finely chopped 2 green chillies, chopped
1 teaspoon red chilli powder
1 ½ tsp dhania powder (coriander powder)
½ tsp haldi (turmeric powder) salt to taste
oil as required
coriander leaves, chopped for garnish
Method:
Pressure cook or microwave the potatoes till soft. Peel and dice roughly. In a large bowl, put the dahi and besan. Add half a cup of water and whisk them together to make a smooth, no lumps batter. In a wok or kadhai, heat 2 tbsp oil. Add jeera and hing. Once the jeera crackles, add chopped onion and sauté till the onions soften. Next add the ginger, garlic and green chilies along with the curry leaves and toss. Add the red chilli powder, coriander powder and turmeric, and sauté the masala till the oil begins to separate. If it sticks to the pan, add a little water and scrape the sides. Add the potatoes to the masala fry. Turn the heat to low and start pouring the beaten curd over the potatoes. Mix well. Adjust salt as per your taste and close the lid to allow the curry to simmer for 5 minutes. Once done, turn the heat off, garnish with coriander leaves and serve hot with rice or roti.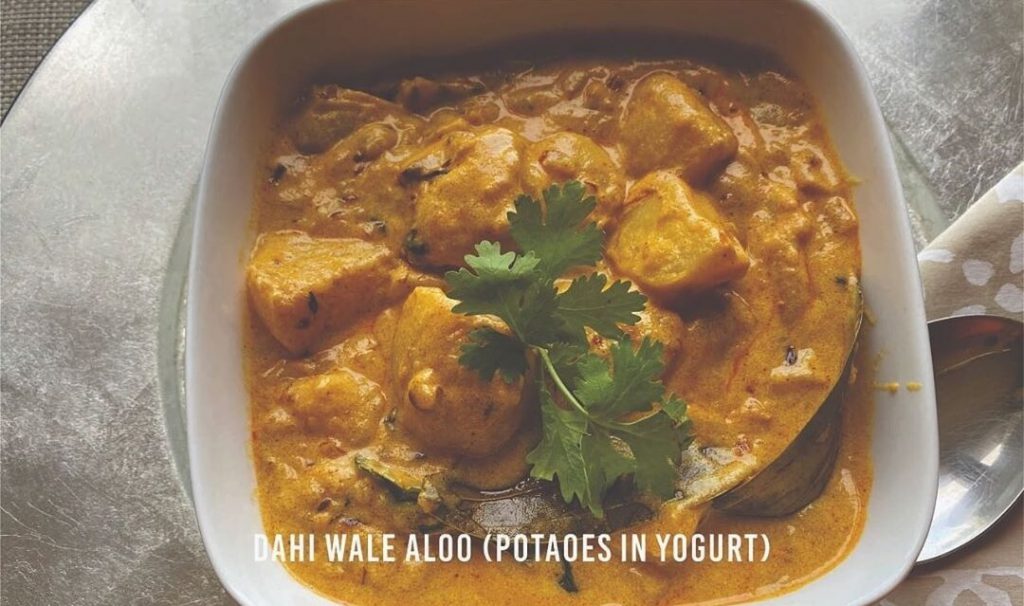 Murg Makhani (butter chicken)
Ingredients:
2 tbsp oil
4 chicken breasts
2 tsp ghee (clarified butter)
2 tbsp butter
4 green chillies chopped fine
400 ml tomato puree
1 tsp garam masala
1 tsp red chilli powder
2 tsp crushed kasuri methi
150 gms fresh cream (¾cup)
pinch kasuri methi
oil as required
First marinade:
juice of 2 lemons
1 ½ tsp salt
a few drops of red food colour
Second marinade:
3 tbsp tandoori masala ?
2 tsp ginger garlic paste ?
½ cup whipped yogurt
1 tbsp oil
Method:
Wash and pat dry chicken breasts. Slice horizontally through the center to get thin ?at pieces. Marinate with lemon juice, red colour and salt. After 15 mins, proceed with the second marination- yogurt, ginger garlic paste, oil, tandoori masala. Mix and refrigerate for at least 45 minutes. 3 hours is better but overnight does wonders. In a pan, add 2 tbsp oil, and fry two or three of the chicken breast pieces on a high flame. Keep turning over to avoid burning. Cook till the chicken is just done and slightly charred. Set this aside. Repeat with remaining slices. When they cool, slice the chicken into strips. Heat the ghee and butter in a pan, add green chilies and fry for 2 to 3 minutes. Pour in the tomato puree, add red chili powder and salt. Mix and cook till the tomato puree becomes dark. Add the garam masala and the kasuri methi. Give it a minute and put in the chicken pieces and stir. Add half a cup of water and mix. Now add the cream, stir well and switch off the gas. Serve with kulchas or naan.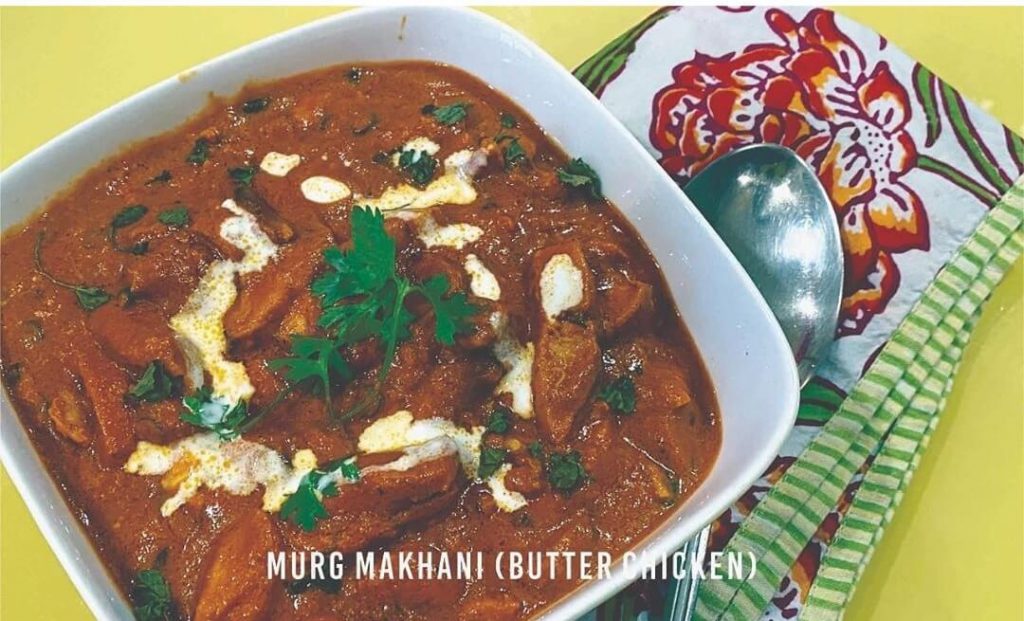 Karah Prasad Halwa (wheat and ghee dessert)
Ingredients:
1 cup atta (whole wheat flour_
1 cup sugar
1 cup ghee
3 cups water
Method:
Add 1 cup sugar in pot. Add 3 cups water. Use a sauce pan which has a handle if possible. Heat on a medium ?ame. Stir the solution till the sugar dissolves, and the water begins to boil. Switch o? the ?ame. Heat the ghee in a heavy bottomed pan and add the atta. roast on a low ?ame for a while, till the atta turns dark golden and a nutty aroma comes. Stir frequently to ensure even cooking. Now add the sugar water, stirring continuously. The mixture will thicken and as you keep stirring the halwa will release ghee. Cook till it becomes one mass. Serve hot.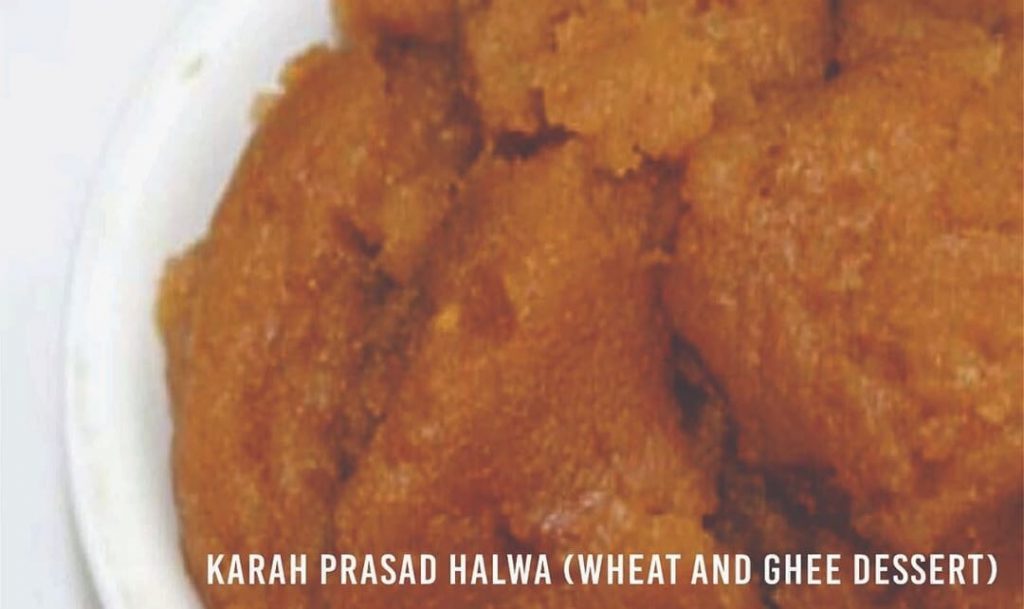 A little more about Punjab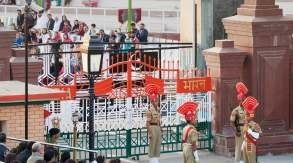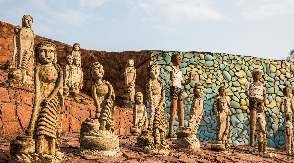 Punjab is the heart of India's Sikh community. Amritsar is best known for its Golden Temple (Harmandir Sahib), the holiest gurdwara, and a revered shrine of the Sikh faith. Built in marble and partially covered in gold, the famed Golden Temple is surrounded by the sacred Amrit Sarovar Lake, meaning 'the pool of ambrosial nectar'. Langar, the traditional gurdwara meal, is served to thousands every day, with the sacred karah prasad which features in our recipes here. This city is the site of the infamous Jallianwala Bagh massacre that took place during the British Raj, when thousands of innocent civilians were killed. A memorial to the martyred is a moving visit. Amritsar is in close proximity to the Indo-Pakistan border at Wagah, where thousands gather daily to witness an elaborate military ceremony conducted on both sides of the border.
Planned by the famous French architect Le Corbusier, Chandigarh is known for its streamlined boulevards and well laid out residential areas. Enclaves such as the Rock Garden, and the Leisure Valley & Rose Garden are well worth a visit. What's interesting is, Chandigarh's Rock Garden has been designed out of discarded industrial and urban waste. The fourth-largest city in the state of Punjab, Patiala is where you'll get a glorious glimpse into the history of 18th and 19th century Punjab. Farming is at the heart of Punjab, and the state has some outstanding boutique farmstays where you can experience rural living. History lovers will be enthralled by Qila Mubarak at Bathinda, about three hours south of Amritsar and west of Patiala. Since we are now at the end of the lockdown period, we will see you on the Spice Trail on a monthly basis – we will be back in July!