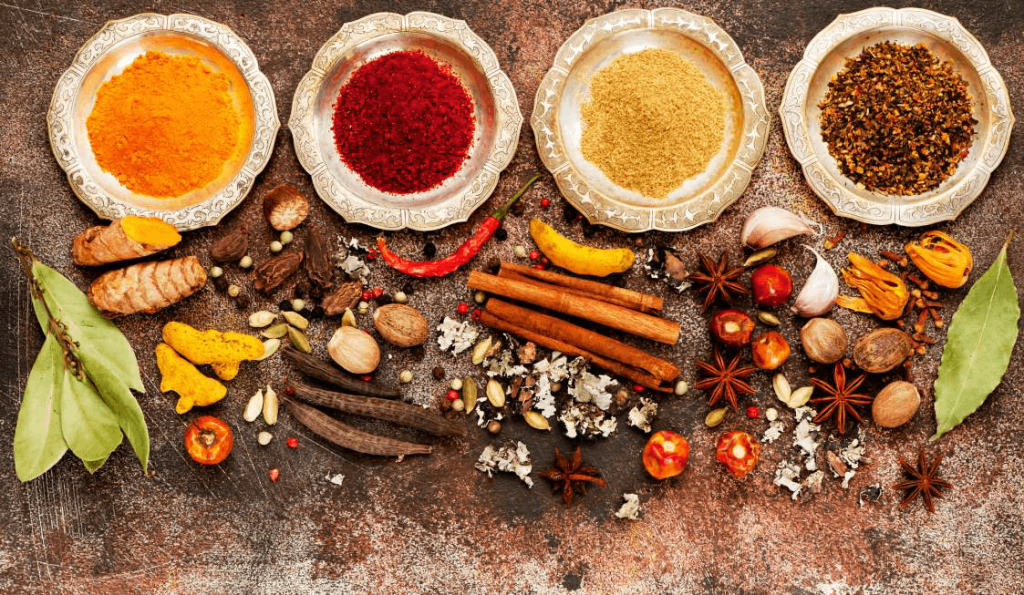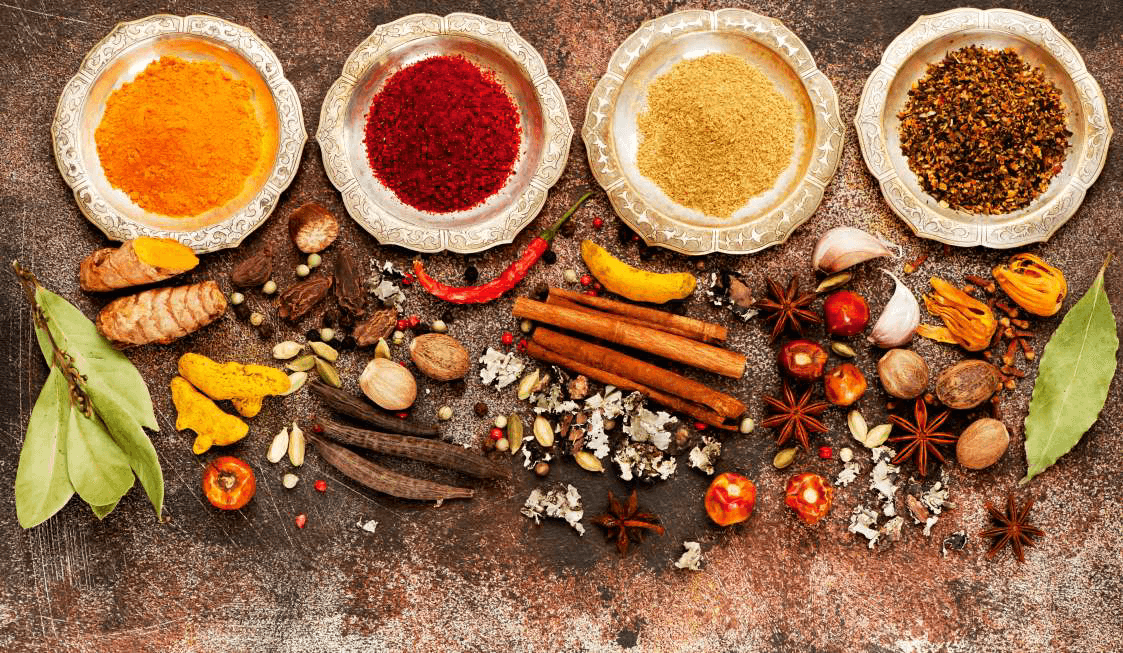 On The Spice Trail with Tamarind Global
In these strangely housebound times, our lockdown blues appear to be considerably alleviated by experimentation in the kitchen. At Tamarind Global, we are exploring local cuisines statewise, and will bring you a meal plan with recipes each week to share our culinary travels.
This week, we begin with one of our favourites, Kerala. Not for nothing is this state known as God's Own Country . Did you know that Kerala translates as 'Land of Coconuts'? The word 'keram' in Malayalam means 'coconut tree', and the land came to be known as Keralam. When you fly into Cochin, you can see miles and miles of coconut plantations, and naturally, the cuisine is packed with the goodness of this fruit.
While the meals you can enjoy in Kerala are widely varied, there are a few staple specialties that must be tried. All time favourites include kappa and meen curry (tapioca and fish curry), appam and stew, puttu and kadala (a cylindrical steamed rice cake that is cooked in a mould with grated coconut, eaten with black chickpea curry) porotta and nadan kozhi (malabari parathas with chicken curry) and karimeen pollichathu — a fish delicacy using Pearl Spot fish locally known as Karimeen. Malabar biriyani is a whole different chapter. Ila Sadya is a festive vegetarian meal eaten on the traditional banana leaf, and includes delicacies like pachadi, kichadi, pulissery, olan, sambar, varavu, thoran, aviyal, payasam, served with hot steaming rice.
Our Menu for this week:
Vegetable Stew with Appams
Nadan Kozhi
Kadalai Paruppu Payasam
Please do post your culinary creations of this menu on Facebook and Instagram with #spicetrailtamarindglobal and @tamarindglobaltours
Appams
Ingredients:
2 cups raw short grain rice soaked for 4-5 hours
I cup parboiled rice soaked with above
1 cup cooked rice
1 cup grated coconut
2-3 tsp sugar
salt to taste
1 tsp dry yeast dissolved in half cup warm water and 1 tsp sugar
half tsp soda
Method:
Grind the cooked rice with the grated coconut. Now add the raw rice and grind very smooth.
Remove in a bowl. Add salt and sugar, and the yeast mixture. Add enough water to make dosa like consistency Mix gently. Leave for few hours to ferment.
Once the batter is fermented, don't add more water. Just before making the appams, add 1/2 tsp soda.
Heat the apakadai (small shallow kadai with lid). Ladle 5-6 tbsp of batter into centre and swirl around till it reaches the edges of the pan. There will be some batter left in the central well of the pan – the appam needs to be thick and soft in the center with thin and crisp edges. Cover and cook.
Serve with vegetable stew, mutton stew or Nadan Kozhi Curry.

Kerala Vegetable Stew
Ingredients:
½ tbsp coconut oil
2 cloves / lavang
1 inch cinnamon / dalchini
2 pods cardamom / elachi
1small onion, thinly sliced
5 french beans, chopped
½ carrot, diced
½ potato, cubed
3 tbsp green peas
1 cup cauliflower florets
2 green chilli, slit
1 inch ginger, julienned
1 cup water
1 tsp salt
2 cups coconut milk
few curry leaves
Method:
In a large deep skillet heat ½ tbsp coconut oil and sauté 2 cloves, 1 inch cinnamon and 2 pods cardamom. Add the sliced onion and sauté till transparent. Do not brown the onions. Add the prepared vegetables along with 2 green chillies and ginger juliennes. Fry a little. Now add 1 cup of water, half cup of the coconut milk, 1 tsp salt and few curry leaves. Mix well. Cover and boil for 10-12 minutes or till vegetables are cooked. Turn off the flame and add the coconut milk, few curry leaves, the remaining coconut milk and 1 tsp coconut oil. Give it a good stir. Serve with idiyappams or appams.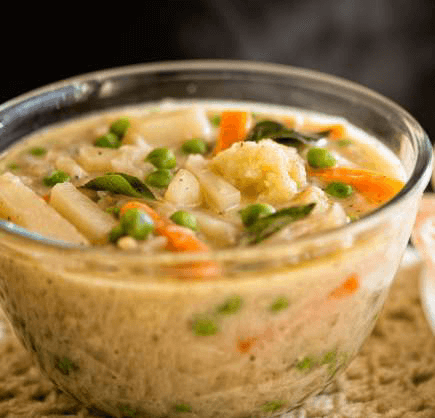 Nadan Kozhi (Chicken Curry)
Ingredients:
1 kilo chicken, cut into curry pieces
For the marinade:
1 tsp black pepper powder
1 tsp haldi (turmeric) powder
2 tbsp white vinegar
salt as required
For the curry:
15-20 pearl onions, peeled
2 tsp ginger garlic paste
3-4 green chilles, slit vertically
2 medium onions, finely chopped
2 medium tomatoes, finely chopped
2 potatoes, cut into cubes
1 ½ tsp powdered saunf (fennel)
Coconut oil as required
1 tsp haldi (turmeric) powder
1 tsp jeera (cumin) powder
1 ½ tsp dhania (coriander) powder
1 ½ tsp red chilli powder
1 tsp garam masala powder
1 ½ cups coconut milk
2 sprigs curry leaves
salt as required
Method:
Marinate the chicken pieces in black pepper, turmeric powder, white vinegar and salt for about 30 mins. Crush 10-12 pearl onions in a mortar and pestle or grinder to a coarse paste. Heat 2 tbsp of coconut oil in a kadhai or heavy bottomed pan. Add the chopped onions, curry leaves and green chillies, and saute till the onions start to turn brown. Add turmeric, coriander, cumin, red chilli and garam masala powders. Sauté for a couple of minutes more.
Add the crushed pearl onions, ginger garlic paste and saute till the raw smell of garlic disappears. Add chopped tomatoes and cook till tomatoes soften. Now add the marinated chicken pieces and cubed potatoes along with a little (about 1/3 cup) water. Add salt and cover and cook over medium high heat till the chicken cooks through. Remove lid and cook over medium high heat till the curry sauce thickens a little. Now add the coconut milk and mix well. Cook for 2-3 minutes more and remove from heat.
Heat coconut oil for tempering and add the remaining pearl onions and curry leaves to it. Once the onions start crisping up a little, pour this over the chicken curry. Close the curry with a lid, immediately, to trap in the flavors of the tempering.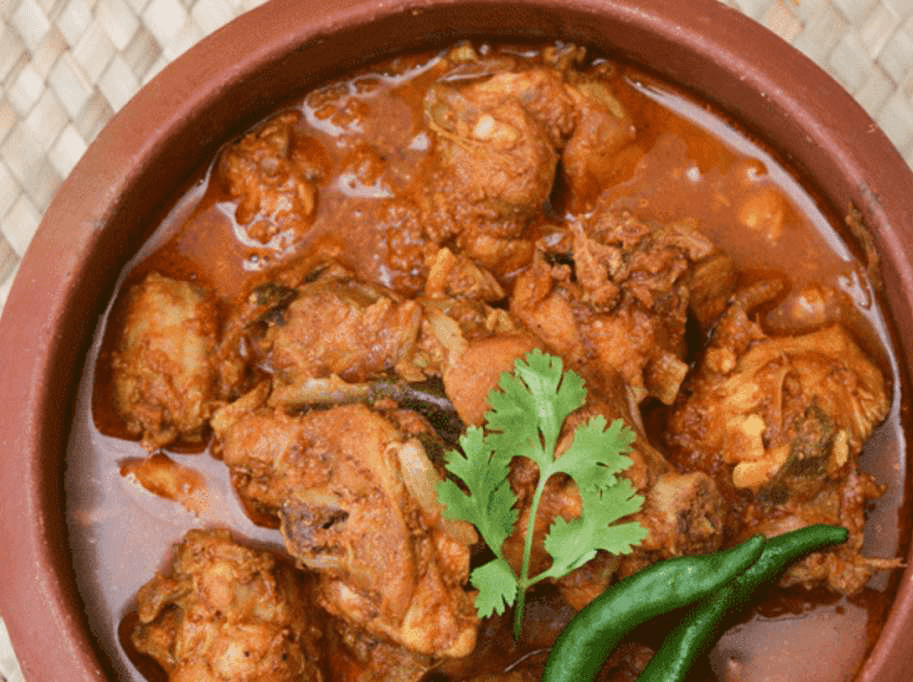 Kadalai Paruppu Payasam (Channa Dal Payasam)
Ingredients:
FOR PRESSURE COOKING:
1 tsp ghee / clarified butter
½ cup chana dal (split gam lentil)
2 cup water
FOR PAYASAM:
½ cup jaggery
¾ cup coconut milk, thick
FOR ROASTING:
1 tbsp ghee / clarified butter
10 cashew / kaju
2 tbsp raisins / kishmish
few sliced pieces of fresh coconut
Method:
In a pressure cooker, heat 1 tsp ghee and the rinsed chana dal. Roast for 2 minutes or until it turns aromatic. Now add 2 cups of water and pressure cook for 5 whistles or until dal is softened.
Once the cooker cooks, open and mash the dal well. Turn on the heat and add the jaggery, and mix well. Cook on medium flame for 5 minutes or until jaggery is dissolved into the dal. Now reduce the flame and add the coconut milk and stir until everything is well combined. In another pan heat 1 tbsp ghee and roast the cashews, raisins and coconut pieces until the nuts turn golden brown.
Transfer the payasam to a bowl and add the roasted ingredients, mixing to incorporate. You can garnish with more dried fruit if desired.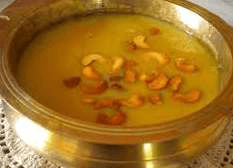 A little more about Kerala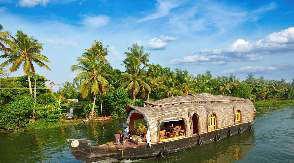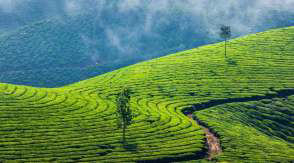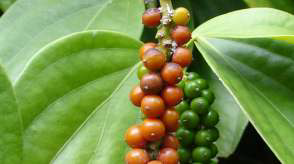 Kerala, one of the most beautiful states in India, attracts travellers from across the globe with its popular hill stations, magnificent backwaters, coconut trees, sprawling and lush tea estates, azure Arabian sea, pristine hamlets, arts & culture, and much more. This south Indian state is also known for its rich history and culture as much as its vast spice plantations. The modern cradle of Auyrveda and natural healing, Kerala grows myriad medicinal herbs in its lush environs. Exotic flora and fauna make the state an incredible destination for wildlife enthusiasts. Kerala also offers tourists with the opportunity to experience its vibrant festivals, dances, literature, and art & craft.
If you haven't experienced the magic of floating down the backwaters of Alleppey in a traditional kettuvallam, gazed upon the rolling tea plantations of Munnar or eaten piping hot banana chips at a roadside stall, it's time to start planning your holiday to Kerala! Though we are passing through a period of uncertainty, once the lockdown eases it will be the right moment to start exploring the wonders of India. At Tamarind, we are happy to help you plan your individualized, tailor made vacation.

See you next week with more on the Spice Trail!