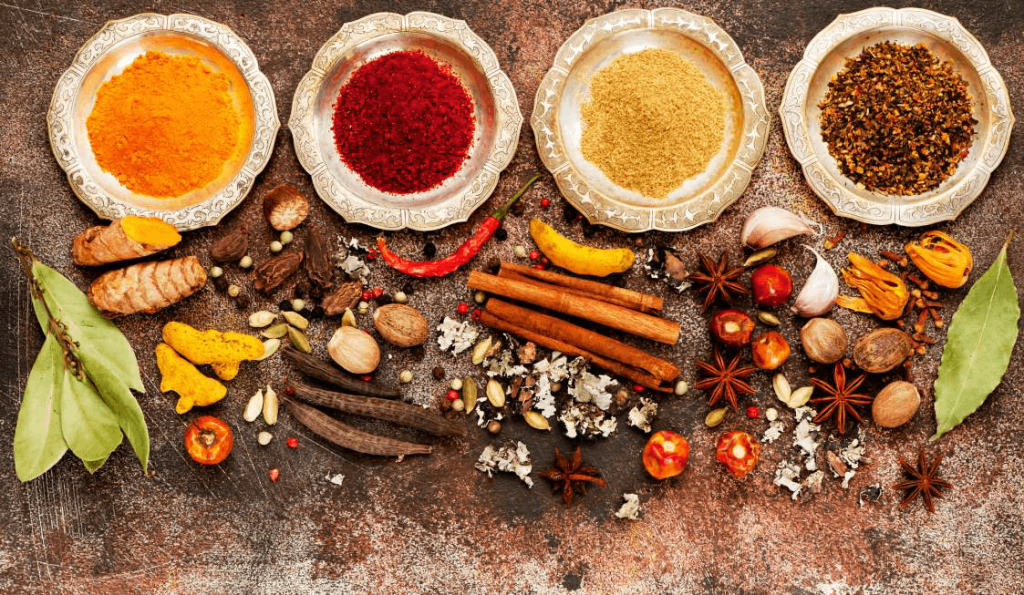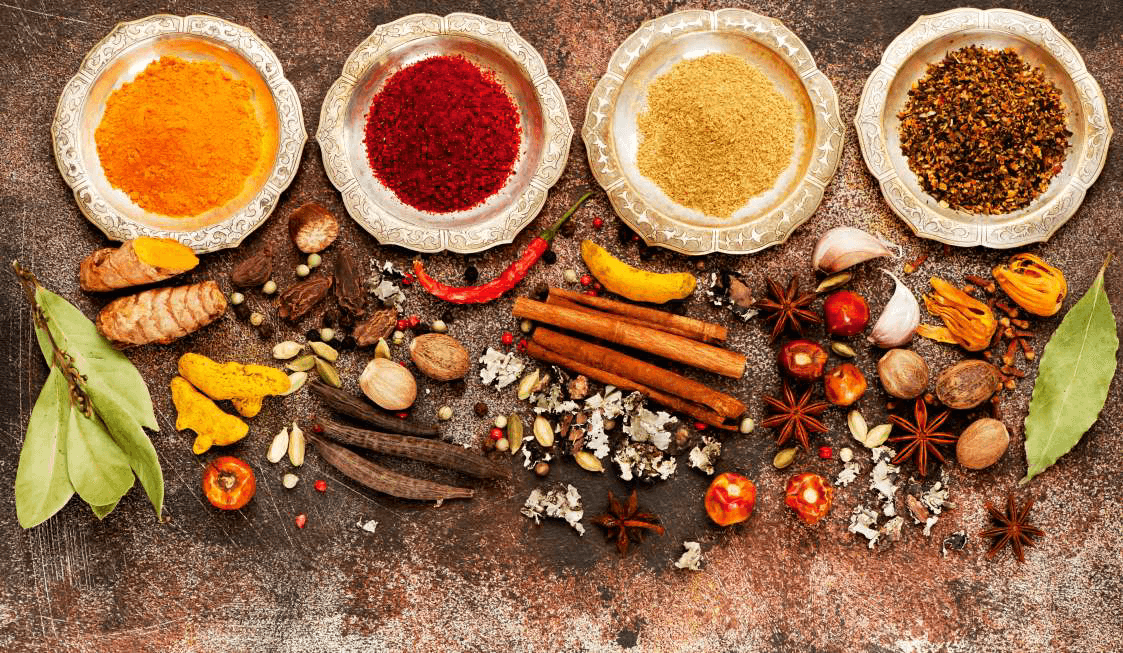 On The Spice Trail with Tamarind Global
FWe hope you enjoyed our Kerala special last week, and feasted on appams and stew. We received so much positive feedback on our first edition of On the Spice Trail with Tamarind that we are presenting our next one with great enthusiasm.
This week, we bring you the comparatively unexplored cuisine of Bengal. Food in Bengal bears varied influences, from the homegrown Bengali widows to exiled Muslim Nawabs, the kitchens of the English memsaabs and their Bengali cooks to the local Chinese population – all in all, this state can offer an interesting gastronomical journey! What sets Bengali curries apart are the distinctive flavours of mustard oil, poppy seeds and 'panch phoron'. Popular dishes include Ilish Macher Jhol (Hilsa Curry), Shukto (Bitter Vegetable Curry), Shorshe Bata Mach (Mustard Fish) Aloo Potol Poshto (Gourd and Potato in Poppy Seeds), Chorchori, Chingri Malai and deep fried Luchhi. The many biryanis and sweets of Bengal would require a whole chapter devoted to them, and are the best known aspect of this cuisine.
Bengal is known for its fresh water fish preparations and mutton dishes, but there is a vast collection of vegetarian fare. Interestingly, it is the widows of Bengal who enriched its vegetarian cuisine. Since they were not allowed to eat meat and fish or 'heating' foods like onions and garlic, they used their creativity to concoct new set of meals that utilized only vegetables, ginger and inexpensive spices.
Our Menu for this week:
Chingri Malai (Coconut Cream Prawns)
Chorchori (Mixed Vegetable)
Dhokar Dalna (Lentil Cakes with Potatoes)
Mishti Doi (Sweet Yogurt)
Please do post your culinary creations of this menu on Facebook and Instagram with #spicetrailtamarindglobal and @tamarindglobaltours
Chingri Malai (Coconut Cream Prawns)
Ingredients:
1 kilo prawns, deveined, with tails on
For the marinade:
For the curry:
mustard oil as required
ghee as required
normal oil as required
2 badi elaichi (black cardamom)
4 choti elaichi (green cardamom)
1 stick dalchini (cinnamon)
2 tejpatta (bay leaves)
3 medium onions, grated
1 tsp jeera (cumin) powder
1 tsp chilli powder
5-6 green chillies
I cup thick coconut milk
½ tsp garam masala powder
a pinch of sugar
Method:
Put haldi salt on prawns. Sauté in mustard oil and keep aside.
In another pan mix normal oil and ghee. Add the whole garam masala spices. Add grated onions and saute till light brown. Add the prawns, chilli powder, jeera powder and check salt. Add the sugar and saute.
Now pour in the thick coconut milk. and mix well. Add 5-6 green chillies, some ghee, garam masala powder and remove from heat. Serve with rice.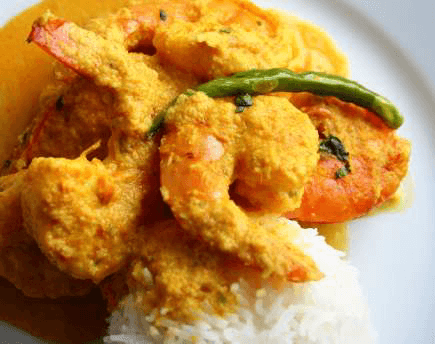 Chorchori (Mixed Vegetable)
Ingredients:
4 tbsp mustard oil
a pinch of hing (asafetida)
4-5 garlic cloves
2 tsp ginger, chopped
2 green chillies
1 ½ tsp yellow mustard seeds (if unavailable use 1 tsp Dijon mustard)
4 bay leaves (tej patta)
1 tsp panch phoran (equal parts of rai (mustard seeds), jeera (cumin seeds), methi (fenugreek seeds), saunf (fennel seeds) kalonji (nigella seeds)
1 cup potatoes, chopped
4 baby brinjals (halved or quartered)
1 cup cauliflower, chopped
1 cup red pumpkin, chopped
1 drumstick, cut into 2 inch pieces
a pinch of salt
a pinch of sugar
¼ tsp haldi (turmeric power)
¼ tsp dhania (coriander) powder
¼ tsp jeera (cumin) powder
1 green chilli (slit)
chopped coriander leaves for garnishing
Method:
In a grinder, add the mustard seeds, garlic, ginger and green chillies with a pinch of salt. process into a paste. In a pan, heat the mustard oil to smoking point, then reduce flame. Add the tej patta, hing, panch poran and the ground paste paste, and sauté. Now add the potatoes and let them fry on low heat. Once they look half cooked, add the cauliflower and drumsticks. Now is also a good time to add salt. Mix well. Turn up the heat little bit and sprinkle little water in the pan. Reduce heat, cover and let it steam for about 3-4 minutes. Once the potatoes are almost cooked add haldi, dhania powder and jeera powder. Now turn up the heat and add the pumpkin and brinjals. Add the slit green chilli, sauté for a bit. Add half a cup of water and a pinch of sugar, cover it and let the vegetables cook for 8-10 minutes. Add small quantities of water as required. Let it all cook for another 4-5 minutes. Once everything is cooked and well combined, take the Chorchori out into a bowl. Garnish with coriander leaves and serve with rotis or rice.

Note: Feel free to add vegetables of your choice, such as radish, beans, peas, spinach etc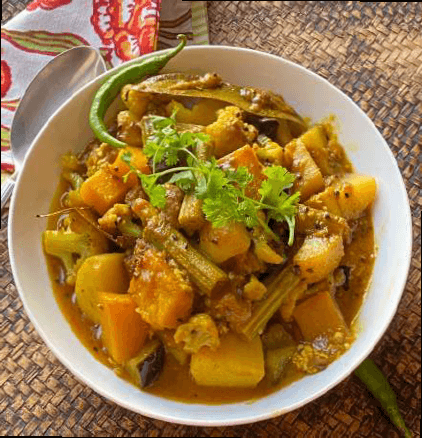 Dhokar Dalna (Lentil Cakes with Potatoes)
Ingredients:
200gms channa dal (split Bengal gram)
1 big potato, chopped into small pieces
1 tsp sugar
1 tablespoon cumin powder
1 teaspoon red chilli powder
1/4 teaspoon turmeric powder
1/4 teaspoon coriander powder
1 tablespoon curd
1 tablespoon ginger paste
4-5 green chillies
1-2 bay leaves
1 small stick cinnamon
2-3 cardamom pods
2-3 cloves
1 tablespoon ghee
1/2 teaspoon garam masala powder
mustard oil as required
Salt to Taste
Method:
Wash and soak the dal overnight. Put the dal into a blender with ginger paste, salt, sugar and 2-3 green chillies, and grind to a paste. In a large pan, add oil. Add the chana dal paste and fry till all the water has dried up. Spread this chana dal paste with a 1/2-inch thickness on a greased plate or bowl. You will need to knead it into shape and press in the edges, making sure it does not crack. Set aside, uncovered, for 10-15 minutes. Cut into diamond shapes, and shallow fry in oil till golden brown. Set aside.
In a pan, add some oil, and fry the potatoes till golden brown. Set aside.
In the same oil that you used to fry the potatoes, add the bay leaves, cinnamon, cardamom, cloves, green chillies, turmeric, chilli powder, coriander powder, cumin powder, and stir to combine. Then over low heat, add the salt and curd, and mix thoroughly. Fry till the masalas are cooked, and the oil separates. Add 1 cup water, fried potatoes, and let it come to a boil. Cook till the potatoes are tender.
Add the fried dhokar, and cook for 2 minutes. You need some gravy, as the dhokar will absorb water. Add ghee and garam masala powder, and stir to combine. Let this cook for 1 minute. Serve hot with steamed rice.
Note: Dhokar Dalna is a typical Bengali niramish (without onion and garlic) delicacy. The word 'dhoka' means 'betrayal', so this dish is common on days when families eat vegetarian fare, and trick themselves into believing the delicious lentil cake is actually meat!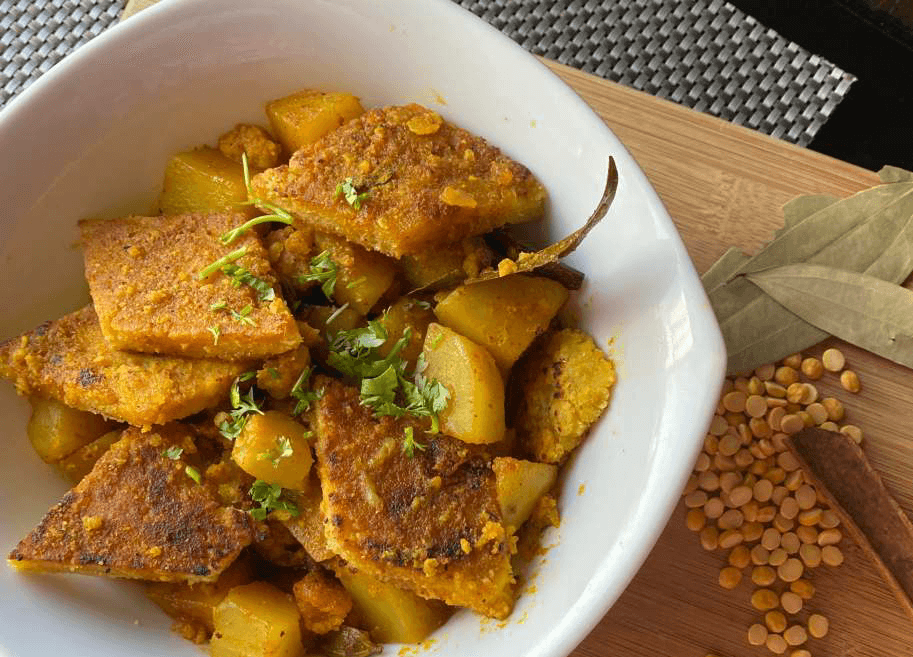 Mishti Doi (Sweet Yogurt)
Ingredients:
1 litre full fat milk (4 cups)
¾ cup nolen gur (palm jaggery) finely chopped – you can substitute with regular gur (jaggery) if required
½ teaspoon cardamom powder
3 tablespoons fresh dahi (yogurt) preferably homemade
Method:
Pour the milk into a heavy kadai or pan. Keep the heat on medium and begin to boil the milk. Stir occasionally while the milk is getting heated. Let the milk come to a boil, paying attention to see that it does not spill over. Once it boils, reduce the flame to low and continue to simmer, stirring often. Scrape the dried milk solids from the sides and add to the simmering milk. You want to have the solid bits incorporated into the milk. Simmer till milk reduces to ½ of its original volume.
Switch off the heat. Now add the chopped jaggery and the cardamom powder and whisk till it is well dissolved. Let the mixture cool till it is warm to the touch, not hot. Whisk in the fresh dahi, incorporating well. Pour the mixture into individual earthen pots or ramekins and cover tightly with aluminum foil. Keep in a warm place for a few hours. Once the doi is set, keep refrigerated until you are ready to serve it, well chilled.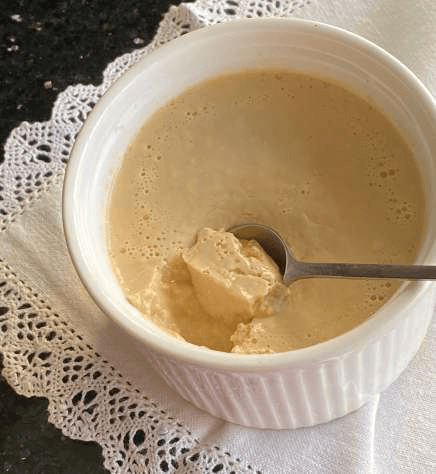 A little more about Bengal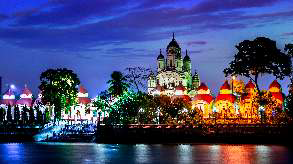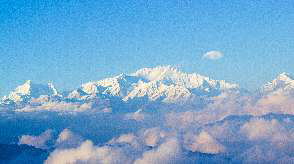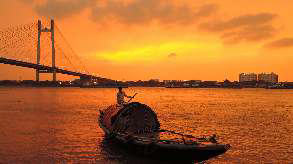 Bengal is blessed with everything from the snow-clad Himalayas, the Bay of Bengal and the verdant tea gardens of Darjeeling, to the lush Sundarbans Delta, ancient temples and magnificent British monuments. Tiger Hill, Howrah Bridge, Victoria Memorial, Belur Math and the Kali Temple are a few of the iconic landmarks to be seen in Kolkata, but that's just the tip of the iceberg. Bengali culture, art, theatre, music and festivals are among the richest in India, and this is showcased in every aspect of Bengali life.
Durga Puja, better known as 'Pujo' in Kolkata, is a wonderful time to visit if you truly want to imbibe the cultural vibes of the city. Otherwise, simply enjoy a serene sunset cruise down the Hoogly river, taking in the sights as you pay homage to Bhavatarini, the presiding Goddess at the Dakshineshwar Temple. Explore local markets and learn to cook in a Bengali household, where you will be taught by a talented Bengali home chef. Visit Shantiniketan, the Ashram of Rabindranath Tagore, the Nobel Laureate who was the instrument of the Bengali Renaissance. Visit the villages of artisans, weavers and idol makers, learning about Bengali arts and crafts. Bengal will leave you spellbound! We are happy to plan your customized Bengal holiday for you.

See you next week with more on the Spice Trail!