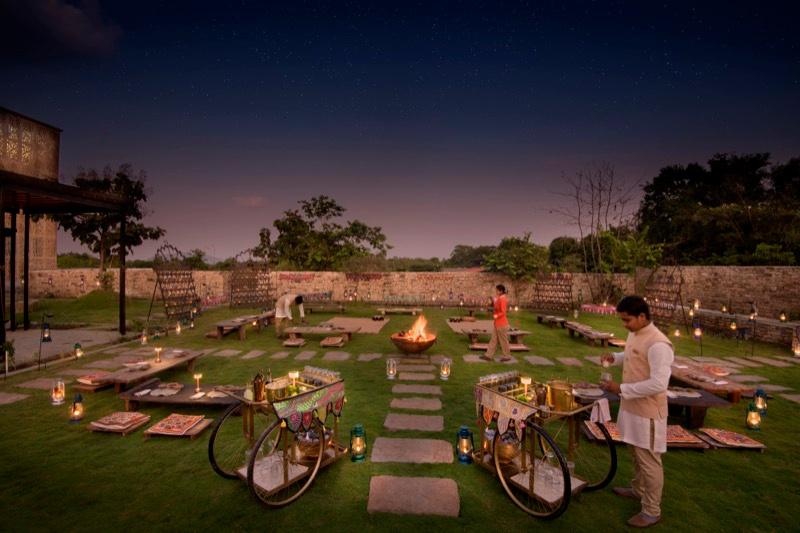 By our Tammie, Anjali Tolani
The fourth edition of a Godrej sponsored Food Trends Report listed emerging food trends and prime amongst those was the renaissance of Regional Cuisine.
Millennials who have travelled extensively across the globe, perhaps more than the previous generations, having dabbled in sushi, ravioli, empanadas, Injeras, are now proudly putting up Instagram posts of regional micro cuisines. Now Indian food is no longer merely categorized as South Indian or North Indian but further refined into Bohri, Kayastha, Naga, Bihari, Bhopali and Mopla cuisine amongst others.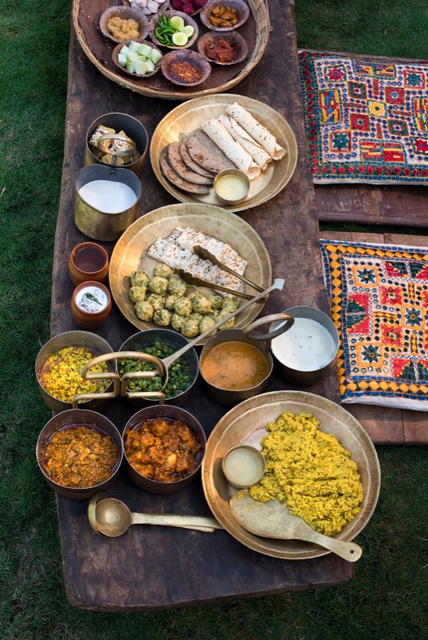 Chefs have fuelled this by digging out ancient recipes, sourcing heritage ingredients, encouraging farmers to grow more native crops to be able to cater to this emerging palate for regional cuisine. This is almost a historic era where Indian food is no longer defined by Kulchas, dosas and butter chicken but is more nuanced to discern between the North Kerala Moplah Biryani to the more South Kerala based Pollichattu.  
Boutique resorts and standalone restaurants have been quick to adapt to this emerging trend and one such place to experience the finest that Gujarat as a region has to offer, but served up in delicate contemporary fashion, is Aramness – one of India's finest village styled Safari Lodges located in the Gir Forest.
Given its remote location, Aramness consciously sources its ingredients to be nimble in their carbon footprint and also patronises the local producers, while having a small vegetable patch in-house. Their food philosophy focusses on reviving ancient regional preparations, using locally sourced ingredients, served in traditional style on Kansa (alloy of zinc, tin and copper) Thalis or on traditional platters called Bajots.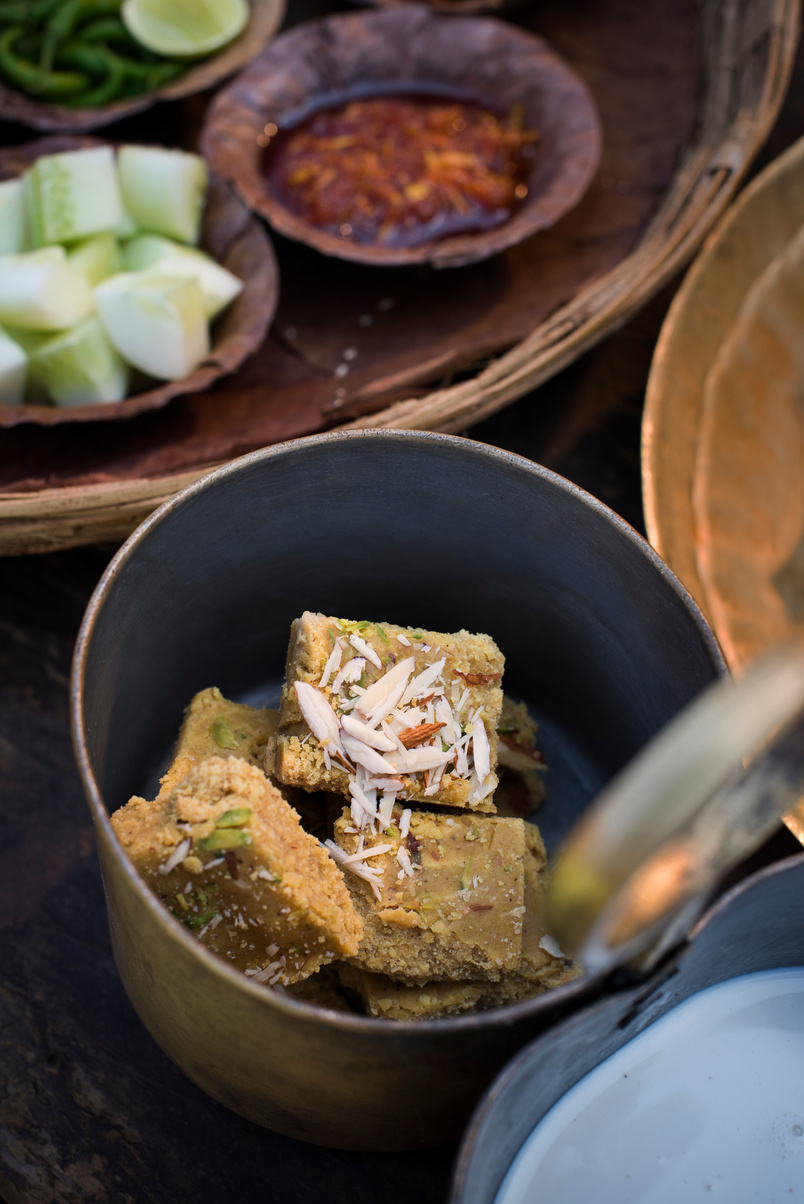 Let's see how guests are spoilt for choice while at Aramness:
Wake-up Call Trays: Post dinner, your butler, while escorting you to your Kothi, checks if you need a wake-up call and what your choice of juice is from amongst green, red and orange. Accordingly, the gentle tring of the bell wakes you up and you find a brass tray on your mini bar counter – loaded with your chosen juice, accompanied by a brass dabbi filled with nuts and dry fruits to power you through your morning game drive.
Game Drive Dabbas: Even on your game drive, your naturalist's fish out a customized dabba packed with delectable Gujarati nashta of methi puri, chakri, homemade cookies, gourmet sandwiches and your choice of masala chai or freshly brewed coffee- an indulgence in the forest!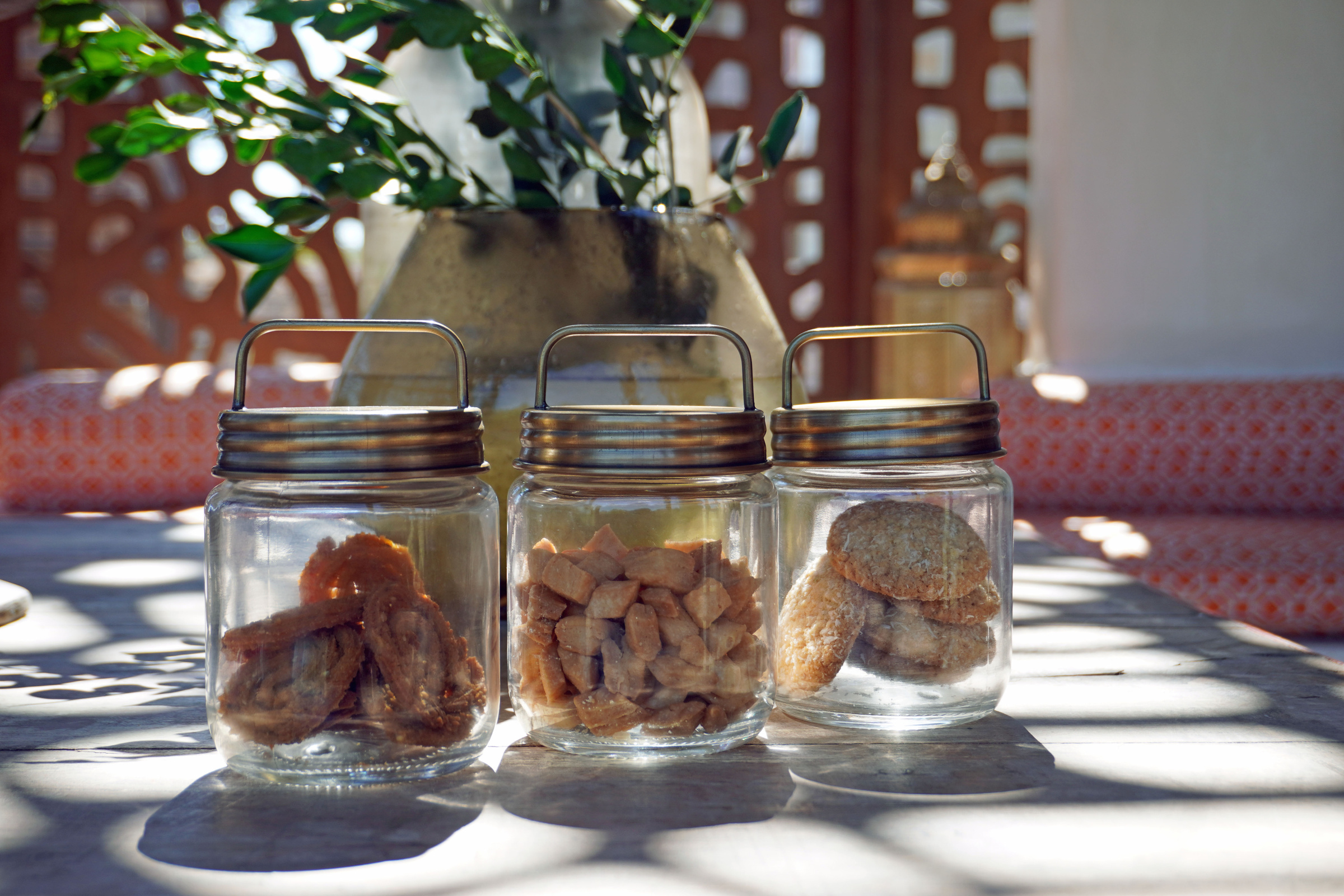 Breakfast Bajot: Post your AM drive you settle down to a big breakfast which is kicked off with a daily changing Breakfast Bajot. Your Bajot could comprise piping jalebis, fafadas and sambhariya, baked corn handvo, methi bajra vadas, accompanied by Aramness Signature Granola, fresh yoghurt sourced locally, farm grown & homemade condiments and freshly baked breads amongst others. You feast on the Bajot offerings as you mull the menu and decide if you would like some eggs or you prefer the chulla made hot stuffed parathas.
Refreshing Lunches: These also follow the Bajot pattern, which is family sized, sharing mezzes including a fresh salad from the farms. For your main, you could pick between Indian or Continental options followed by delectable dessert choices.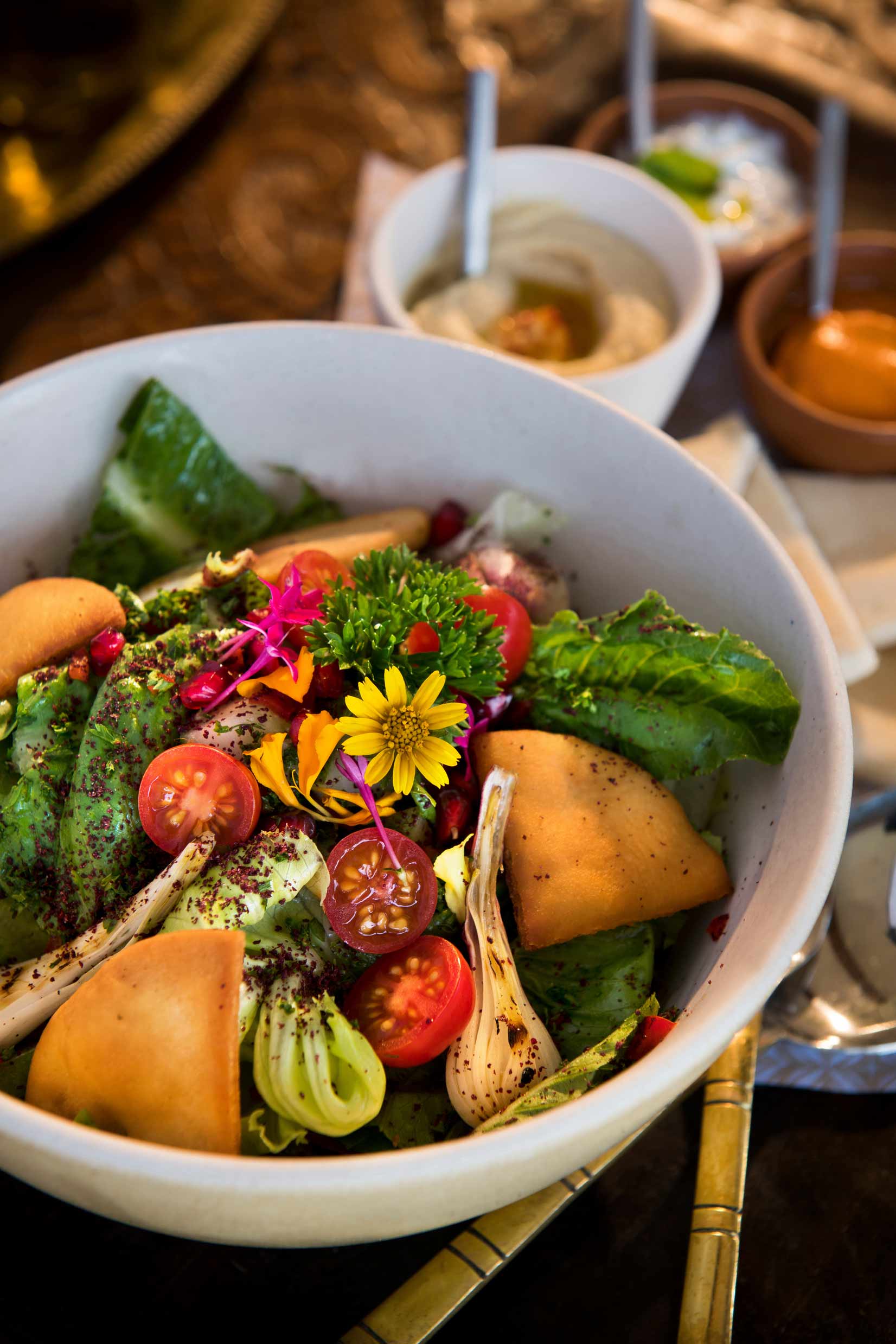 Surprise Picnics or Indulgent Afternoon Teas: For those who choose to take a walk with the naturalist, will find delight at the surprise picnic that has been set up in the forest clearing. The joy of being treated to a freshly squeezed fruit juice or a refreshing cordial or tonic with a side of focaccia sandwich and some traditional sakarpara or farsi puri, in such serenity, is unparalleled!
Others who opted for a lazy afternoon at Aramness need not be disappointed. The Aramness Afternoon Tea complete with hot toasties, tea cakes, buttermilk scones with jam & cake and endless cups of signature hot brews will keep them pampered.
The most fascinating of all meal options at Aramness has to be their dinner experiences. Their curation of dinner experiences ensures that guests do not have to repeat either a venue or a cuisine even when they spend 3 nights at the Safari Lodge.
Pre-Dinners: Guests arrive at the fire pit area of the Haveli where they are hosted by the Lodge Manager and Naturalists over conversations on sightings and wildlife as they tickle their palate with bite sized pre-dinner delicacies. Guests can expect to be delighted with one of the below Dinner Experiences:
Kansa Thali: A sit down option at the Haveli Dining Room, this is a traditional Gujarati Swaminarayan Thali served on Kansa plates and bowls and comprising a veritable feast of sweet and savoury items – some steamed, some fried and a range of breads made from different flours. For those choosing to, this can be supplemented by a non-vegetarian option cooked using recipes from the Parsi/Zorastrian, Muslim and Royal Gujarati households.
Village Style Kathiyawadi Dinner: This is an indulgent dinner where guests sit down to low Naga tables and cushions and relish an authentic Kathiyawadi style dinner – heavy on aromatics like garlic, onion and chillies, a meal served on patravali biodegradable plates. The highlight of this meal is the brought back from the past Matla Chicken- a terracotta pot filled with a whole chicken, vegetables, seasonal greens and spices and cooked on a fire pit.
Jungle BBQ: This is a more casual, relaxed, fun dinner involving cooking using fire and smoke. Starters include tikkas, tandoori vegetables, karaari rotis followed by a tawa-dinner of meats and gravies with a silken dal makhani and cheese naans finished with hot steaming halwa served with ice cream.
Italian Nights: For those who like more elegant Continental evenings, these Italian evenings filled with heart-warming bowls of soup, crisp salads, choice of pizzas with toppings from the kitchen garden and pastas with sauces created from Gir chillies and other local ingredients should do the trick.
And if all of the above hasn't convinced you to book your Aramness holiday yet, it might interest you to know that, they have an Eat Anywhere which allows you to indulge in their exceptional cuisine anywhere in the Lodge – be it your Kothi terrace, poolside or in the comfort of your private poolside. They also offer a specially designed Menu for Kids which comprises pancakes, milkshakes, khichdi, pastas, kitchen garden grown vegetable crudites with yoghurt dips. Aramness has an in-house bottling plant which not only produces their own RO purified water which is served in glass bottles, but also a Signature Sparkling Water!! And did I mention that when you book the Aramness Transfers, your chauffeur comes laden with Customized Meal Boxes and an array of refreshing beverages.
The fabulous cuisine at Aramness has been curated by the passionate foodie Kamini Patel who is the Founder of Kitchen Therapy. She credits her nomadic childhood, food crazy family and her mom who she calls an amazing cook for her gastronomical prowess.
Safaris Lodges are meant to be more active experiences comprising jeep rides, walks with the naturalists and exciting encounters with wildlife. But if that is supplemented by some of the finest cuisine the region has to offer then it doesn't hurt, does it?
Go book your Aramness Holiday today. Contact your Tamarind Global Account Manager for the best deals!