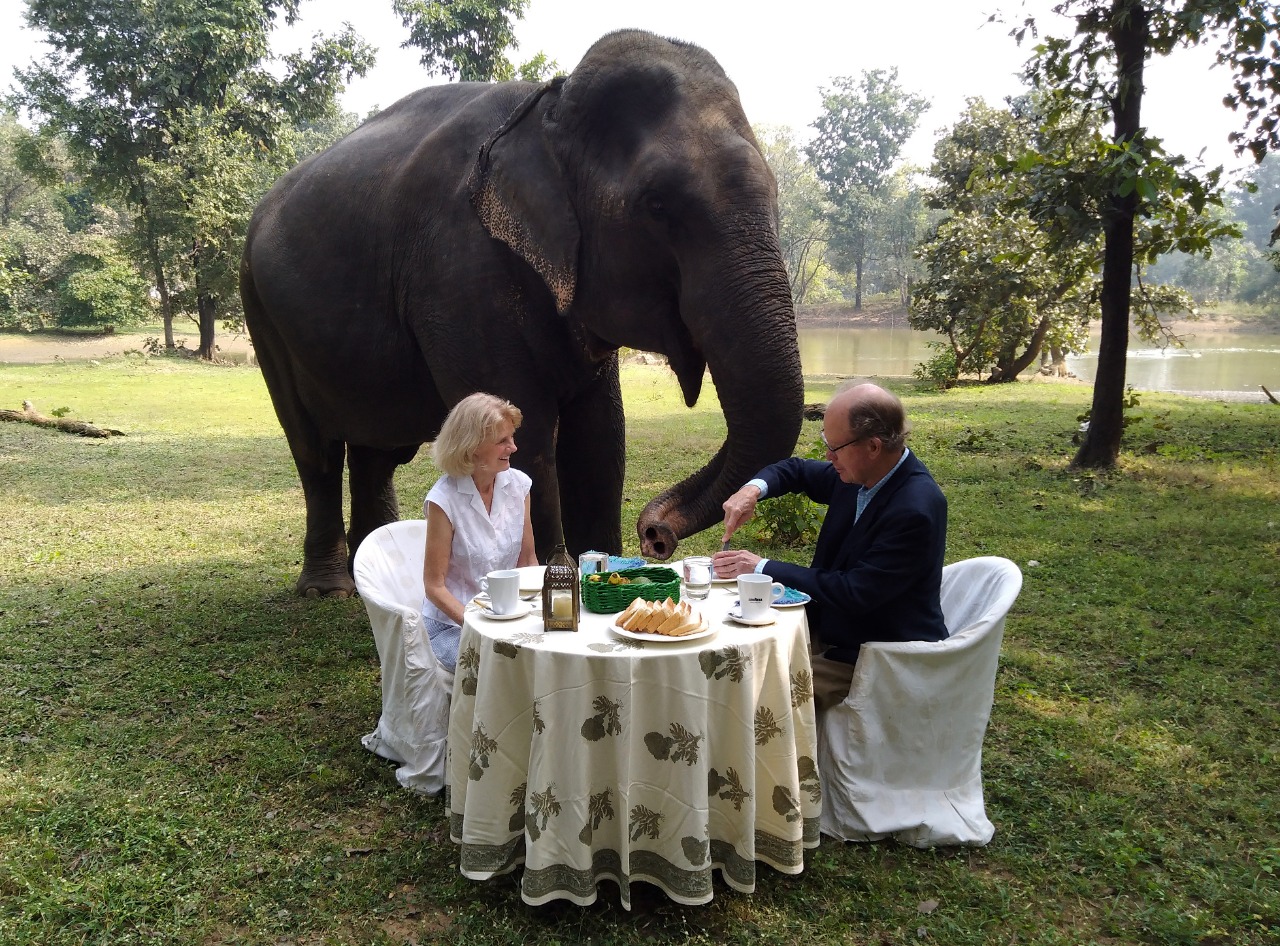 A cute Elephant focused itinerary by our own Tammie Anjali Tolani
Tara was used by her owner to beg on the streets of Bhubaneswar, which is where the late Mark Shand, a British travel writer and conservationist, and an aristocrat (he is the brother of Camilla, Duchess of Cornwall), and photographer Aditya Patankar found her in 1988.
This is how Shand described his first meeting with Tara. "My mouth went dry. I felt giddy, breathless. With one hind leg crossed over the other, she was leaning nonchalantly against a tree, the charms of her perfectly rounded posterior in full view. I knew then that I had to have her and I realised, with some surprise that I had fallen in love with a female Asian elephant. Then, I had no idea what pulled me, like a magnet to her that night. I did not even notice the other two elephants. Maybe it was her eyes—gentle dark brown pools of kindness, fringed by lashes long enough to suggest they were false. Or maybe, it was the way she stretched out her trunk and, with the utmost delicacy, explored my pockets searching for hidden goodies. Or how she squeaked with excitement, flapping her huge ears, the ends of which were splashed with the palest of pink spots when I tentatively offered her a banana for the first time. She was in pitiful condition, scrawny and starved, her ribcage visible and her skin hanging in folds, like an ill-fitting suit. She looked at that moment, exactly what she was — a beggar — a beggar with a pronounced limp due to deep-rooted ulcer caused by the wicked metal-spiked shackles the mendicants had used to hobble her. But I know that I was never in control. She chose me. It was karma." After some complicated negotiations, he rescued the elephant and named her Tara. Three hundred kilos of fodder each day and veterinary care soon restored her health, and from there began a remarkable relationship and an even more incredible journey through India.
Thirty-year-old Tara and her new owner covered 800 miles from the Bay of Bengal to the world's largest elephant bazaar at Sonepur on the river Ganga, a journey vividly and delightfully described in Shand's book "Travels on My Elephant" (published in 1991). The elephant was transformed through Shand's tender attention and care on their journey from a sorry figure into a star attraction. Blessed by priests, entertained by princes, they shuffled happily through towns and villages, Tara sucking up rice and bananas from roadside stands and Shand scattering rupees in compensation. Everywhere they went, Shand and his unusual steed, and his five eccentric Indian companions drew an inquisitive crowd of admirers. The idea of coming to Sonepur in Bihar was to find a kind home for Tara.
Amongst the various places, they stayed along this historic journey are some remarkable stay options that the modern- day traveller can book and experience by walking (or road-tripping/flying) in Tara's steps.
The Belgadia Palace in Odisha, The Quila House in Patna and then the final stop —The Kipling Camp, Kanha, which is Tara's final home after a lifetime of adventures.
The first stop: Quila House, Patna
This is how Shand recounts his entry at Quila House in Patna, with his elephant in the chapter 'The Mighty Ganga (Travels on My Elephant)' "Welcome to the Quila House'. I've been expecting you. I'm Bal Manohar Jalan, but my friends call me Bala.'
"Thank you, 'I replied. "But I must apologise for our discourteous arrival. My elephant is usually extremely well mannered, but she does on occasion show a certain impatience.'
"I should be the one to apologise," he said, dismissing with a wave of a plump gold-ringed hand the angry chowkidar who had charged us up the drive. "We do have to be careful whom we admit. As you know Quila House is a private museum. Please choose a suitable place for your elephant."
I nervously surveyed an immaculate sweeping lawn. In the centre was a stone fountain, surrounded by neat rosebuds, in which an army of gardeners was busily working. Beyond, more people laboured in a well-cultivated vegetable plot.
"She really is a very large and greedy animal", I said. "It's quite extraordinary the ….er, damage that she can do." "It does not matter," he said expansively. Plants and flowers and trees will grow again, and it is not often we have an elephant as a guest."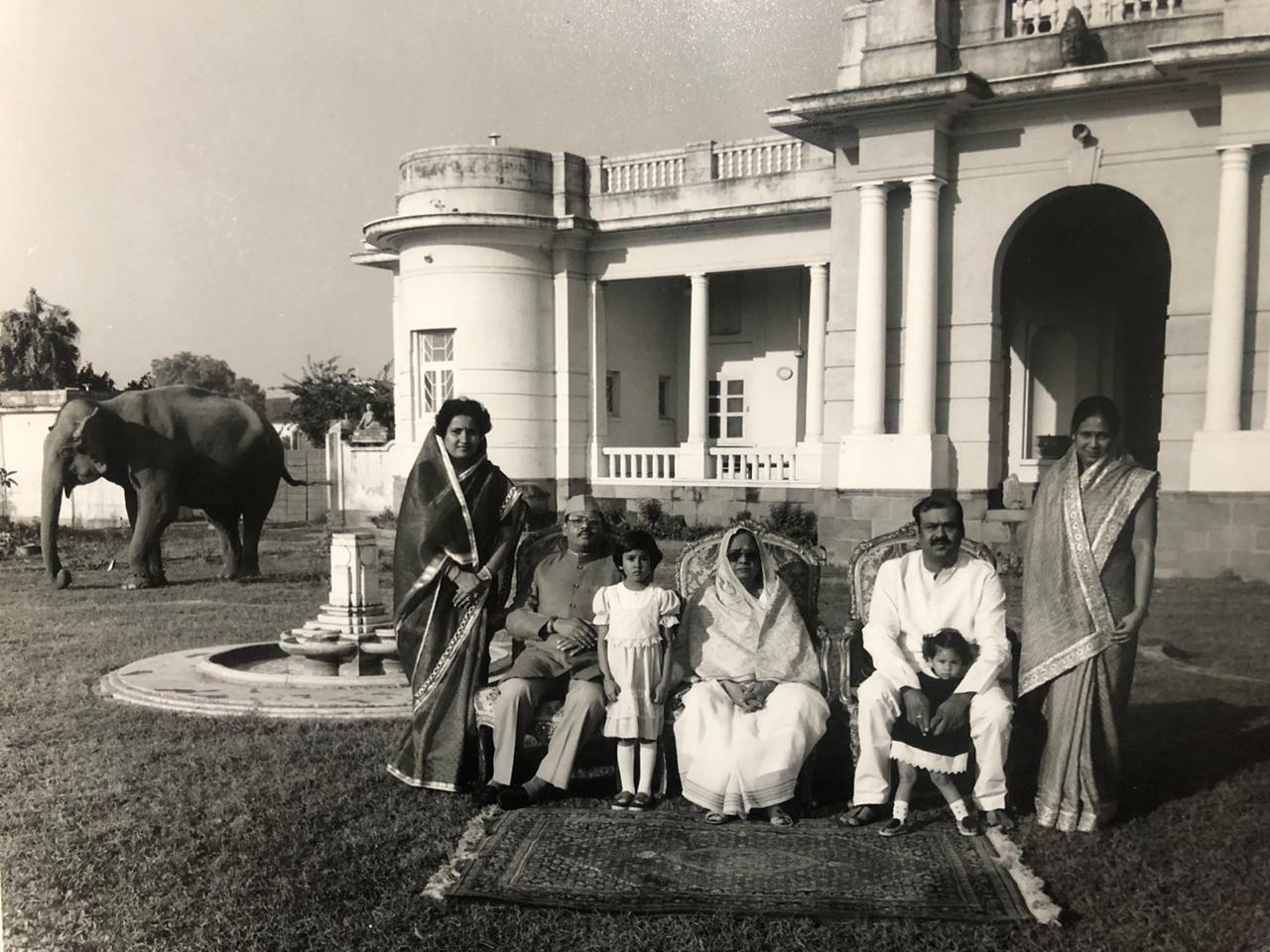 Tara at Quila House with the Jalan family.
Quila House is a private residence that allows guests (at their discretion) to stay in the same portion of the house where Shand stayed while on his travels with Tara. It encompasses a private museum with an eclectic collection of treasures, among them a substantial number and variety of sizes of celadon plates.
Several stories are floating around about these plates. In some versions of the tale, they are said to change their colour and in others, to crack if poisonous food is served on them. The famous visitors that the House has hosted in the past include the three Prime Ministers of India, Jawaharlal Nehru, Indira Gandhi and Morarji Desai; four Viceroys; the actress Mary Pickford; author and economist J. K. Galbraith, during his time as U.S. Ambassador to India under the Kennedy administration; and three Presidents of India. In the '50s and '60s, famous Bollywood stars Sunil Dutt, Prithviraj Kapoor, Raj Kapoor and Nargis stayed at the home.
The property is perfect for affluent travellers because it comprises two living suites, while the major portion is given over to a private museum.
The booking has to be done in advance and there are no walk-ins allowed.
How to reach:
By air: There are daily direct flights from Mumbai, Delhi, Bengaluru and other cities to Patna.
By road: The road journey from Patna Airport to Quila House is 20kms and 40 mins long.
The second stop: Belgadia palace, Baripada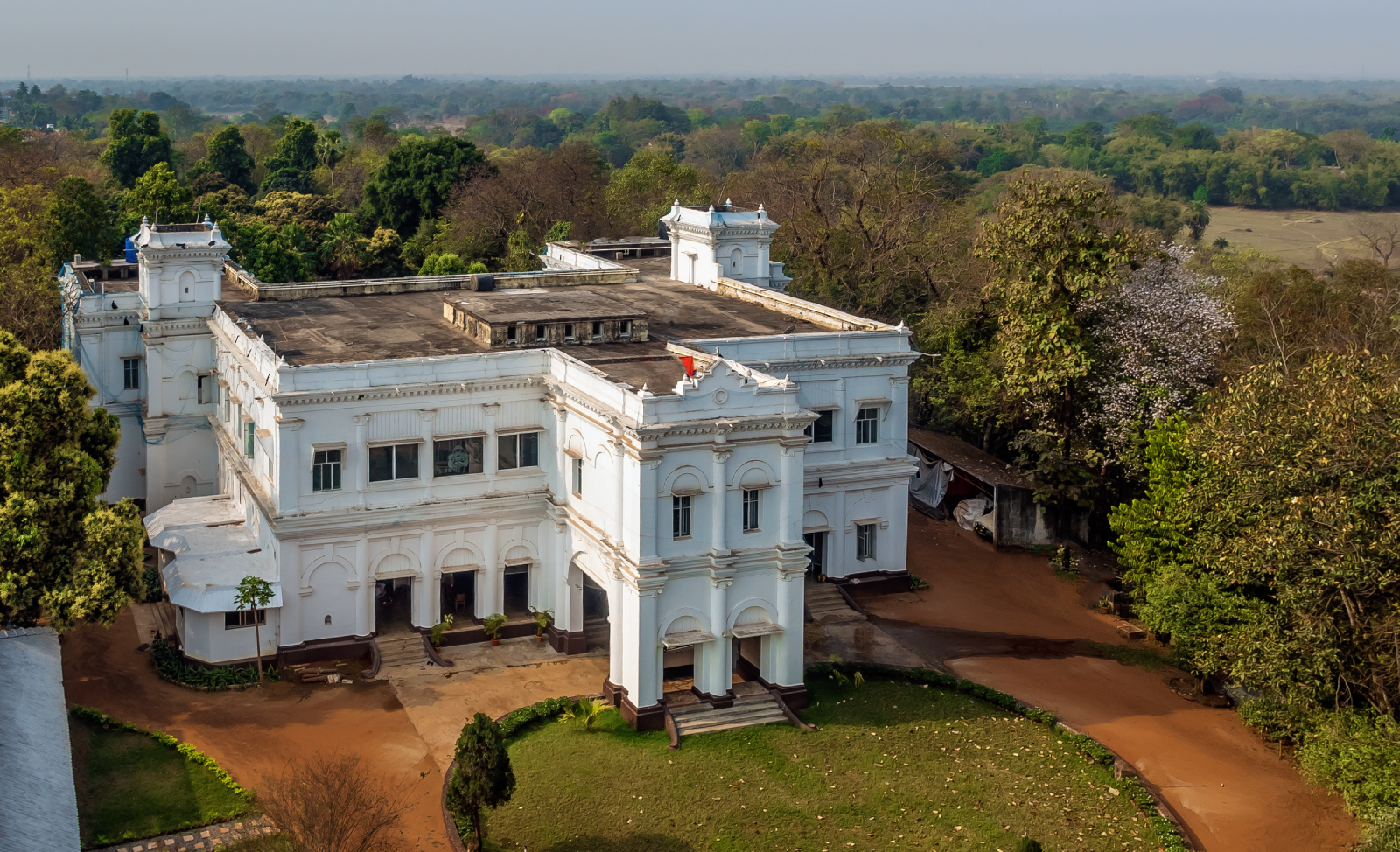 Belgadia Palace, a Victorian double-storied structure, was home to the erstwhile royal family of Mayurbhanj. Again in Shand's words, in the chapter Death in the Jungle: "To check again if the Maharaja had returned, we drove to Belgania palace (now known as the Belgadia palace). Formerly built to accommodate royal guests during the Durbar administration, it was now his home, as the original largerpalace in the city had been turned into a college. Situated on a small hill withcommanding views over Baripada, it was a big picturesque colonnaded building, like a grand Florentine villa, the colour of burnt sienna, approached bya sweeping drive lined with the flame-of-the-forest trees and jacaranda."Belgadia Palace a Victorian double-storied, brick structure that sits on a raised hill. It has been home to the erstwhile royal family of Mayurbhanj.
If you are looking for an offbeat adventure that allows you to live like royalty, in a palace surrounded by art and experience culture, Belgadia Palace is the perfect destination. The family involves and engages with the guests, and the girls also act as tour guides. The palace hotel has put in all the protocols in place and is welcoming guests.
The property is situated atop a hill and is steeped in the legacy of the state of Odisha. It is marked by a stark white, double-storied façade and a regal Greek and Victorian architecture. It features exquisite interiors, secluded courtyards and opulent furnishings. It has also opened keeping in mind all protocols laid down by the Odisha government and is being recommended by the state tourism board as a safe stay. Incidentally, this is where Shand rode to the Sonepur Mela, dressed in a dhoti, to sell off Tara to the highest bidder. He received several offers—Tara was a particularly docile creature who stood out among the many difficult elephants that were for sale. This is where he met wildlife conservationists Anne and Belinda Wright, quite by chance. Without a second thought, Shand gifted Tara to the Wright family. Anne is also the founder of the World Wide Fund for Nature.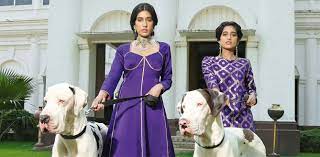 Mrinalika and Akshita M Bhanj Deo run the palace hotel and continue to stay in its private wing.
How to reach:
By air
Airport: Kolkata's Netaji Subhash Chandra Bose International Airport.
By road to Mayurbhanj is 229kms, a journey of 4-4.5 hours and the palace hotel will send you a car.
Airport: Bhubaneswar's Biju Patnaik International Airport.
By road to Mayurbhanj are 257kms and 5 hours.
The third stop: Kipling Camp, Kanha National Park.
The Wright family has had its roots in India since the 1700s and from the 1980s, their love for the wild was nurtured at Kipling Camp, an uber-luxury stay in the Kanha National Park. Mark Shand knew Tara would have an untroubled home at the Kipling Camp.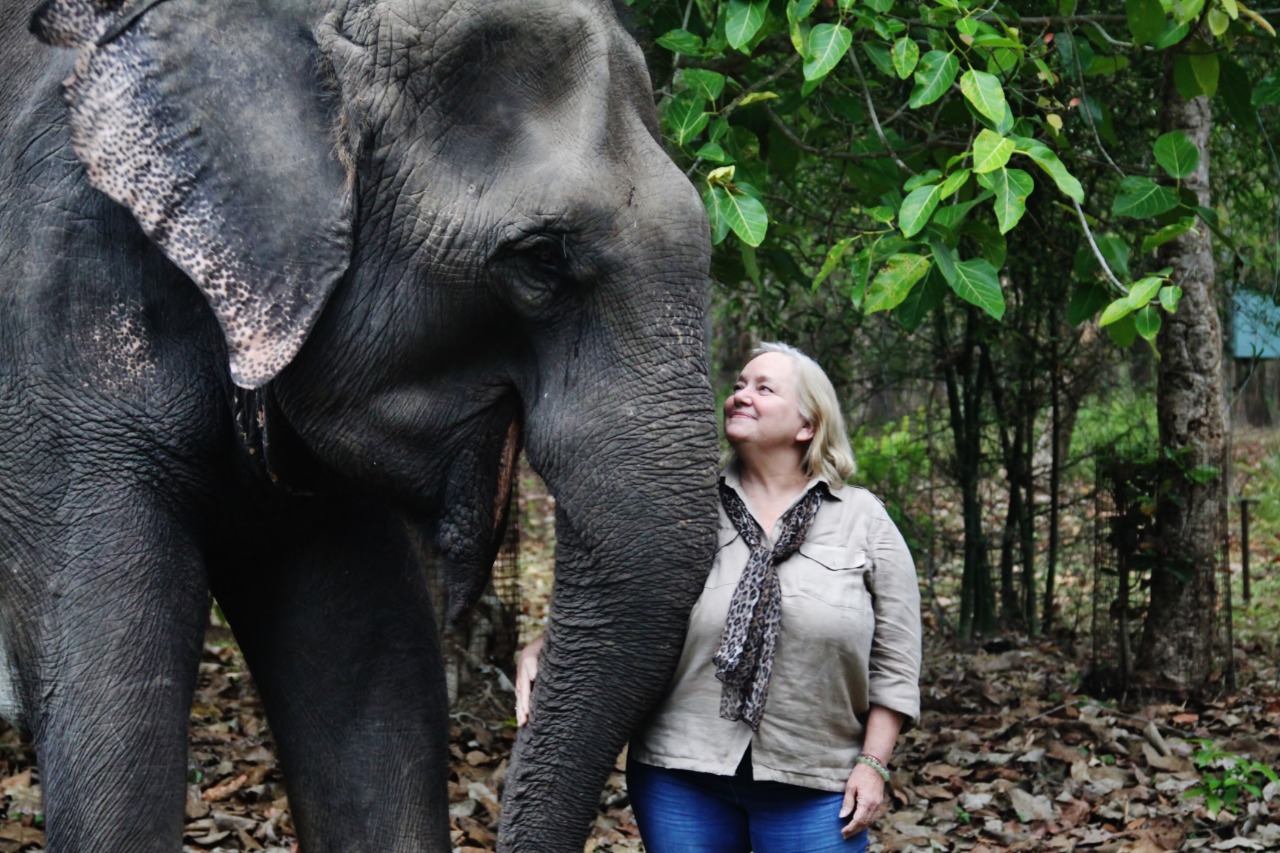 Tara at Kipling Camp Kanha with Belinda Wright
With much difficulty, she was coaxed onto a truck and arrived at Kipling Campon 27th November 1988. It has been her home since then. Guests enjoy walking her down to the Banjaar River and assisting Tara in her afternoon bathing.
She is an animal of habit. She wakes up early, and after eating a quick giant chapatti, she goes off foraging in the jungle with her two caretakers. At noon, she returns to the camp for lunch and a siesta. Her daily diet (depending on the season) consists of a prodigious amount of vegetation and hay, rice, atta, haldi, salt, gur, and sugar cane. Promptly at 3 pm, she leaves again to walk down to the river for her bath.Tara frolics in the water and gets cleaned and scrubbed with flat stones until she reluctantly has to come out of the river to dry. This is when Tara invariably finds a suitable stick to give herself a detailed pedicure. Then it's time to head home to her huge shed—which is known as Tara's Palace—and a delicious dinner. Her two beloveds, Anne and Belinda, usually come and give her a bedtime snack of gur wrapped in a chapatti, before she goes to sleep. Tara is a contended elephant who lies down to sleep. Her snoring (and dare I say a few gentle farts) can be heard far and wide. Tigers and leopards walk past her palace at night, but she is used to them and barely opens her eyes.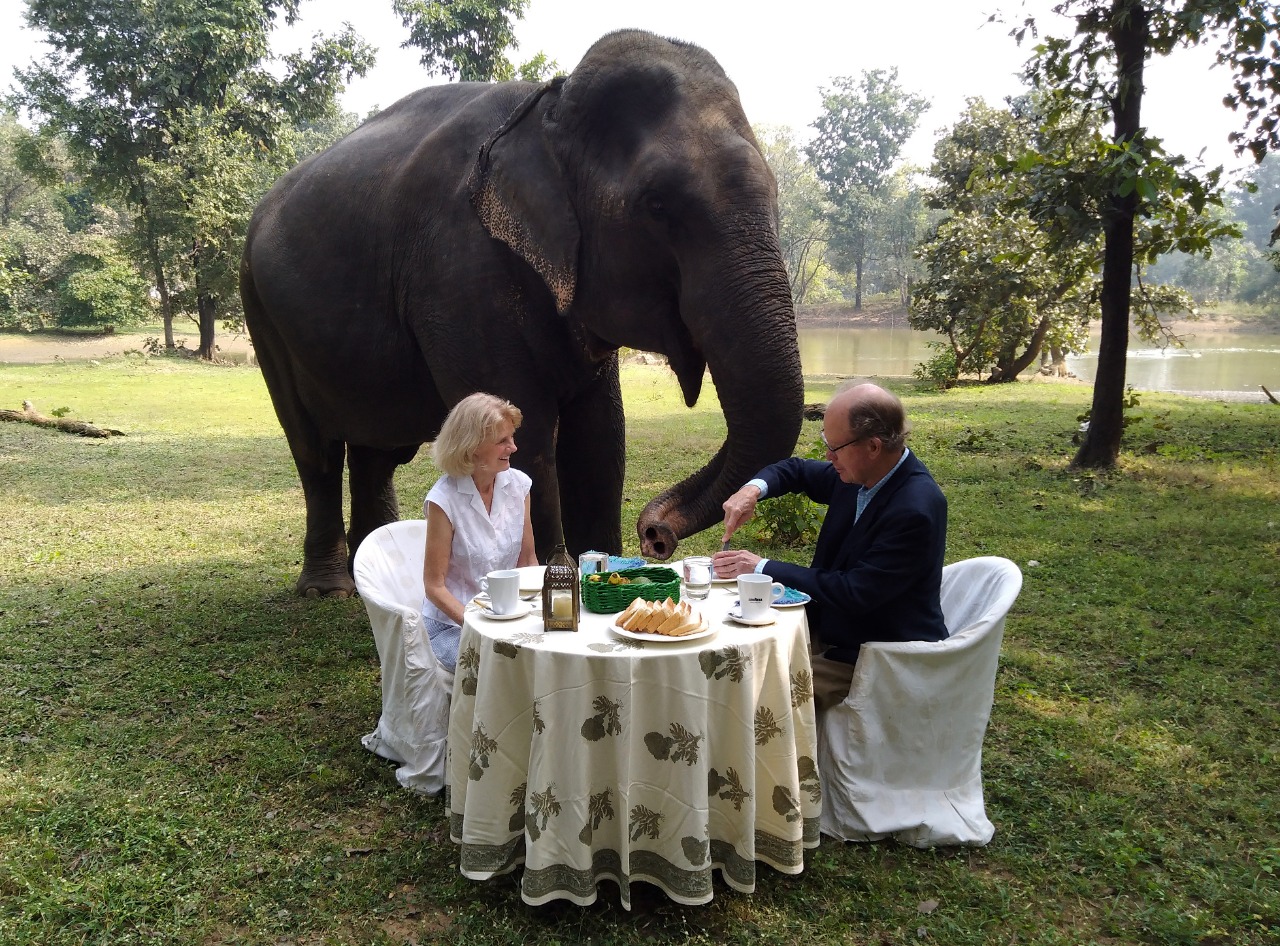 Tara is a constant companion to guests at Kipling Camp.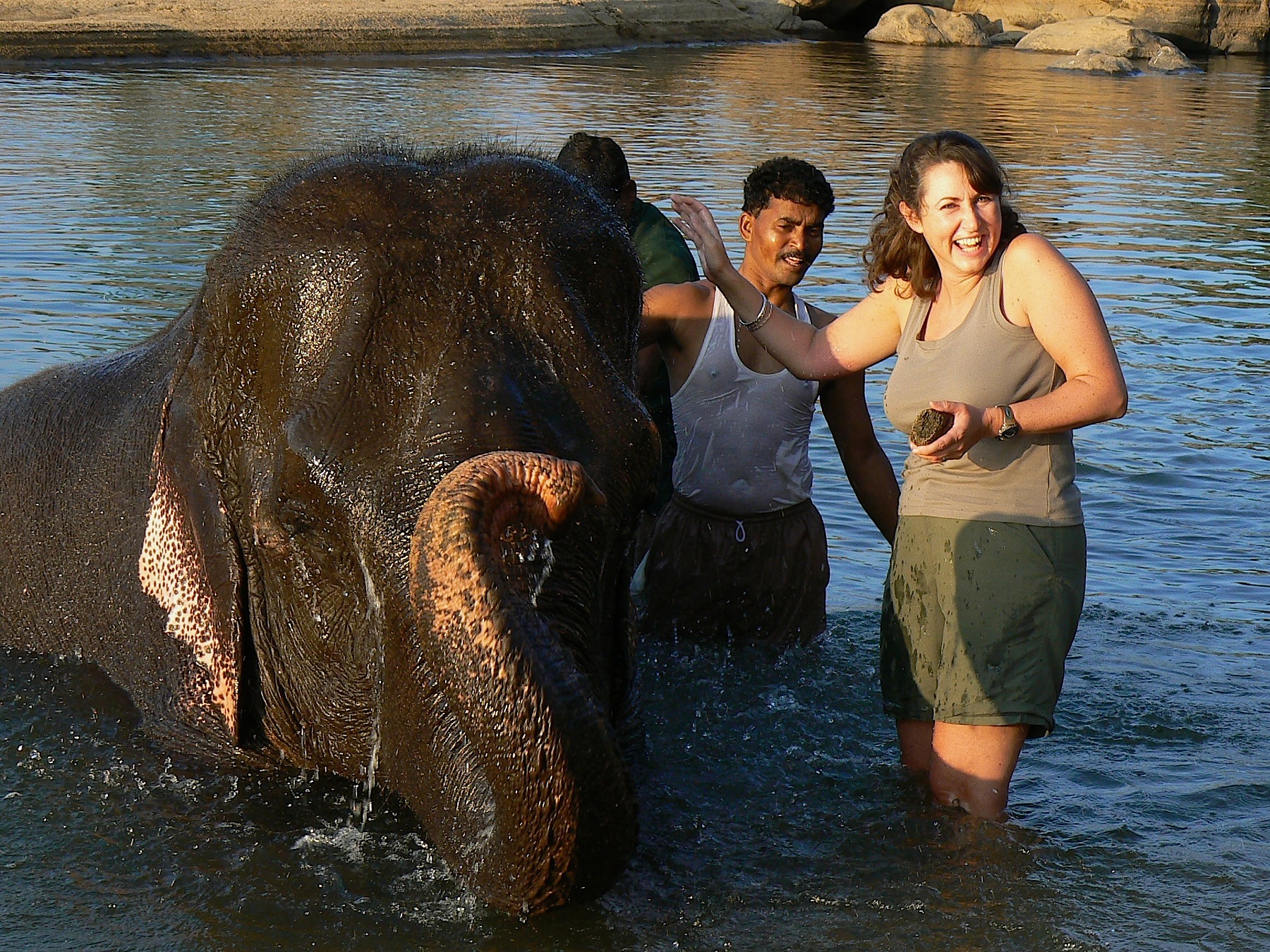 Bathing Tara at Kipling Camp
Guests who choose to stay at The Kipling Camp are invited to partake in Tara's daily routine to complete this fascinating journey, bathing, walking and feeding her, besides heading out to safaris into the Kanha Tiger Reserve.
How to get to Kipling Camp
By air: There are daily flights from Delhi, Mumbai, Pune, Bangalore, Hyderabad and Kolkata to Nagpur/Raipur.
By road: From Jabalpur, the road journey to Kipling Camp is a 160km, 2.5 hour-long journeys. From Nagpur, the road journey is 260kms and 5.5 hours long, while from Raipur it is 240kms and 5.5 hours long.