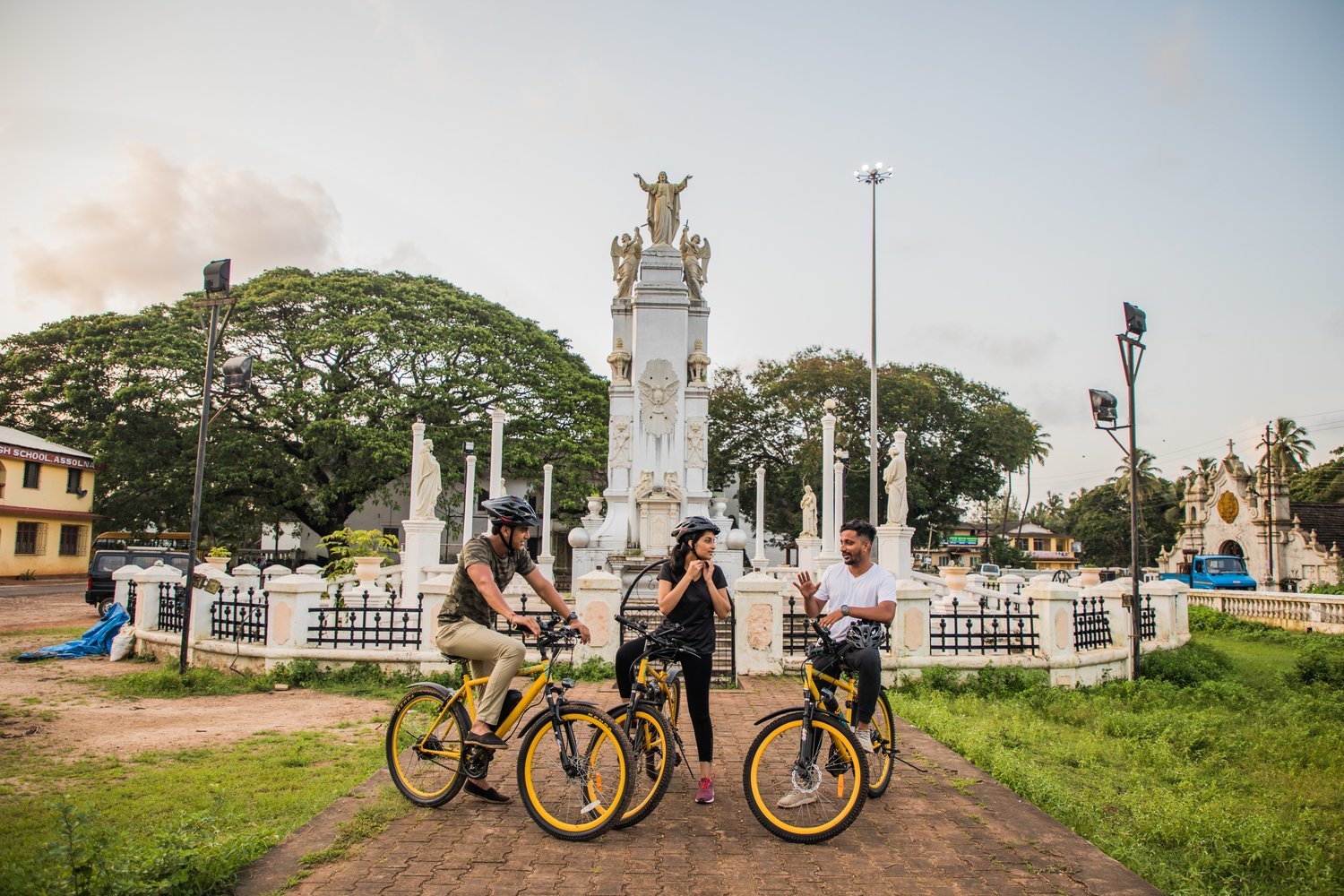 Fun over Fuel! Experience Goa like never before.  Occasions where memories are made. Explore the Unseen. Have a wheel of a time on your E-bike.
Goa may be the country's party capital but there's a lot more to the sunshine state than shiny disco balls. The newest way to get to know its charms is B Live curated cycle tours. India's first e-bike tourism initiative, these tours are promoted by Goa Tourism Development Corporation in partnership with Arcis Tours.
The e-bike is a bicycle powered by rechargeable batteries. It looks and feels like a cycle but there's no pedaling involved unless you're ascending a steep hill. This gives you time to look around and get a sense of the place. It comes with a GPS tracker, can reach speeds up to 25kmph and has electronic disc brakes for enhanced safety. One doesn't need a license to drive, just basic knowledge of cycling. Present across Goa in various locations, BLive offers E bike tours through the most scenic and unexplored routes. BLive tours were started with an aim to allow people to get a first-hand experience of EVs in the form of e-bikes. The tour is an immersive experience into the history and rich cultural heritage of unexplored Goa away from the beaches and clubs of the city. From beautiful churches to picture-perfect architecture BLive covers it all. They have various tours conducted in North & South Goa.
Duration of their cycling tours range between 2.5 to 3.5 hours conducted every day at 08h00 and 15h 30. Guest needs to reach directly (own transportation) to the pickup point which is also the starting point of the tour. Their most sought-after tour – Divar Island, the pickup point is Old Goa Residency Hotel (Old Goa) which is a very comfortable drive of 30 to 45 minutes from North Goa hotel(s). Blive team is present with their E-bikes and the captain who give demonstration followed by instructions to ride the bike. A small five minutes test ride is also conducted post which one can set off for the tour along with your captain. This tour includes a ferry ride to the Island, heading to fisherman's hut overlooking the mesmerizing UNESCO World Heritage accredited churches in Old Goa. This experience is led by a knowledgeable local story teller. Visiting an ancient temple and also visit the site of a baroque styled church and finally concluding with snacks and refreshments. The island is one of the many islands in Goa with abundant natural beauty. During the tour the guests get an opportunity to explore the local Goan culture and interact with the locals. The tour also explores the picturesque Indo-Portuguese houses in Divar and some heritage sites. This tour is clubbed with also experiencing an age-old fishing technique in Divar. BLive tours are also present in various other locations such as Cansaulim, Assanora, Varca, Old Goa and many more. One can learn why the Portuguese shifted their capital from Old Goa to Panjim in the 19th Century. Their tour includes: – E-bikes, Safety kit, Guided tour, Trained captain, snacks and refreshments, a sling bag to carry your belongings, water bottle, safety gear, first aid support, personal insurance and a backup support in case of technical issue. Travel Tips: – Please avoid bringing any plastic disposables to the island. And just in case if you happen to carry one, please take it back with you. Wear comfortable clothing and shoes, it helps in riding. Carry sunscreen lotion and shades. The starting age to ride the E-bikes is 11+ years. In case of children below the age of 11 or guest who are uncomfortable riding the E-bikes, separate arrangement can be made of Two/Four wheelers on paid basis. Prior Intimation is required to make arrangements. Guest testimonial: – "One of the best activities is experiencing Divar Island by e-bike. E-bike is the best choice when u want to enjoy the breath-taking scenic views with less effortless pedaling, flexible (and also for the ones who want to do some physical activity too) We hopped onto the ferry and crossed the river, tour through some churches, old Portuguese houses, got to know about the history of old Goa and the Divar island. I have spent the quality time touring in Divar through the lush greens, paddy fields, best weather and amazing roads. I always love to experience new things and new ways of exploring places. I waited a quiet time to explore Divar Island on e-bike. Thank you for this amazing experience letsblive."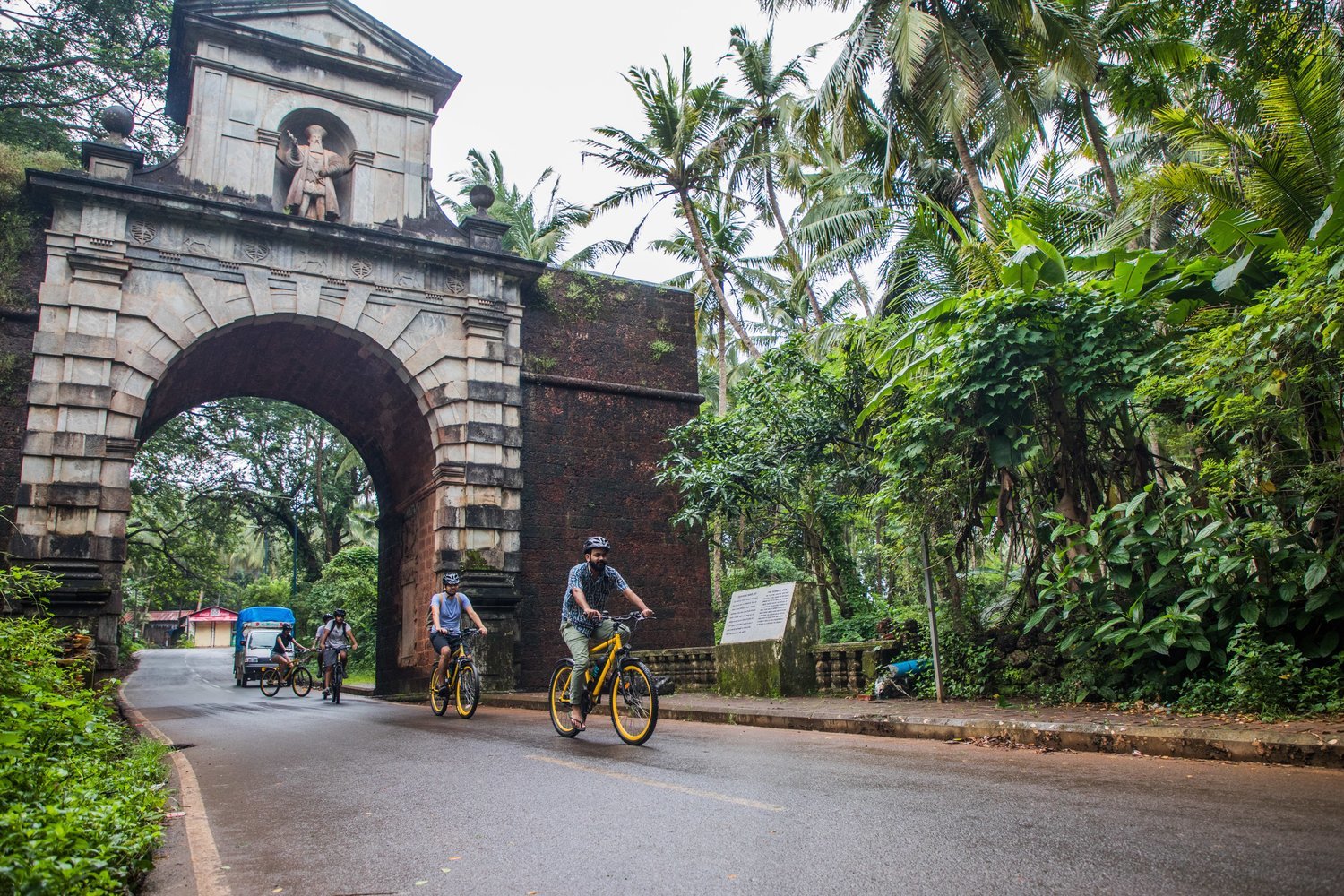 B Live is present across India through their various partners offering tours in Ooty, Pondicherry, Kanha, Netravali and Madikeri through their various partners such as Club Mahindra and Postcard hotels. Blive currently have 448 reviews, all with 5 stars on Trip advisor with 99% travelers recommending experiencing the tours conducted by them.