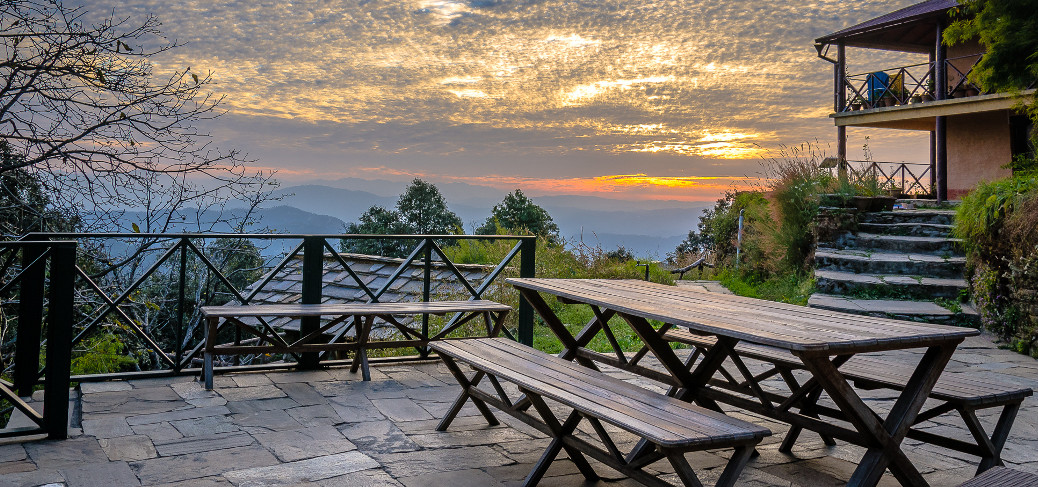 By our Tammie, Anjali Tolani
The sleepy town of Binsar is one of the scenic places of Kumaon region in Uttarakhand. Perched at an elevation of 2420 metres, Binsar is not easy to get to, hence does not attract the comfort seeking tourist but is a great destination for travellers who are looking for an active holiday involving trekking, jungle walks, bird watching and even a try at leopard spotting.
Located such that it offers spell-binding views of the majestic Himalayan peaks such as Chaukhamba, Nanda Devi, Nanda Kot, Panchachuli, and Kedarnath, Binsar is fringed by the Binsar Wildlife Sanctuary.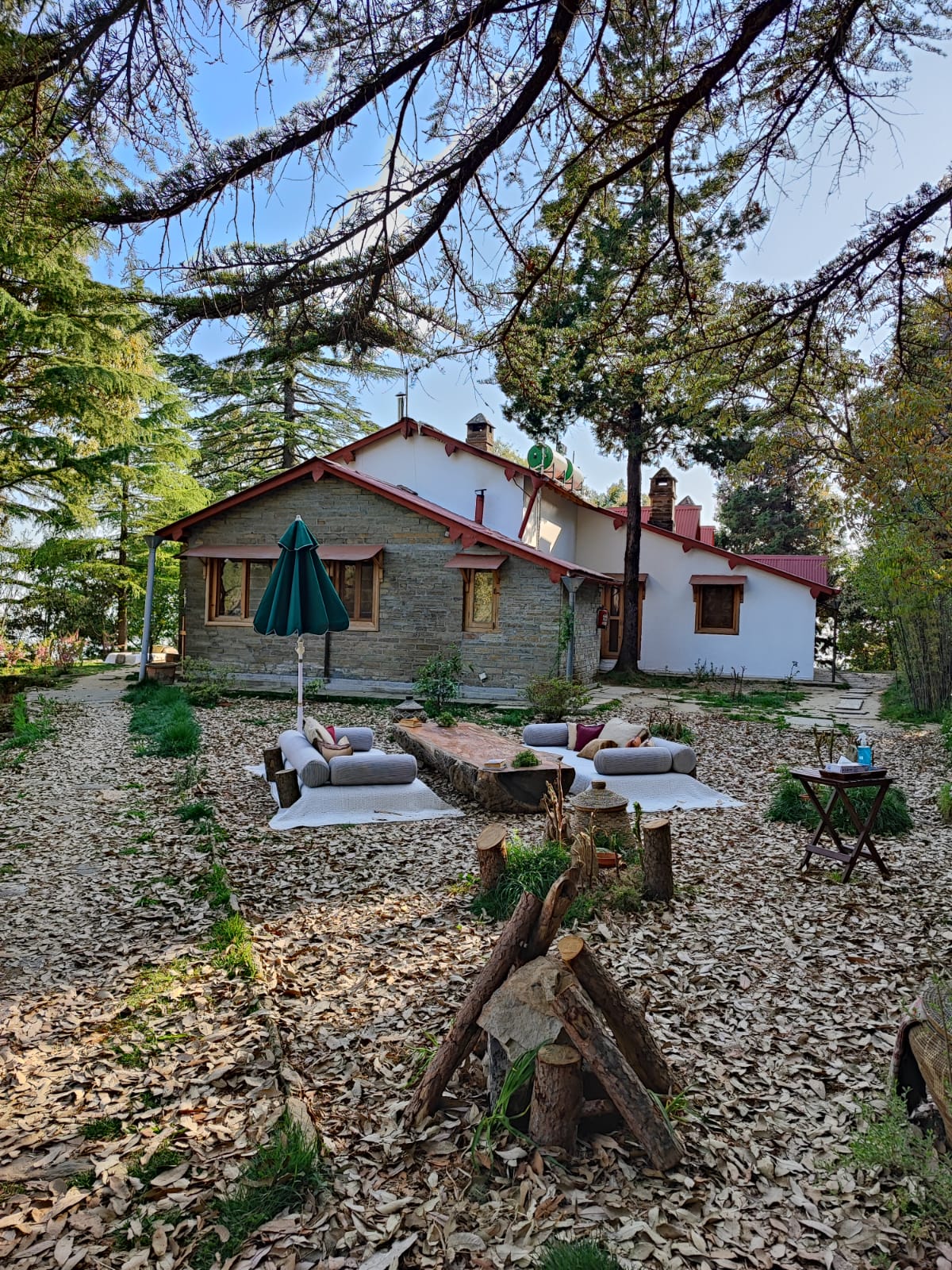 Binsar wildlife sanctuary is spread over 47.2 Sq. km and is the habitat of approximately 250 species of birds. The sanctuary houses about five private resorts and entry for visitors and vehicles is charged at the Ayarpani gate to the national park.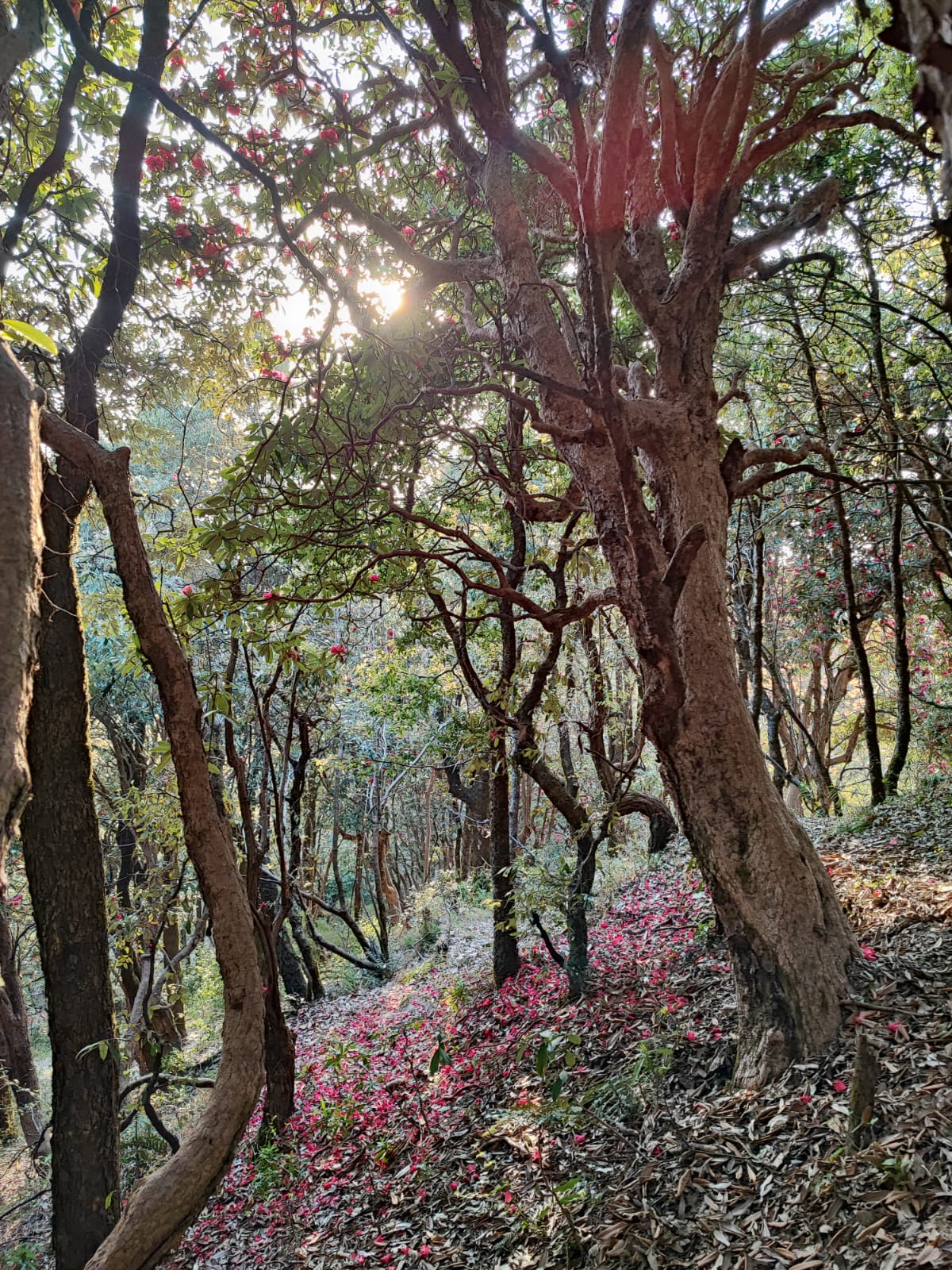 Having left our home in Gurgaon at an ungodly hour to catch the Kathgodam Shatabdi from New Delhi Railway station, and then driven through the hair pin bends of Kumaon, we were queasy in our stomachs and beyond exhausted……..till we entered the gates of the sanctuary. It's as if the whole forest had been lit bright red to welcome us. In front of us, around us, at our feet and all over were blooms of blazing red rhododendrons. We had caught the spring in Binsar at its peak and was it a sight for our weary bodies!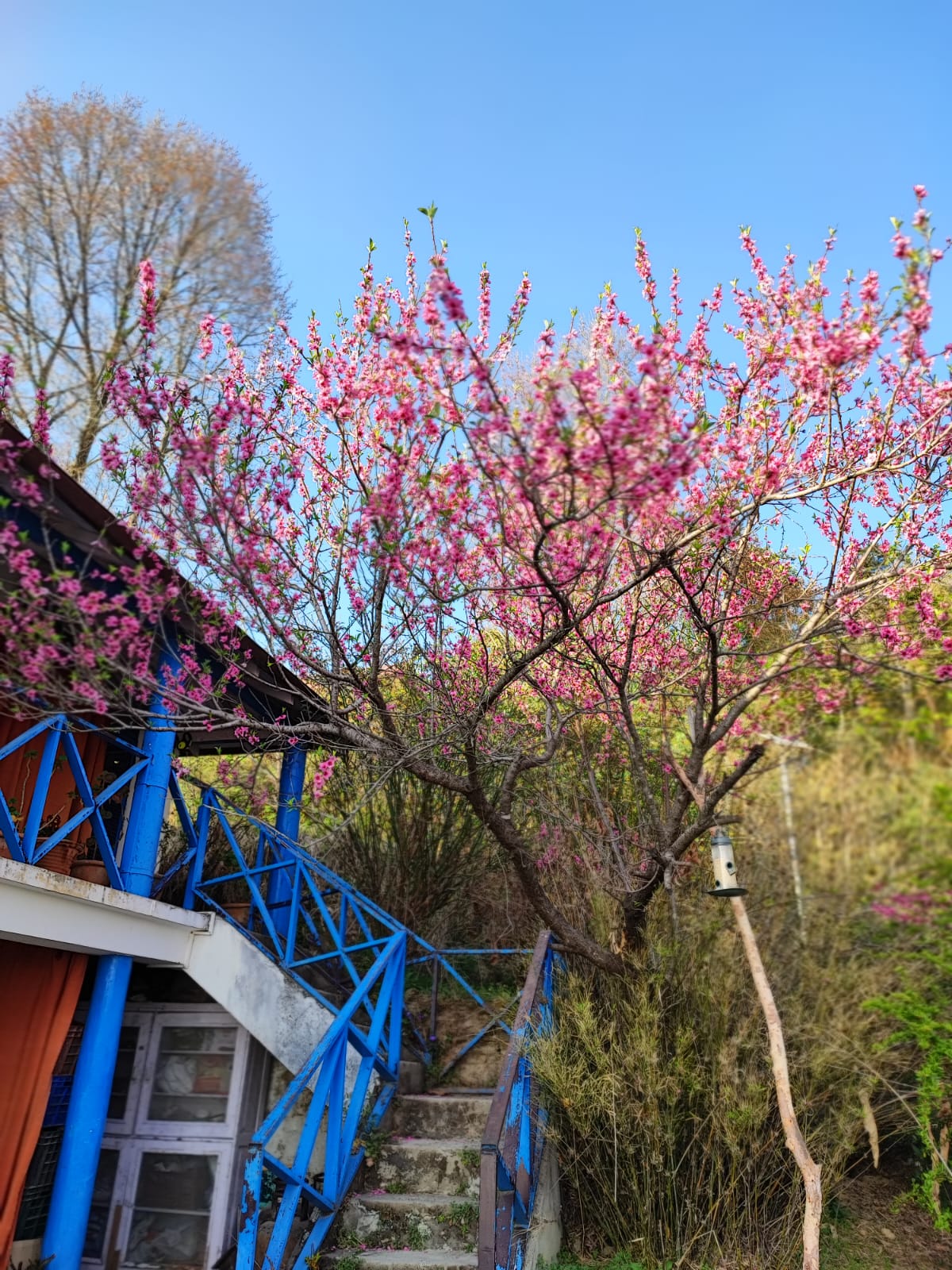 A change of vehicle into a sturdy 4×4 brought us to the gates of the Binsar Forest Retreat almost 11 hours into our journey. Pallavi who runs the place with her husband Preetam, with their dogs Chanda and Tara, welcomed us with the sweet nectar of the same rhododendrons that had carpeted the jungle paths for us.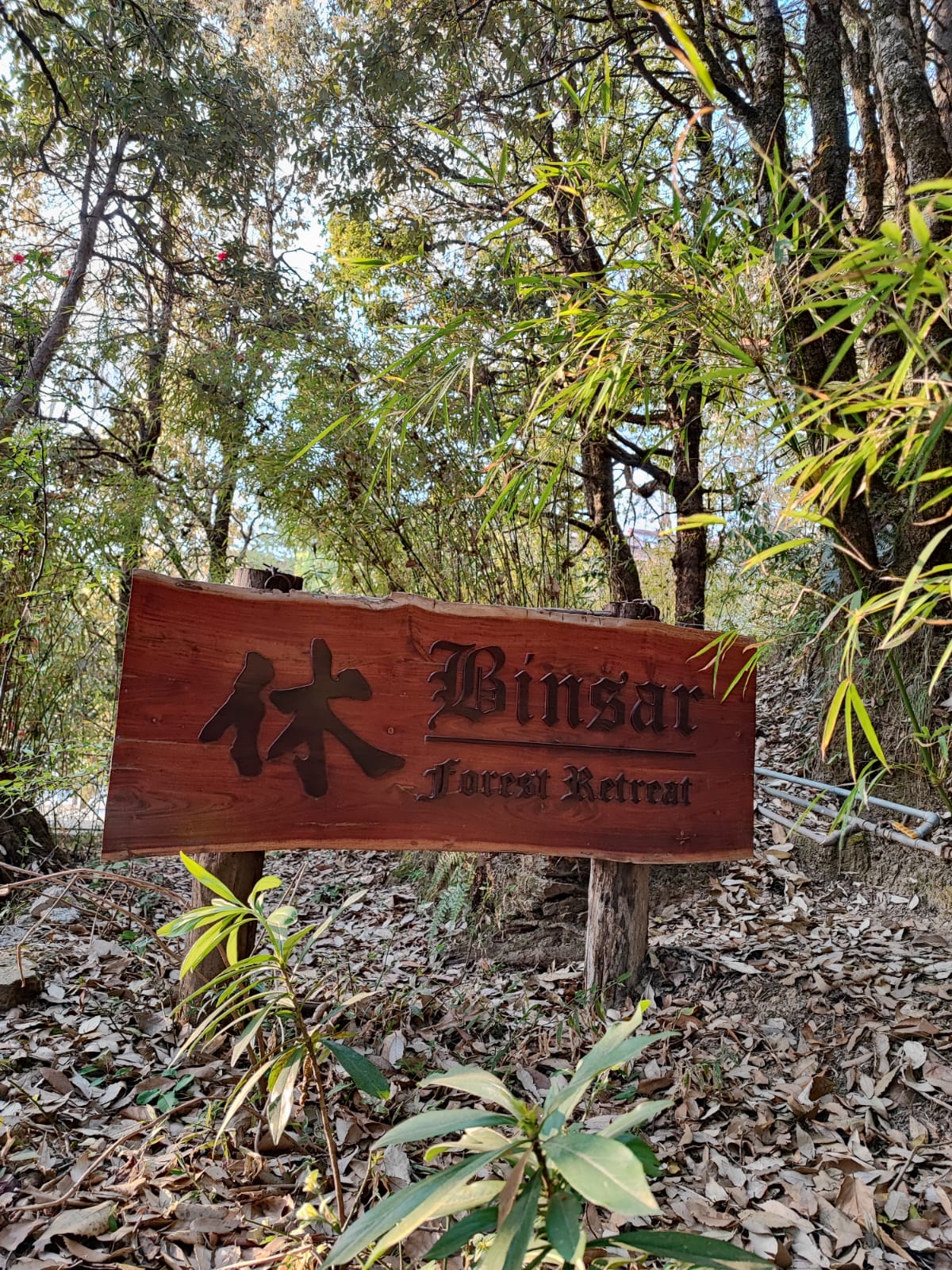 As we took in the expansive views from their open to sky reception, Pallavi explained to us how the Retreat was completely off grid and depended solely on solar power generated in-house, used water from a natural spring and harvested rainwater and served organic vegetarian Kumaoni meals sourced locally and cooked in an electric gadget free Kitchen; we were off to our "Nandaghunti" room with its amazing view of the peaks.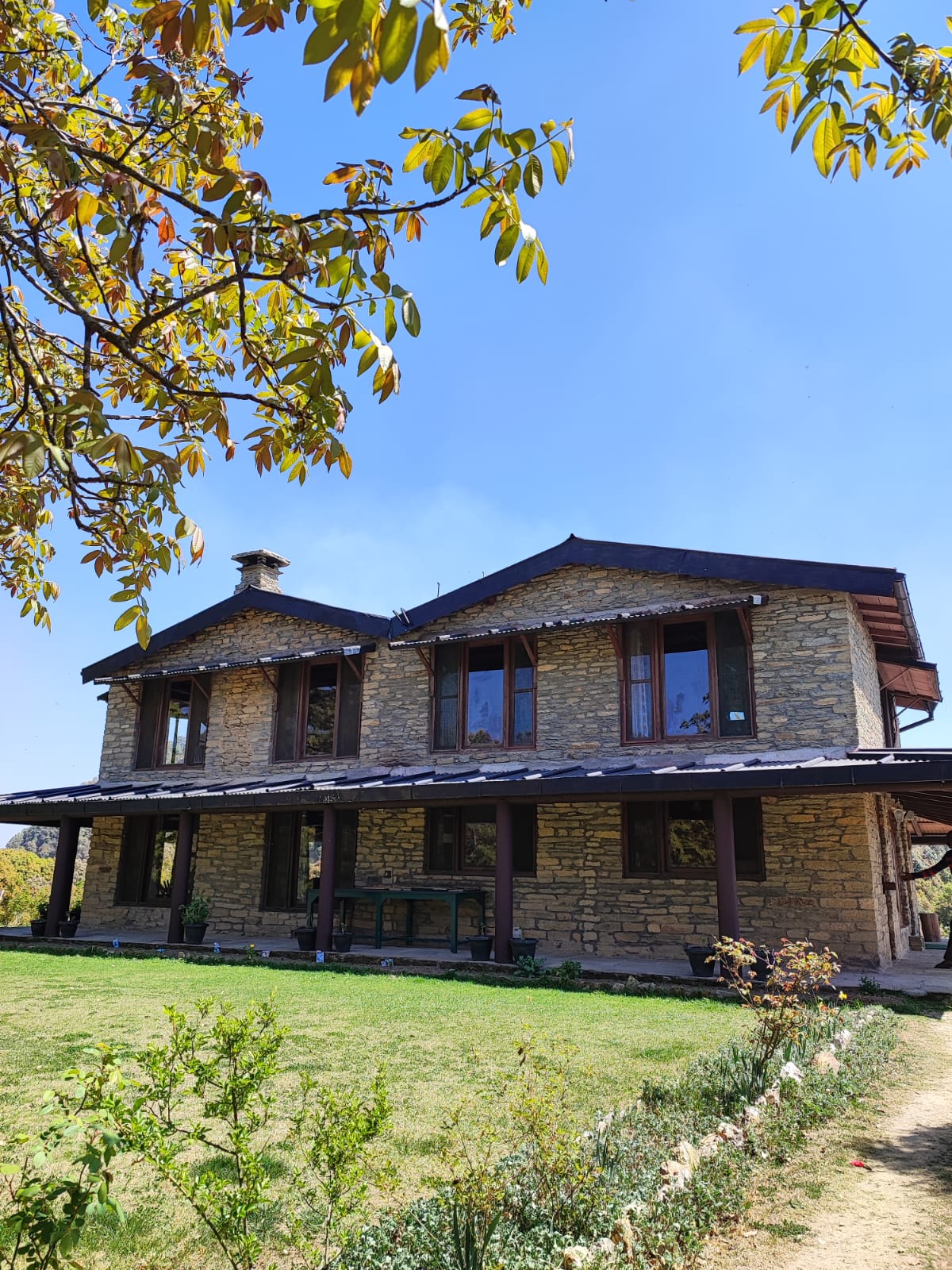 Staying at the Binsar Forest Retreat was like staying at home – but with a sustainable conscience. The staff are warm, intuitive but not overly servile, Pallavi was around for a chat post breakfast, to share a drink over dinner and for as many walks as our city legs could manage.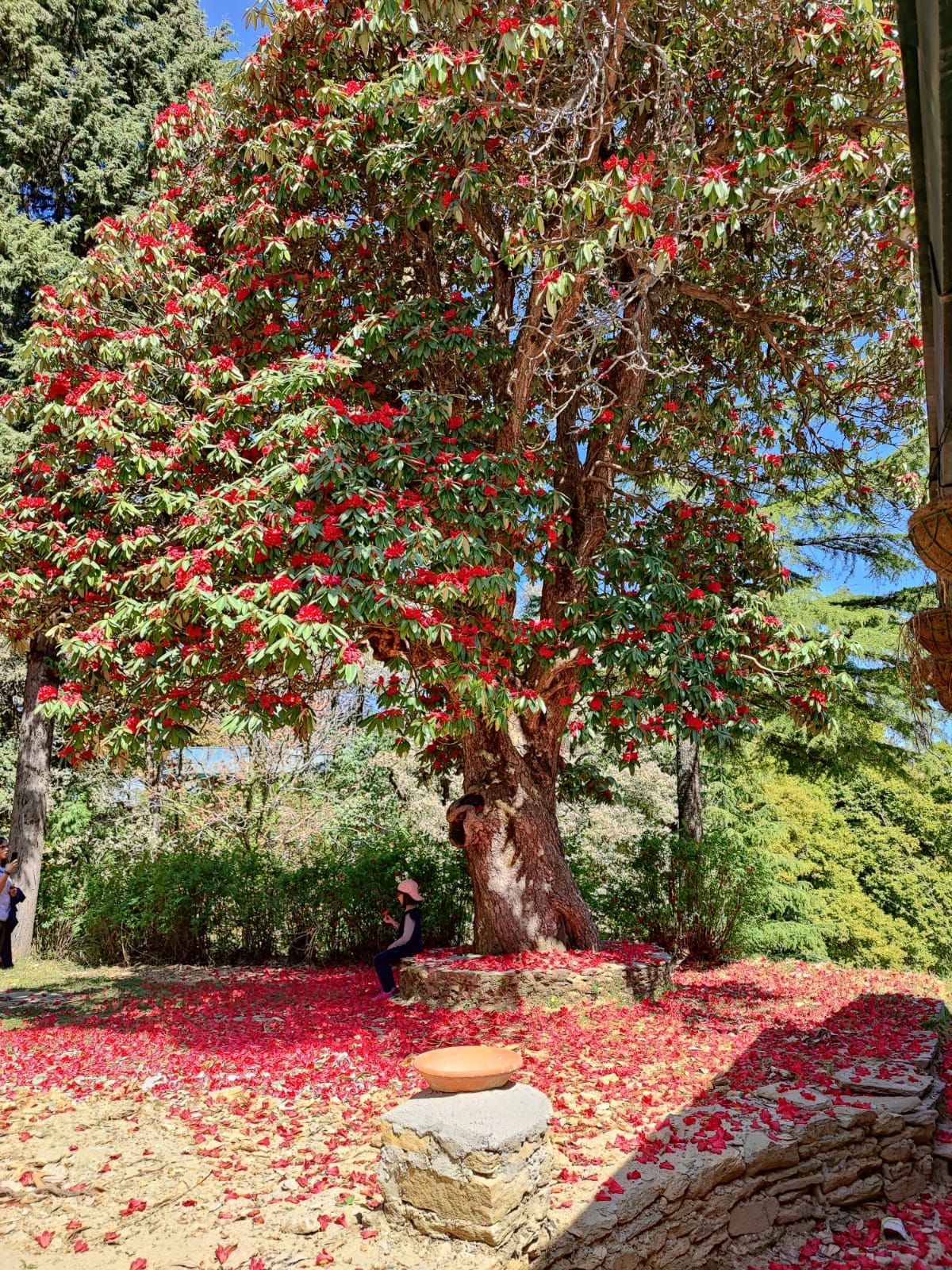 She was even happy to read to or be read to by my 6-year-old niece. Our chef was happy to dish out authentic Kumaoni meals, contemporary recipes, and scrumptious baked goodies to our heart's desires. We could've easily spent at least 10 days here but alas we were only booked for 6!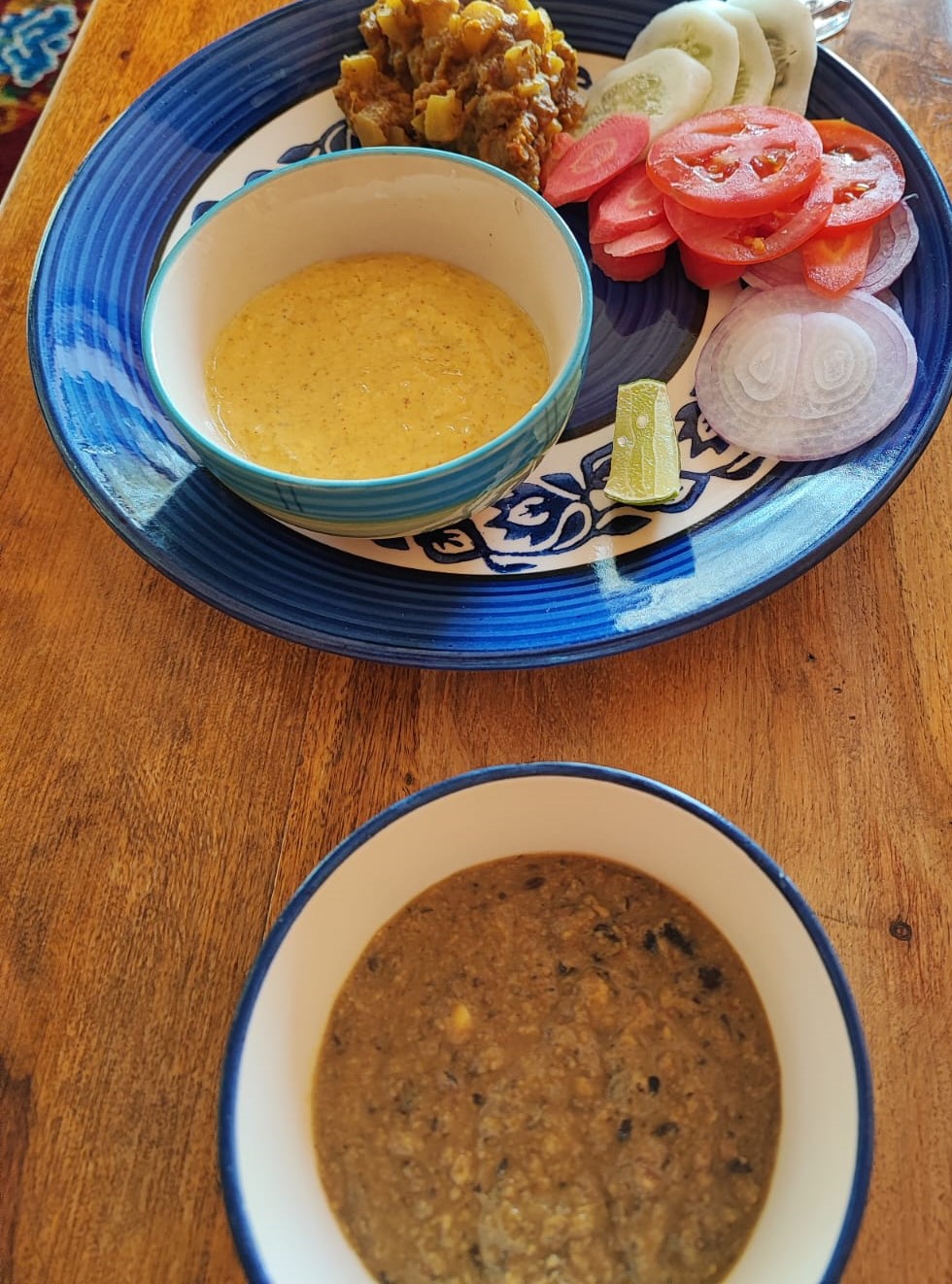 Binsar Forest Retreat walks the talk on sustainability and being a responsible retreat in a sanctuary. The authenticity offered here is the true luxury that one experiences.
Other noteworthy stay options in Binsar:
Nine Furlongs – Located 6 kms from the Ayarpani Gate, Nine Furlongs is an estate built in the 1850s by Sir Henry Ramsay and comprises two 2 bedroom cottages and one 1-bedroom bungalow. The cottages and bungalows are scattered through the estate and provide ample privacy to the guests. The entire estate boasts perhaps the best views of the peaks at Binsar They also house a menagerie of a horse, an adorable St. Bernard called Kudi, rabbits and a smattering of cows. They serve excellent continental meals and lavish chocolate desserts, not to mention healthy and tasty soups.
Mary Budden Estate- Located 9 kms from Ayarpani Gate, it is a popular pick amongst visitors to Binsar. Mary Budden Estate is a five-acre mountain retreat, home to three luxury cottages and lodges, and four adorable mutts. Aesthetic interiors like timber ceilings, lavish rugs and copper jugs greet visitors here. Each room has a luxe modern bathroom and a living room with a small library, steeped in wildlife, history, fiction and photobooks. But the most coveted spots are the al-fresco loungers where one can pretty much spend a good sunlight day at the estate, fortified by endless cups of their masala chai and slices of scrumptious cinnamon cake.
While There:
Several walks through the Binsar Wildlife Sanctuary; walking the ridge to "Zero" point for one of the most stunning views of the Himalayan ranges from Nepal to Kedarnath is an absolute MUST. On our visit, in March, the forests were aflame with rhododendrons, we carried a picnic basket on one of our walks and took in the views of the peaks while Pallavi pointed out wild boar romping grounds. Each morning, we would be greeted, by a Verditer Flycatcher on the branch just beyond our patio. It is a worthwhile experience to get an early start into the forest for some barking deer spotting and perhaps at dusk for a possible leopard spotting too. Apart from walks, flora and fauna sighting, best to catch up on your reading and sleeping while in Binsar.
Best time to Visit:
Binsar is a blessed with beautiful weather through the year, the temperature ranges between 0 and 30 degrees Celsius. The summer afternoons can be moderately hot but mornings and evenings are nippy and winters are very cold with snowfall at the peak of the season. Therefore, summers and early winter seasons are the best time to visit Binsar
Getting There
By Road: Delhi – Binsar 388 kms and 10 hours
By Rail: Nearest Railhead is Kathgodam (Daily trains from Delhi to Kathgodam) Kathgodam to Binsar 110 kms and 4 hours
By Air: Pantnagar Airport (Daily Flights from Delhi) to Binsar 139 kms and 4 hours Bareilly Airport (Daily Flights from Major Metros) to Binsar 209 kms and 6.5 hours