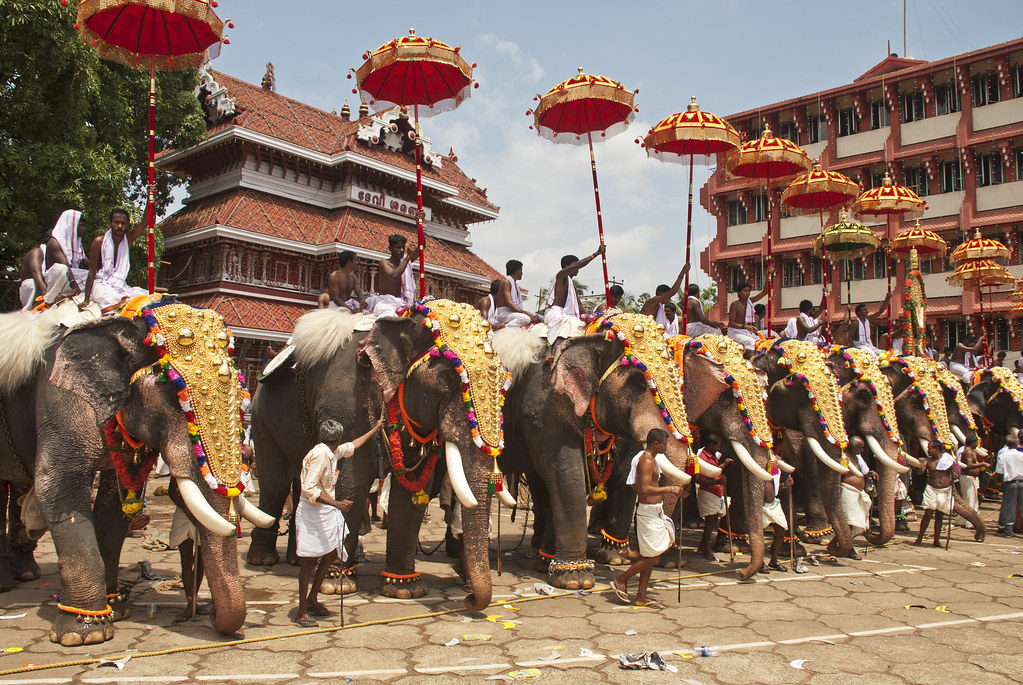 Two rows of caparisoned elephants facing each other separated by a sea of humanity is the image that comes to the mind when Thrissur Pooram is mentioned. Even though Kerala celebrates many Poorams from November to May, the grandest of them all though is Thrissur Pooram.
Vibrant, atmospheric events, Poorams give you a chance to utterly immerse yourself in local culture. At Thrissur Pooram, you should expect a spectacular mix of elephant parades, music and dance. In fact, two groups pit themselves against each other to deliver the most lavish decorations and best musical performances – something that means you can expect a real show!  
Each year, it's staged in either April or May (in the Malayalam month of Medom). Although this grand festival is known as Thrissur Pooram, it is in fact the conclusion of the eight -day Utsavam of nine temples. Thrissur Pooram 2023 date is April 30. What's particularly nice about Thrissur Pooram is that it's a real community event – people from all sorts of different religions take part, giving it a really inclusive, welcoming feel. People meticulously craft umbrellas and nettipattam from scratch. All efforts are made by each party to secure the best elephants in South India and the most artistic parasols, several kinds which are raised on the elephants during the display. You'll be able to drink in all the classic elements of a pooram here, including grandly-outfitted elephants, fireworks and parasol displays.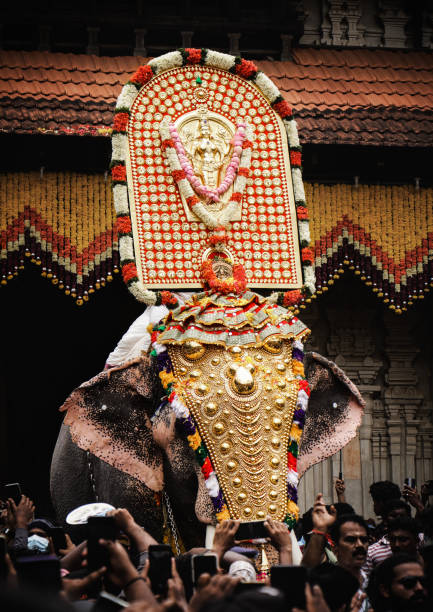 Commencing in the early hours of the morning, the celebrations last till the break of dawn, the next day. The commencement of the festival is marked with the ceremonial entrance of "Kanimangalam Sastha" Pooram after which the pooram flag is hosted. The excitement reaches its zenith when the processions of the Thiruvambadi Sri Krishna and Paramekkavu Devi temples face each other at the Thekke Gopura Nada area.  
The remarkable kudamattom ceremony and Ilanjithara melam are performed when the procession reaches the elanji tree inside the temple compound. The kudamattom is the enthralling line-up of vibrantly decked up elephants decorated with golden ornaments, ornamental fans made up from peacock feathers, royal fans, sacred bells, and ornate umbrellas. There are fifteen elephants who compete involving the swift movement of colourful parasols done by people sitting on top of the elephants, looking almost like a dance. The Ilanjitharamelam – a spectacular performance of traditional instruments. People come together to participate or just dance along to the beats created by around 250 artists who play traditional orchestra led by Chenda artistes. The culmination of the Thrissur Pooram festival is marked by the jaw-dropping firework display through the night.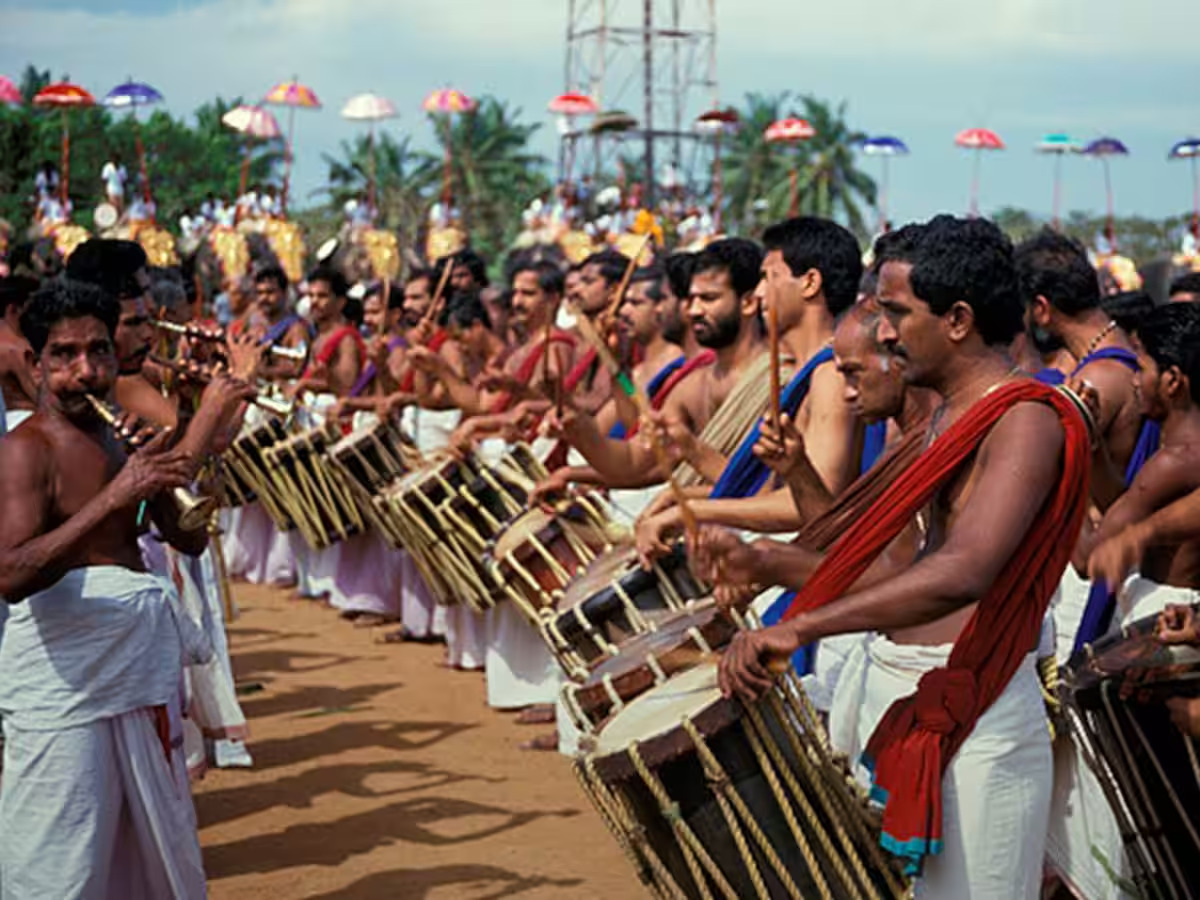 Getting there – Nearest international airport is at Cochin, 60 kms away. Thrissur is an important railhead of the Southern Railways. The place is also well connected with almost all the major towns and cities of India.