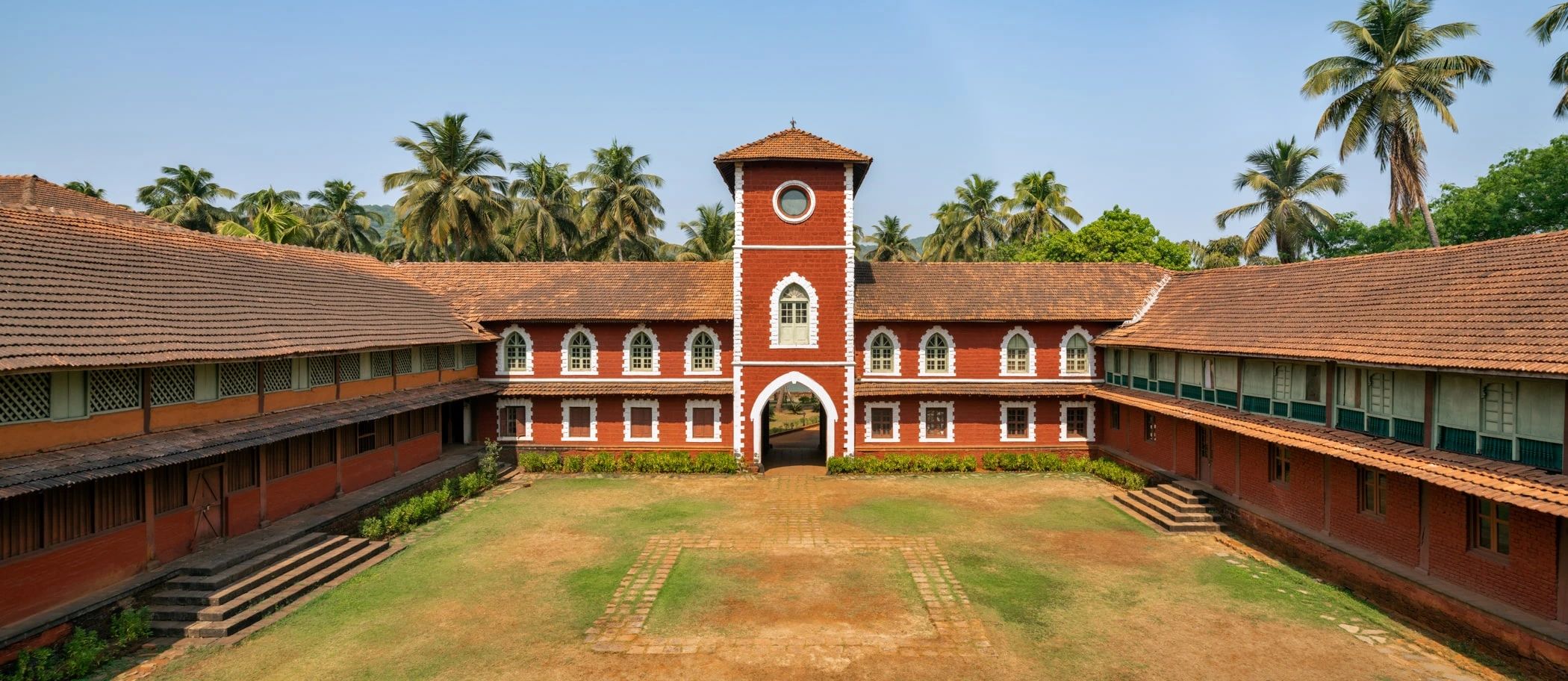 Our Tammie Anjali Tolani describes her 25 hours at the Sawantwadi Palace where the Sawant Bhonsles have found meaningful ways to preserve the lost art of Ganjifa!
In a bygone era, kings and queens were not just rulers; they were also patrons of the arts and custodians of specialized skills. Their roles extended beyond governance to nurturing the rich tapestry of their culture, often through the support and encouragement of local artists and craftsmen. Their efforts ensured that traditional skills and cultural expressions flourished within the kingdom. However, with the abolishment of monarchies following India's independence, many of these art forms faded into obscurity, lost to the world. One such art form is Ganjifa, a traditional playing card game introduced to India by the Mughals in the early 15th century.
Ganjifa: The Artistry of Playing Cards
Ganjifa cards were not mere instruments for a game; they were considered intricate works of art. Each card was a labor of love, meticulously hand-painted to depict figures and symbols closely associated with the imperial courts of the time. The Persian Ganjifa set comprised 96 cards divided into eight suits, each with 12 cards. These suits were further subdivided into two parts, with each part containing four suits, including two court cards referred to as "shah" (king) and "wazir" (minister), as well as numerical cards from one to ten.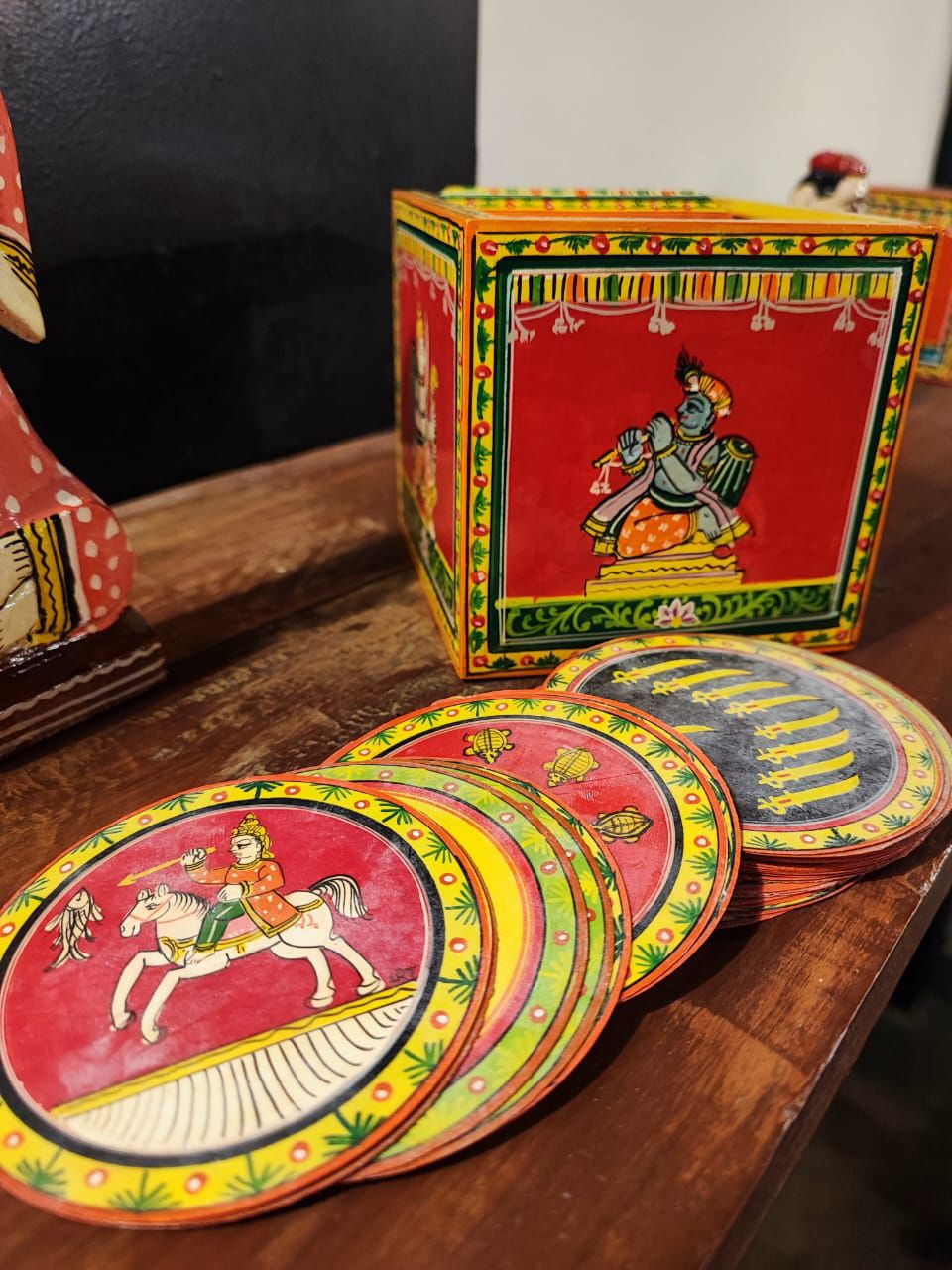 The Mughal court's Ganjifa cards were often crafted from precious materials like ivory and tortoiseshell, while those for the general public were made from more accessible materials such as starched cloth, papier-mâché, palm leaves, and occasionally featured a lacquered finish. Over time, various regional variations of Ganjifa emerged, each with its own unique character and style. Examples include the twelve-suited version introduced by Akbar, Ganjapa from Odisha, Dashavatara Ganjifa inspired by the ten incarnations of Vishnu, Mysore Chad Ganjifa, Naqsh Ganjifa, Sawantwadi Ganjifa from Maharashtra, and Ramayana Ganjapa from Odisha.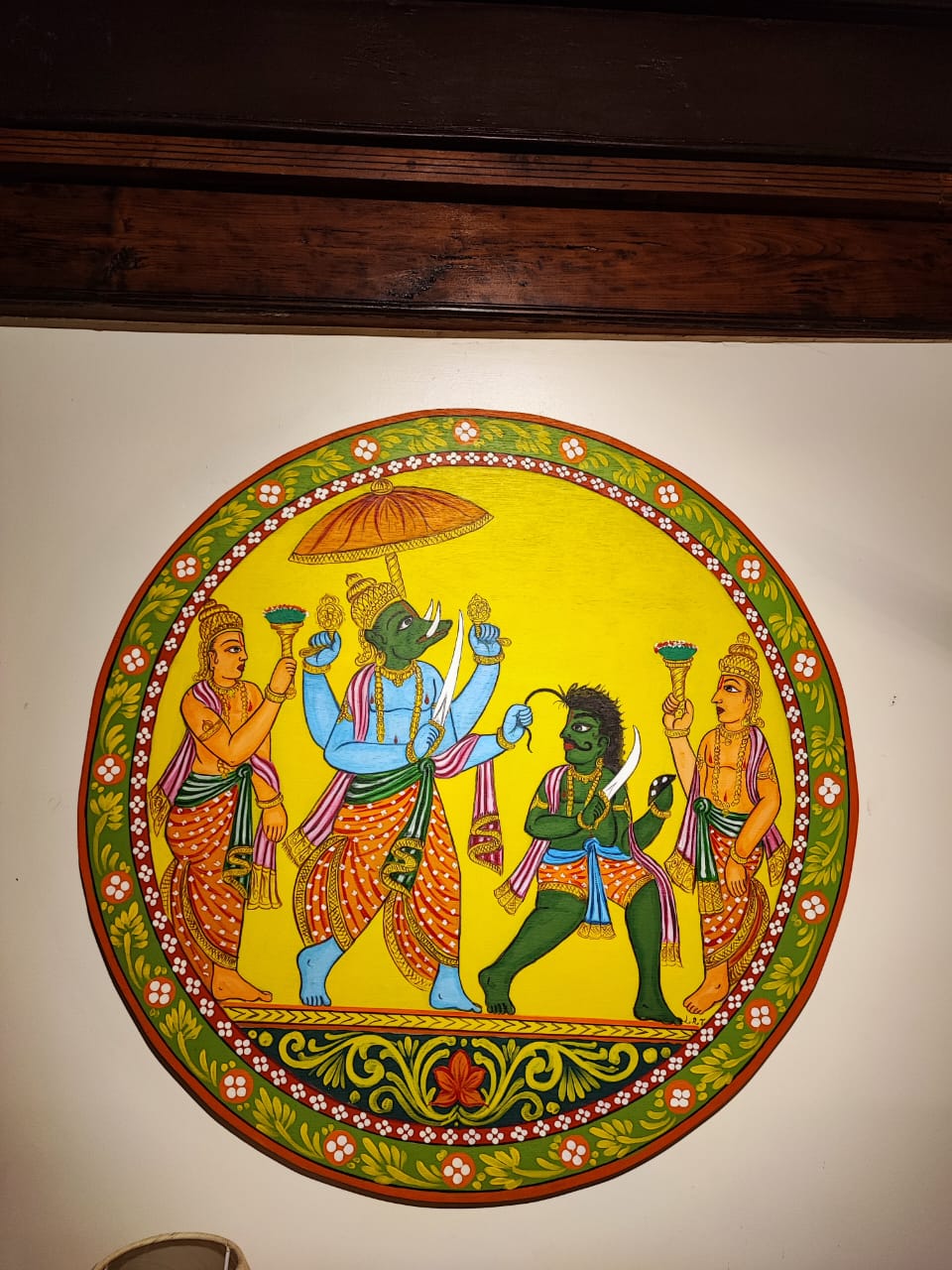 Unfortunately, the elaborate game of Ganjifa gradually waned in popularity in India due to the simplicity of Western playing cards, and today, it is scarcely played anywhere in the country. However, Sawantwadi, located in Maharashtra, managed to preserve the tradition of Ganjifa, albeit with a focus on its artistic value rather than its original purpose as playing cards.
Reviving Ganjifa: The Role of Sawantwadi Palace Royalty
One of the driving forces behind the revival of Ganjifa art is the royal family of the Sawantwadi Palace. Shivramraje Bhonsle, the former ruler of Sawantwadi, and his wife Satvashiladevi Bhonsle established Sawantwadi Lacquerwares to promote Ganjifa and lacquer art, providing vital support to the dwindling community of artists. Today, their legacy is carried forward by Ranisaheb Shubhadadevi Sawant Bhonsle, their daughter-in-law, and Yuvrani Shraddha Sawant Bhonsle, their grand-daughter-in-law. They have managed to ensure the relevance and continuity of Ganjifa and lacquer art by finding innovative applications for these ancient art forms.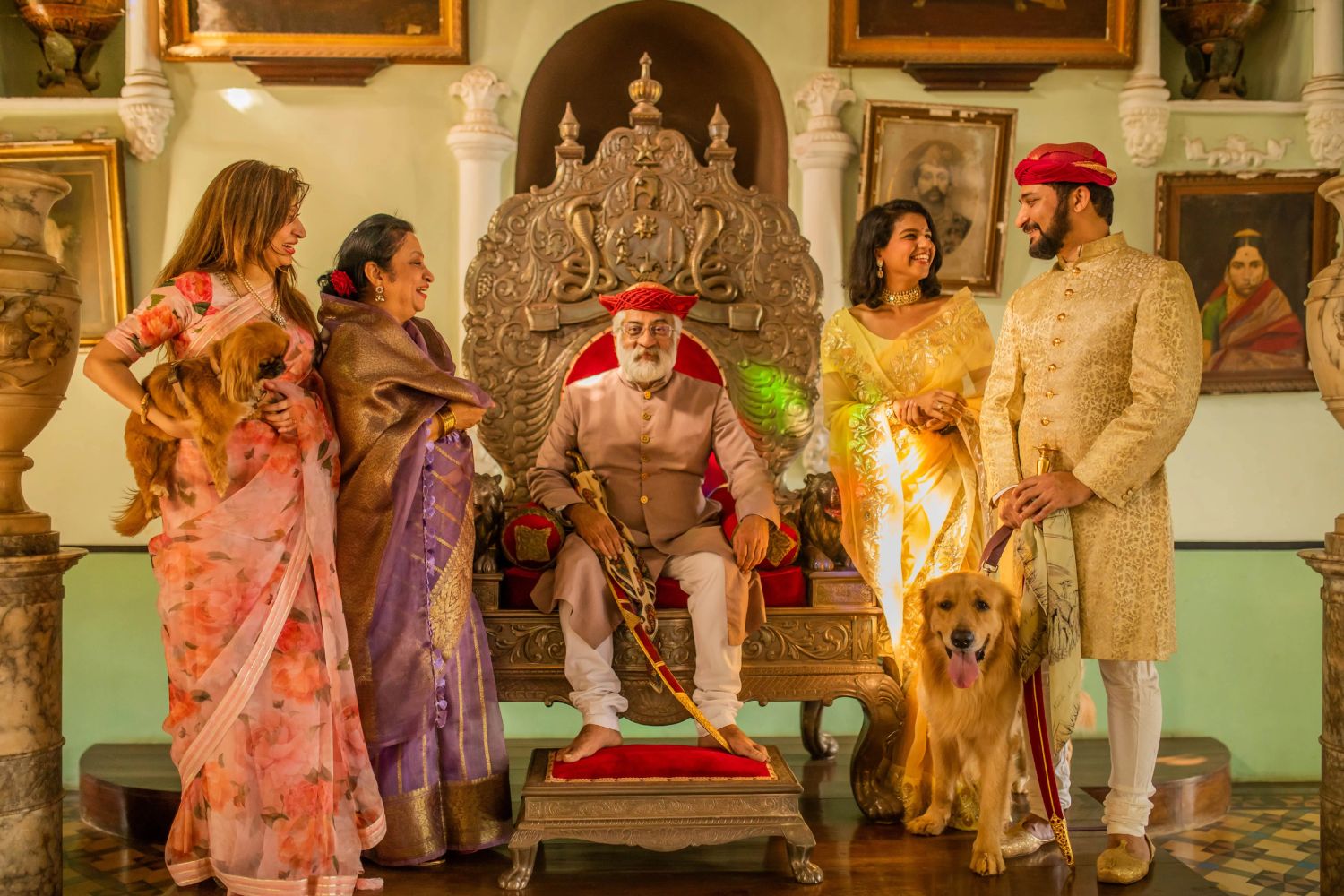 The Sawantwadi Palace: A Boutique Art Hotel
The Sawantwadi Palace has been transformed into a boutique art hotel, a testament to the dedication of Lakham and Shraddha, the former prince and princess of Sawantwadi. The hotel, built using local red laterite and adorned with native woodwork and lacquer, stands as a tribute to the rich cultural heritage of Sawantwadi.
The room I stayed in was named Narasimha, a fitting tribute to Lord Vishnu in his unique form, with the body of a man and the head and claws of a lion, while Hiranyakashipu lay on his thighs. This room, with its enchanting balcony overlooking the inner courtyard, beautifully harmonizes mythology, history, and the exquisite art of Ganjifa.
The other five rooms in the hotel pay homage to various avatars of Lord Vishnu, including Matsya, Kurma, Varaha, Vamana, and Parshuram- primarily through Ganjifa.
Every facet of this exceptional establishment has been lovingly curated, thanks to the dedication of Shraddha, who infuses her heart into every detail of the Palace, and Lakham, the quieter force who invests his soul; and not to be forgotten is their playful golden retriever, whose twinkling eyes and innocence add a charming touch to create the perfect ambiance for a memorable holiday.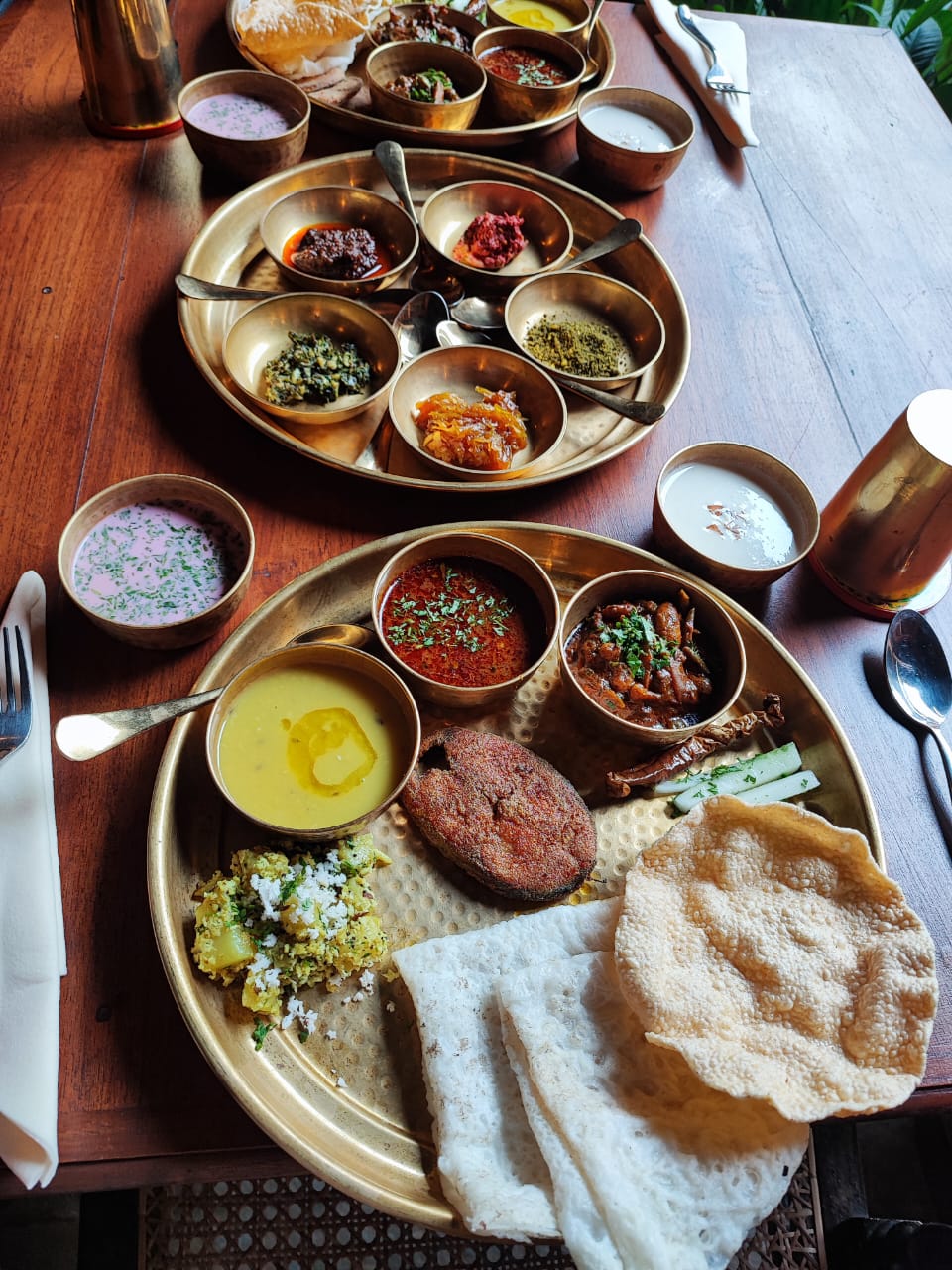 Shraddha and Lakham, both accomplished chefs trained at the Culinary Institute of America in New York, present a culinary experience that not only showcases their culinary prowess but also pays homage to the rich tapestry of traditional Konkan recipes. Lunch, presented in a traditional brass Thali offers a choice of protein—fish, chicken, or mutton—paired with a delightful potato preparation, raw cashew korma, delicate ghavane (rice flour roti), crispy fried buttermilk chillies, refreshing sol kadhi, and a sweet finale in the form of sitaphal basundi.
Dinner unfolds as an opulent eight-course journey through the diverse flavors of Asian cuisine. A standout moment is the flavorful clear broth that artfully brings the crispy fried tofu, nestled atop a bed of rice, to life before your eyes. The menu also features a delightful twist in the form of the Sawantwadi Po' boy, boasting a fried banana stuffing. Lakham, renowned for his baking and dessert expertise, ensures that you save room for the generously portioned dessert, despite the preceding feast. His artful plating in "Sawantwadi on a Plate" not only captivates visually but also delights the palate with its fluffy and delectable creations.
This culinary partnership between Shraddha's expertise over Asian flavors and Lakham's baking and dessert expertise, ensures that every meal is a sensory delight.
To balance these indulgent feasts, a brisk morning walk earned me the privilege of savoring The Sawantwadi Eggs Benedict and the Misal Platter for breakfast the next morning.
Aside from the Ganjifa workshop, where an artist meticulously guides you through the intricacies of painting these unique cards with fine brushes, the Palace offers a chance to experience life in a traditional village house.
Lunch on the following day took me to Geeta's (she is employed at the Palace) house, a typical village dwelling constructed with laterite walls and thatched roofing. Here, you become part of Geeta's family, including her in-laws, husband, two young sons, and even their three buffaloes. Geeta's mother-in-law prepares finger millet (nachni) bhakris on a chula, and these are served with black chana usal, a local leafy green, varan bhaat, and crisply fried papad. This meal stood out as one of the most nutritious and flavorful meals I had eaten in a long time.
From the shy yet warm hospitality of Geeta's family to the deftness of her mother-in-law's bhakri flips, to the curious looks from their buffaloes, us city bred hardly get opportunities to live such real experiences.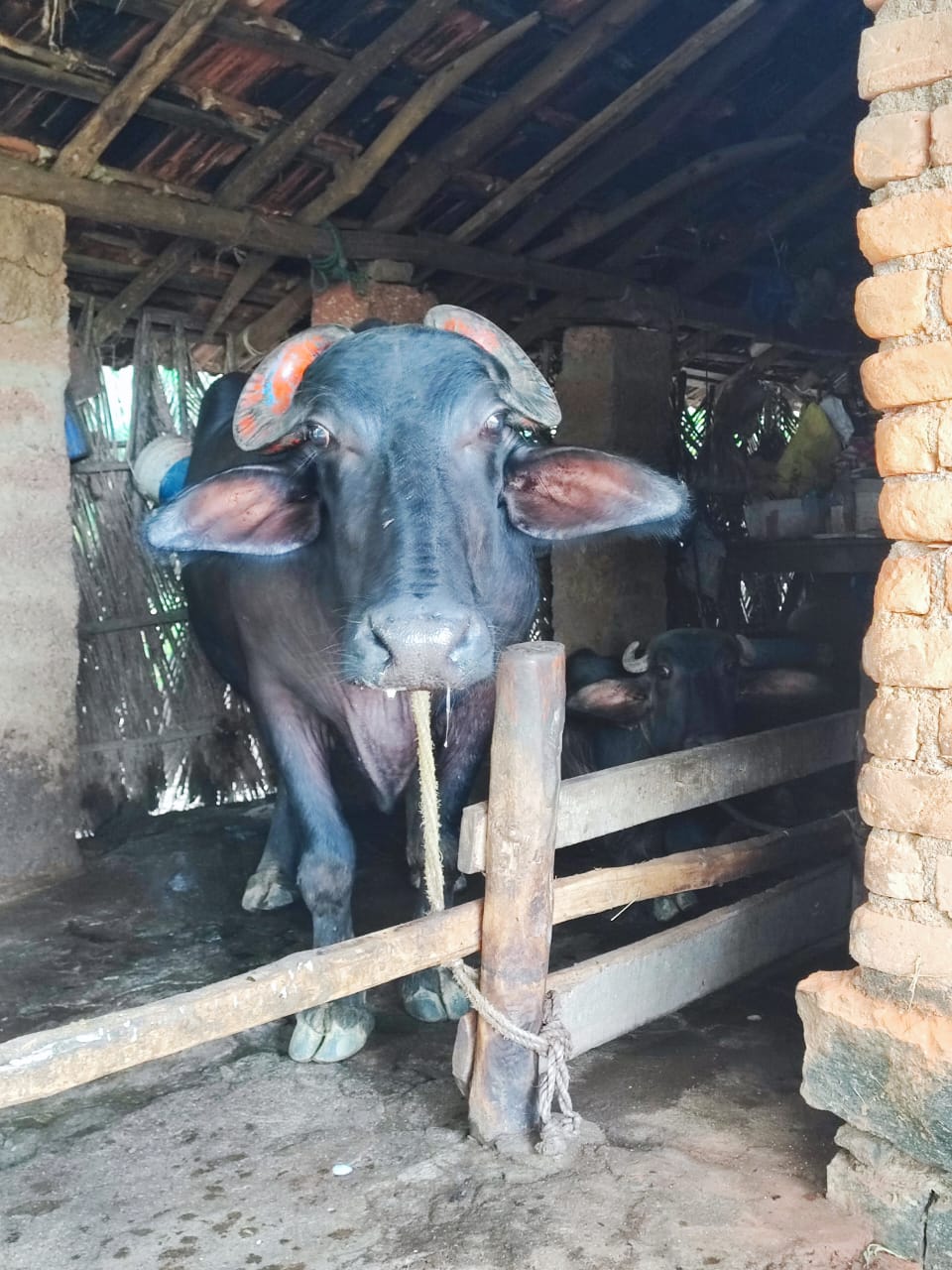 My 25 hours at Sawantwadi Palace were a sensory journey filled with exceptional flavors, immersive experiences and a genuine sense of awe at how Shraddha and her family have crafted a space dedicated to the five queens of Sawantwadi all the while preserving the art and heritage of an era gone by.
To book yourself a holiday at the Sawantwadi Palace, connect with your Tamarind Global representative today!