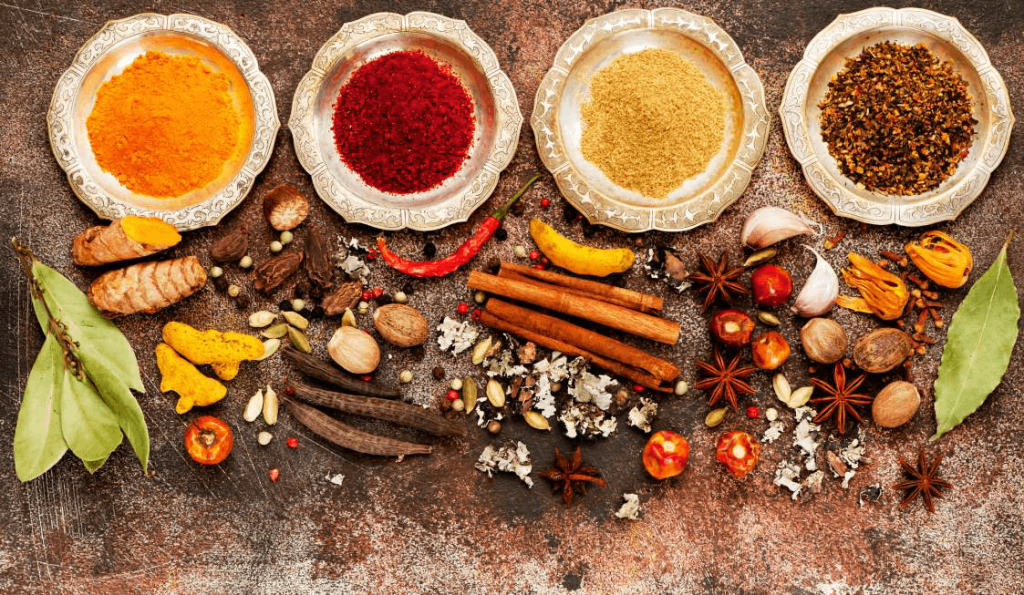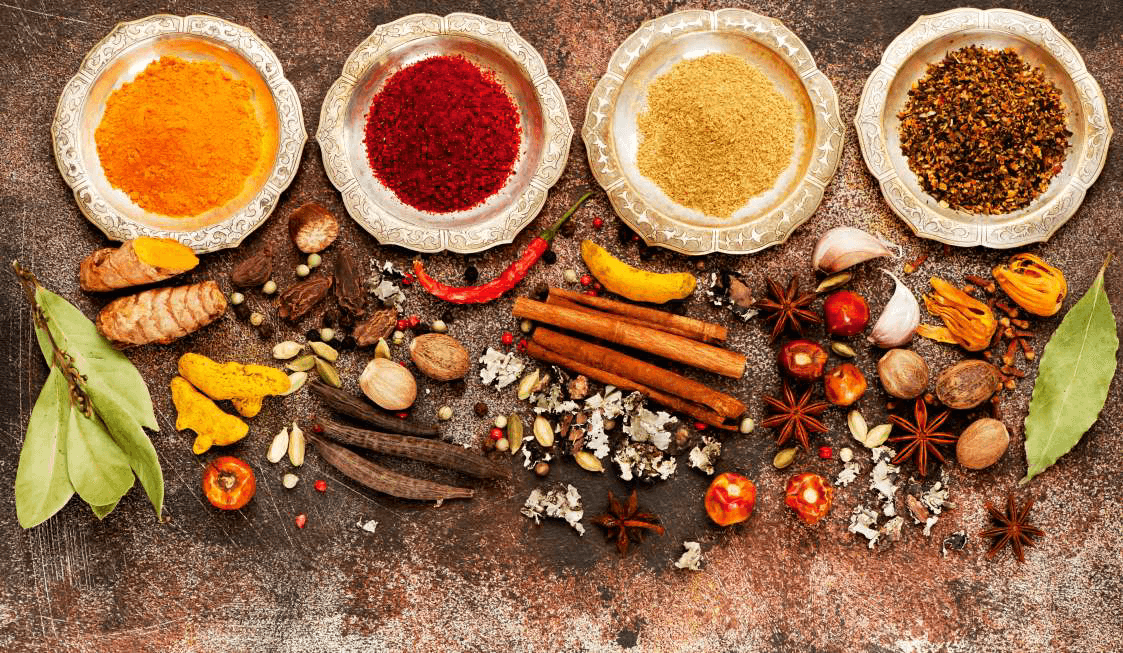 On The Spice Trail with Tamarind Global
Indian food lovers across the world eat numerous varieties of idlis, uttapams, paniyarams and dosas, served with sambar and a mind-boggling variety of chutneys, pickles and podis (powders). Naturally, this is the only food commonly associated with Tamil Nadu. But the cuisine of this southern state is so much more than it's Udipi restaurant specialties. Whether it is Kongunadu or Arcot, the Chettiars or the Iyengars, food takes on different avatars across communities. Traditional Tamilian Brahmin food is pure vegetarian fare served on banana leaves and is called Ilai Sappadu, meaning a full course meal that accommodates all the six tastes – sweet, sour, bitter, salty, pungent and astringent. It consists of a never-ending array of dishes such as poriyal, rice, varuval, pachadi, idli, payasam, sambar, thokku, vadai and kuzambu, amongst others. Contrary to popular belief, non vegetarian food is part of the Tamilian repertoire. Chettinad chicken, prawns kuzhambu, fried fish and kola urundai (meat balls) and some lip-smacking seafood from the coastal areas of Tamil Nadu are among the popular dishes.
Ingredients in a Tamil kitchen range from tangy tamarind to fresh turmeric, spicy squat chillies and curry leaves to coconut and coconut oil. Vegetable preparations abound, among which avial is popular. Various poriyals (stir fry vegetables) use everything from pumpkin and egglpant to raw bananas, tapioca and gourds. The spicy Tamilian meal is incomplete without a swig of strong, sweet Filter Kaapi, a must for every coffee lover.
Our Menu for this week:
Avial (Mixed Vegetables In Coconut)
Red Pumkin Pachadi (Yogurt Curry)
Puliodharai (Tamarind Rice)
Chettinad Mutton Chukka (Dry Mutton)
Rava Kesari (Saffron Semolina Desert)
Please do post your culinary creations of this menu on Facebook and Instagram with #spicetrailtamarindglobal and @tamarindglobaltours
Avial (Mixed Vegetables In Coconut)
Ingredients:
1 small potato, cubed
2 cups water
salt as required
1⁄2 cup french beans, chopped
1⁄2 cup cauliflower, chopped
1⁄2 cup tindli (ivy gourd), sliced lengthwise
1 raw banana, cubed
1 carrot, cubed
1⁄2 cup suran, cubed (elephant foot yam)
2 drumsticks, peeled and chopped
few pieces raw mango, optional
few curry leaves
1⁄2 tsp haldi (turmeric powder)
1 tsp coconut oil
1⁄2 cup curd (yogurt)
For grinding:
1 cup fresh scraped coconut
4 green chillies
water as required, to blend smooth
For tempering:
2 tsp coconut oil
1 tsp rai (mustard seeds)
1⁄2 tsp urad dal (split black gram)
2 dried red chilis
few curry leaves
pinch hing (asafoetida)
Method:
In a small grinder, add the coconut, jeera and green chili. Process into to a smooth paste with a little water. In a large kadai (wok), add the potatoes with water and salt. Cover and boil till almost cooked. Now add the remaining vegetables. You can choose vegetables you like, the above is just a guide! Add curry leaves and turmeric, and mix well. Cover and cook the vegetables for 8-10 minutes or till they are cooked well. Now add add prepared coconut masala and boil for 5 minutes. Turn off the flame and add half cup of whipped sour curd. Mix well. Meanwhile, prepare tempering by heating oil. Add mustard seeds, urad dal, dried red chilis, curry leaves and asafoetida. Allow to splutter and pour the tempering onto the avial and mix well. Serve with steamed rice or rotis.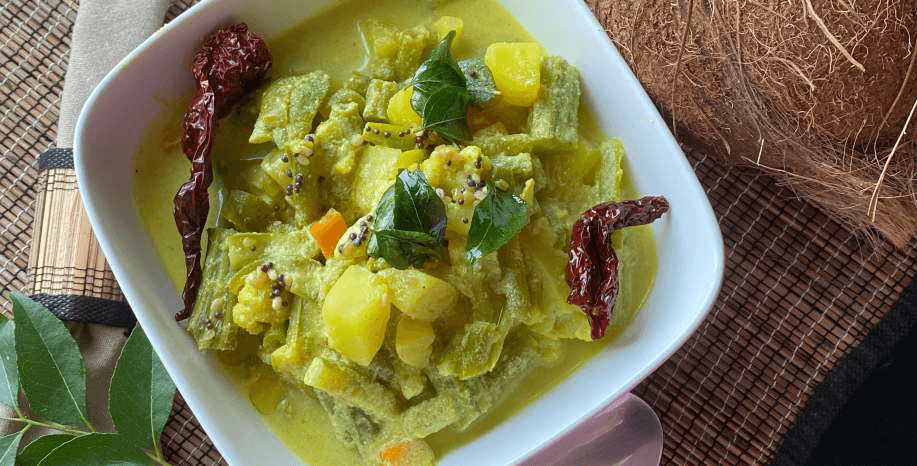 red pumpkin pachadi (yogurt curry)
Ingredients:
1 cup red pumpkin, cubed
½ cup curds (yogurt)
½ cup coconut milk
sugar and salt as required
chopped coriander
For tempering:
1 tsp oil
½ tsp rai (mustard seeds)
1 green chilli, finely chopped
few curry leaves
pinch hing (asafoetida)
2 whole red chillies
Method:
Mix the curd, coconut milk, salt and sugar together in a bowl.
Add ½ cup water to a wok along with the pumpkin, cover and cook till soft. Now, mash it with a fork. Add the yogurt and coconut milk mixture and cook on low flame for 4-5 minutes.
In a small pan, heat the oil and add the tempering ingredients. Once they crackle, pour over the contents of the wok. Mix, and serve warm, or at room temperature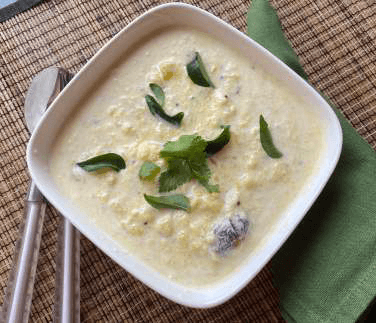 Puliodharai (Tamarind Rice)
Ingredients:
4 cups freshly cooked rice
salt as required
¼ teaspoon turmeric powder
1 tablespoon sesame oil
For the spice powder:
4 dry red chillies
2 teaspoons coriander seeds
1 teaspoon chana dal (split and husked bengal gram)
1 teaspoon urad dal (split and husked black gram)
¼ teaspoon methi seeds (fenugreek seeds)
¼ teaspoon whole black pepper
½ teaspoon sesame seeds
¼ teaspoon asafoetida (hing)
For the pulikachai (sauce):
3 tablespoons sesame oil
1 teaspoon mustard seeds
1 teaspoon urad dal (split and husked black gram)
1 teaspoon chana dal (split and husked bengal gram)
¼ cup peanuts
¼ teaspoon turmeric powder
a pinch of asafoedita (hing)
1 sprig curry leaves or 10 to 12 curry leaves
2 to 3 dry red chillies
4 tbsp tamarind pulp with 4 tbsp water
2 teaspoons jaggery powder
salt as required
Method:
Fluff the cooked rice (make sure it is not overcooked). Remove the cooked rice in a wide bowl. When the rice is warm and not hot, add ¼ teaspoon turmeric powder and 1 tablespoon sesame oil to it. Mix well and keep aside. Heat a pan and then reduce the flame to a low. Add all the spice powder ingredients, except the asafoetida. Roast on low heat, stirring continuously, till the lentils turn brown and everything is aromatic. Switch off and add asafoetida. Once it cools, grind the mixture to a fine powder. Keep aside.
To make the pulikachai, heat sesame oil in a pan, and start adding the ingredients – mustard seeds, urad dal, channa dal and peanuts. Sauté on a low flame. Once the peanuts as well as the lentils turn golden, add red chillies, haldi and curry leaves and asafoetida. Mix well. Now add the tamarind pulp and water, salt and jaggery powder. Mix well and simmer the mixture on a low to medium flame. Cook till mixture has thickened a bit and you see oil floating on top. Add this to the prepared rice, mixing gently. Now add the roasted powder, and mix gently. Serve hot with papad.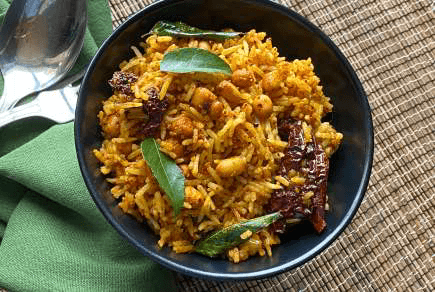 Chettinad Mutton Chukka (Dry Mutton)
Ingredients:
½ kilo mutton
1 cup chopped onions
2 tsp finely chopped ginger
2 tsp finely chopped garlic
½ tsp saunf (fennel seeds)
2 sprigs fresh curry leaves
2 green chillies, chopped
1 tsp red chilli powder
2 tsp dhania (coriander powder)
1 tsp garam masala
½ tsp haldi (turmeric powder)
oil as required
salt as required
juice of one lemon
coriander leaves to garnish
For grinding:
½ tsp black peppercorns
½ tsp fennel
½ tsp jeera (cumin seeds)
1 piece dalchini (cinnamon)
1 green elaichi (cardamom)
2 cloves
Method:
Marinate the mutton with haldi and salt for a few hours. Pressure cook with ¾ cup water for 8-10 whistles, or till cooked well. Open and turn up the heat to dry up whatever liquid is remaining. Process all the grinding ingredients into a fine powder. (If you are in a hurry, substitute this with 1 ½ tsp garam masala).
Heat oil in a pan and add the fennel seeds. Once they crackle, add the onions and sauté till light brown. Add the ginger and garlic, and curry leaves. Fry for a couple of minutes. Now add the chillies, chilli powder, turmeric and coriander powders, and fry till oil separates. Add the mutton and stir, mixing well. Now add the powdered masala (or garam masala) and fry till all the moisture evaporates. Keep roasting till you get a nice sear on the mutton and it is completely dry. You can add a little oil as and when necessary. Turn off and add the lemon juice. Serve with paratha or roti.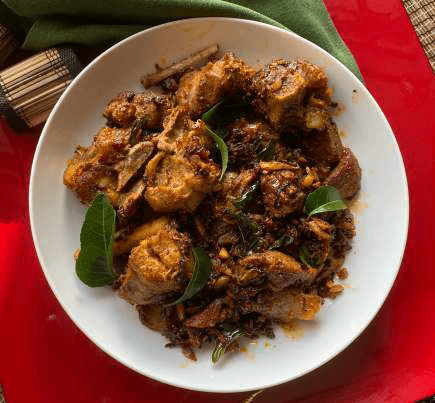 Rava Kesari (Saffron Semolina Desert)
Ingredients:
2 tbsp + 1 ½ tbsp ghee (clarified butter)
10 cashews, halved
1 tbsp raisins
½ cup rava (sooji or semolina)
1 cup water
¾ cup sugar
½ tsp keshar (saffron strands)
¼ tsp elachi (cardamom) powder
Method:
Heat 2 tbsp ghee in a pan and roast the cashews and raisins on low flame. Once the cashews turn golden brown, keep aside. In the same ghee, roast the rava on a low flame for 5 minutes or till it turns aromatic. Keep aside. in a large kadai (wok) boil 1 cup water. Add the saffron strands. Now keeping the flame on low, add in the roasted rava, stirring to prevent lumps. It will absorb the water and thicken – break up the lumps, cover and cook for a minute. Add the sugar, stir well till the sugar dissolves. It will melt and the mixture will liquefy, but don't worry. It will thicken again. Add the remaining 1 ½ tbsp ghee and mix well to remove all lumps. Cover and cook for 2 minutes. Add the roasted cashews, raisins and cardamom power.
Mix well till the rava kesari separates from pan. Remove in a bowl and garnish with more cashews.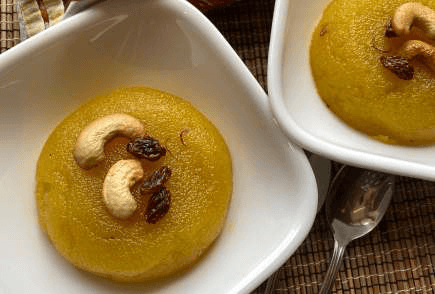 A little more about Tamil Nadu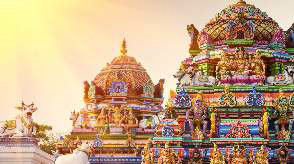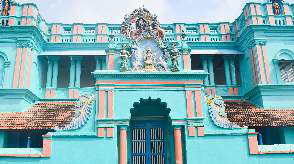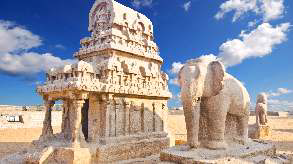 Located in South India on the Bay of Bengal, Tamil Nadu boasts a glorious history that spans a millennium, and has seen rise and fall of many dynasties like the Cholas, Cheras and Pallavas. Each dynasty enriched the local customs, and not surprisingly Tamil Nadu is considered the cradle of Dravidian culture and tradition. Its capital Chennai is a quaint amalgamation of its traditional heritage and its British influences. No trip to Tamil Nadu is complete without a visit to Mahabalipuram, a UNESCO site renowned for the Ratha Temples and the Shore Temple, Thanjavur to see the Great Living Chola temples, Kancheepuram (one of the seven sacred cities of India) and Madurai to visit the 3000 year old Meenakshi Amman Temple, one of the 52 powerful Shakti Peethas. The Aurobindo Ashram in Pondicherry and Matru Mandir in Auroville are on the must see list.
When in Tamil Nadu, you can literally visit Land's End – the southernmost tip of peninsular India, and observe the merging of the Indian Ocean with the Bay of Bengal and the Arabian Sea. You can enjoy both sunrise and sunset from the same beach! Rameshwaram Island holds one of the twelve Jyotirlingas, where Shiva is worshiped as an infinite pillar of light in the 17th century Ramanathaswamy Temple. The Chettinad area covers 56 villages in Tamil Nadu, and is home to the wealthy Chettiar business community. It is known for its palatial mansions, and of course its cuisine. And this is just the beginning of what Tamil Nadu has to offer!

See you next week with more on the Spice Trail!