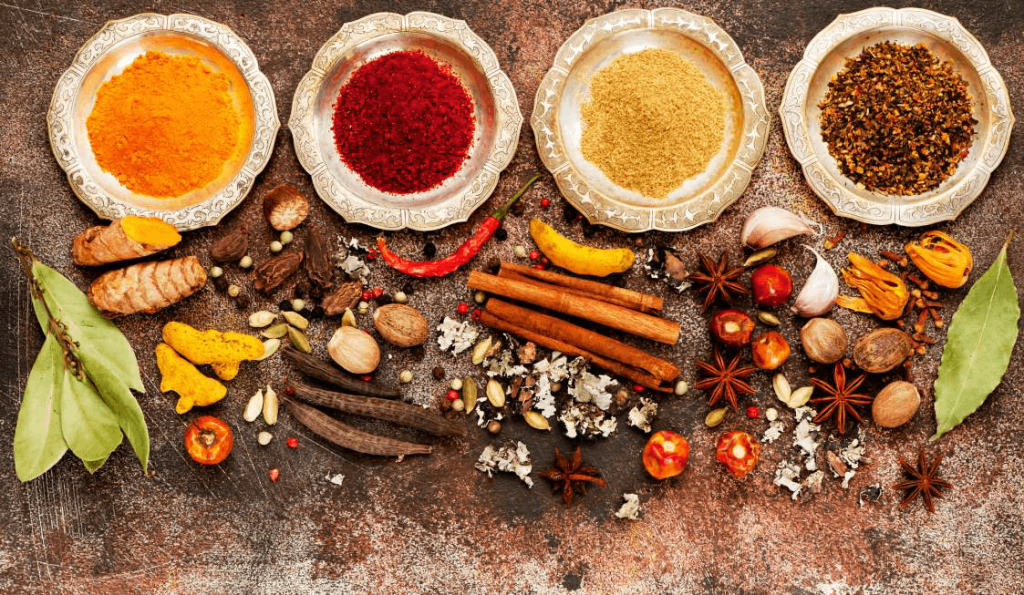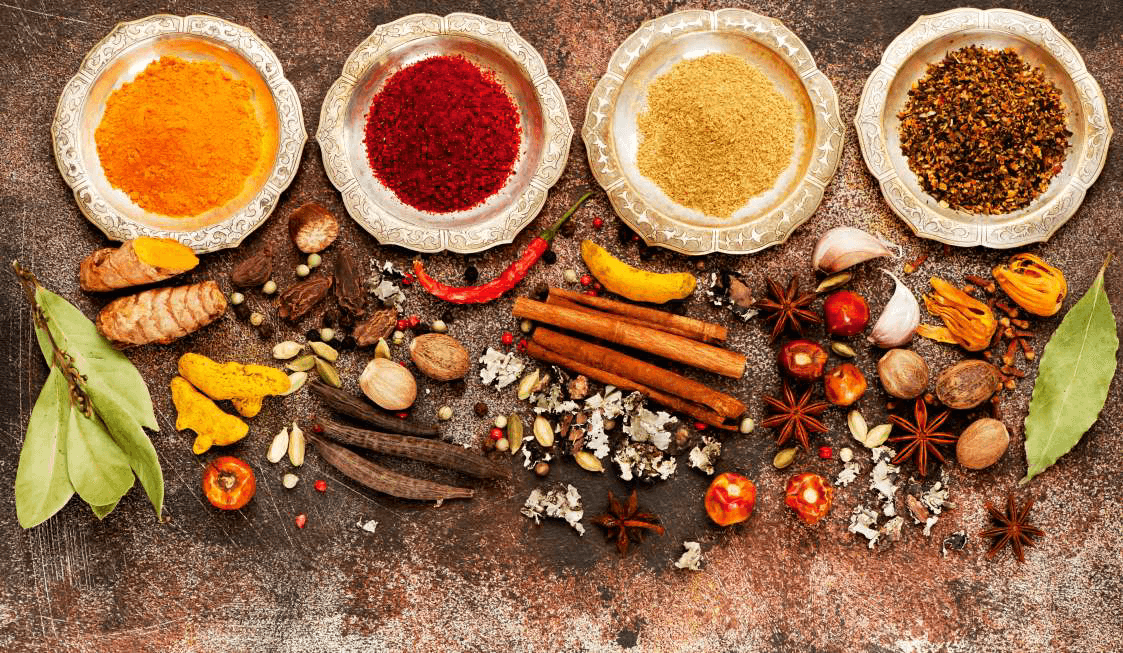 On The Spice Trail with Tamarind Global
Gujarat's cuisine is heavily influenced by the geography, history, and culture of the region. There have been a multitude of rulers here from Marathas, Rajputs to the Mughals and other Islamic invaders, but in recent times, Jain influence has made the cuisine largely vegetarian. Different areas like Kathiyawad, Kutch, Surat and Ahmedabad developed their own distinct flavours, while the Gujarati Muslims and Parsis enjoy their own unique non-vegetarian dishes.
The popular sev tameta shak (tomatoes and fried gram), along with ringna no oroh (roasted brinjal) are Kathiawadi specials, while undhiyu (a delicious mixed vegetable dish with purple yam, sweet potatoes, pigeon peas and fenugreek dumplings) is the best known dish from the Surat region. Amdavadi cuisine is heavy on the snacks component, so handvo, patra, fafda, dhokla and khandvi are popular farsan (snack) items here. The arid Kutchi region is famous for Dabeli, in which spiced potatoes and two chutneys are stuffed into a bread roll. Various flatbreads such as rotlas, theplas, dhebras and the crispy khakra abound. The best soul food from Gujarat is kadhi served with khichadi. Various spiced potato preparations accompany it, with a variety of pickles. Dal Dhokli is a complete meal in itself, and very popular. Tempering of food is very important in Gujarati cuisine, and unlike north India, fenugreek is used here along with mustard and cumin seeds, and occasionally sesame seeds. The common dhanshak dal (lentils and vegetables blended together) makes its appearance in Parsi cuisine with mutton or chicken. Common sweets include basundi, shrikhand and aamras.
Our Menu for this week:
Tamata Muthiya Nu Shak (Fenugreek Dumplings in Tomato Gravy)
Gujarati Kadhi (Buttermilk and Gram Flour Curry)
Dal Dhokli (Wheat Pasta in Lentil Gravy)
Handvo (Savoury Rice and Lentil Cake)
Basundi (Condensed Milk Dessert)

Please do post your culinary creations of this menu on Facebook and Instagram with #spicetrailtamarindglobal and @tamarindglobaltours
Tameta Muthiya Nu Shak (fenugreek dumplings in Tomato gravy)
Ingredients:
For the Muthiya (dumplings):
2 cups methi (fenugreek leaves), roughly chopped
¾ cup whole wheat flour
½ cup besan (gram flour or chickpea flour)
2 tsp green chilli, ginger and garlic paste
Salt to taste
2 tsp sugar
1 tsp red chilli powder
1 tbsp oil
Water as needed
Oil as needed to shallow fry
For the gravy:
1 tsp jeera (cumin seeds)
a pinch hing (asafoetida)
1 inch cinnamon, 2 cloves and one black cardamom
4 tomatoes, pureed * 3 tbsp tomato paste * few curry leaves
1 tsp jeera (cumin) powder
1 tsp dhania (coriander) powder
1 tsp haldi (turmeric) powder
1 tsp chilli powder
oil as needed
½ tsp garam masala powder
salt as required
pinch of sugar
Method:
To make the muthiyas, put the methi leaves in a mixing bowl. Add the wheat and besan flours, along with all the other muthiya ingredients except the water. Mix well until everything is properly combined. Now add water in small quantities and knead the mixture into a stiff dough. Apply a little oil on your hands and make oblong dumplings. Heat a pan with oil for shallow frying, and fry the muthiyas in batches till brown and crisp.
In a deep wok or saucepan, heat oil and add the asafoetida, curry leaves, cumin seeds. cinnamon, cloves and cardamom. Saute, then add the tomato puree, tomato paste, salt, sugar and all the dry spice powders. Fry till oil separates. Now add the fried muthiyas and half a cup of water, and let them simmer for a few minutes in the tomato gravy. Serve hot with rotis or bhakris.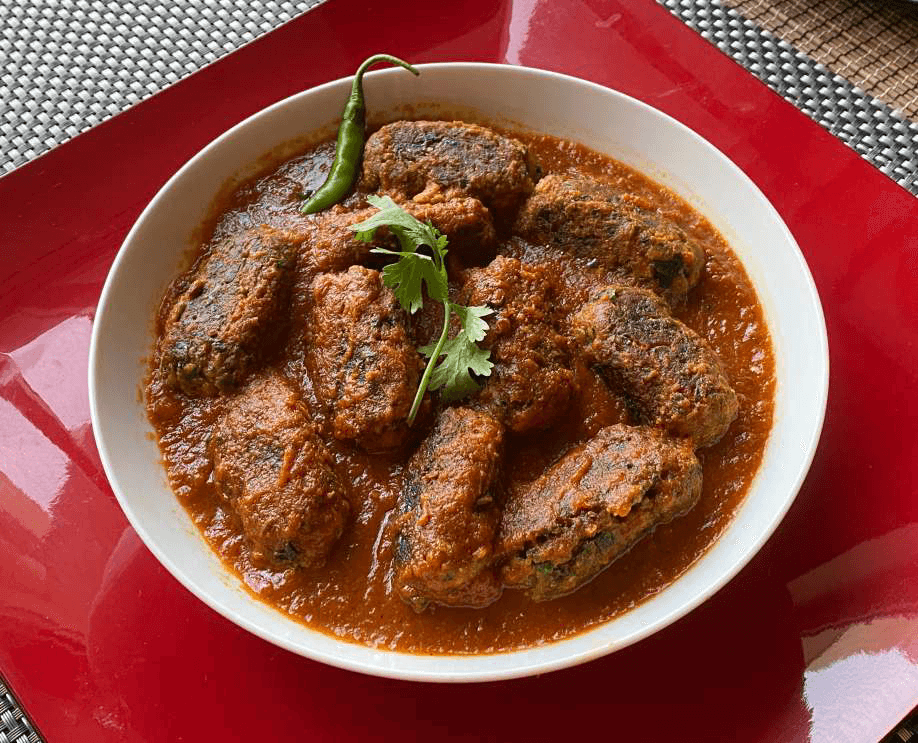 dal dhokli (wheat pasta in lentil curry)
Ingredients:
1 cup toovar dal (split pigeon peas) 3 tbsp raw peanuts
1 tsp haldi (turmeric powder) 1
½ tsp Red Chilli Powder
½ tsp Coriander Powder
½ tsp rai (mustard seeds)
1 tsp jeera (cumin seeds)
a pinch of hing (asafoetida)
2 dry red chillies, broken into pieces 2 cloves
1 picec dalchini (cinnamon)
1 sprig kadi patta (curry leaves)
3 tsp tamarind extract, or lemon juice 2-2½ tsp jaggery, or sugar oil as required salt as required
For the Dhokli:
1 cup whole wheat flour + for dusting
½ tsp ajwain (carom seeds)
2 tbsp besan (chickpea flour (gram flour)
½ tsp haldi (turmeric powder)
½ red chilli powder
½ tsp dhania (coriander powder) 1 tsp oil
salt as required
water for making the dough
Method:
Rinse toovar dal and put it in the pressure cooker. Add 1½ cups water. Take the peanuts in a small steel bowl and place it on the dal in a cooker. Close the lid and pressure-cook it over medium flame for 3-whistles. Once cooled, remove the peanut bowl.Whip the dal to make it smooth, and add 2 cups of water.
While dal is cooking, prepare dough for dhokli. Take wheat flour, chickpea flour, carom seeds, haldi, red chilli powder, coriander powder, a little oil and salt in a wide mouthed bowl. Add water as required in small quantities and knead a stiff but smooth dough. Cover with a cloth and let it settle for 10 minutes.
Heat 2 tsp oil in a large wok or pan over medium flame. Add mustard seeds and let them splutter. Add cumin seeds, hing, dry red chilli, coves, cinnamon and kadi patta, let sizzle. Add turmeric powder and red chilli powder and mix well. Add pureed dal, boiled peanuts, jaggery, tamarind and salt. Bring it to boil over medium flame and then reduce flame/heat to low and cook for 5-7 minutes.
Divide dough into 4-equal portions, dust with a little flour, and roll them out into a thin circle of 7-8 inch diameter and keep aside till all are done. Cot the discs into small diamond shapes using knife or cutter. These pieces are known as "dhokli". Slowly add all diamond shaped pieces into the boiling dal and increase flame to medium and cook for a minute or two. Add in batches after one minute intervals so they don't stick. Cook them over medium flame until dhokli does not taste raw, about 8-10 minutes. Stir occasionally in between. Turn off flame and transfer it to a serving bowl or deep serving plate. Garnish with fresh coriander leaves and serve hot or warm.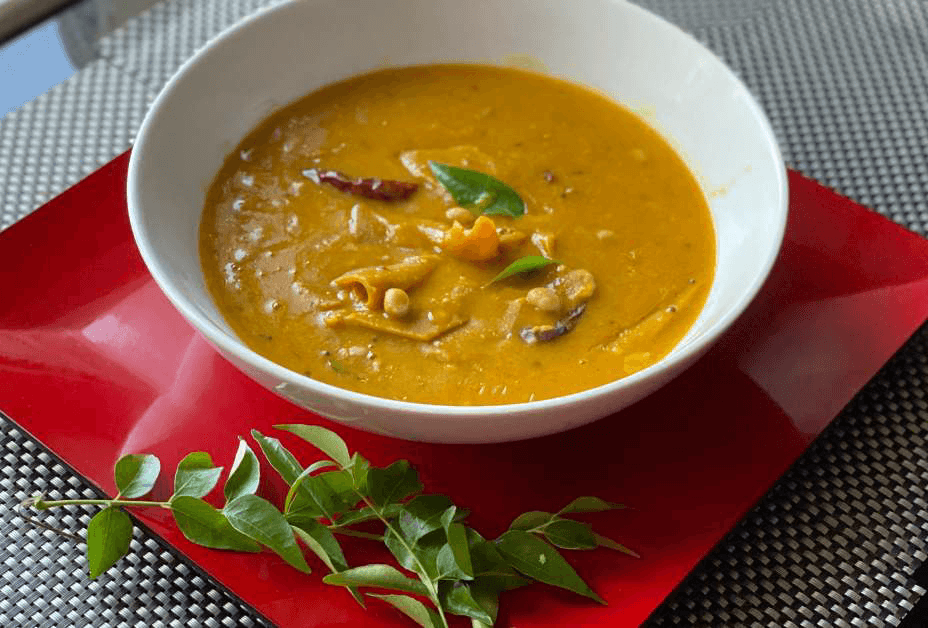 HANDVO (RICE AND LENTIL SAVOURY CAKE)
Ingredients:
For soaking & grinding:
1 cup regular rice
½ cup moong dal (mung lentils)
1 tablespoon tuvar dal (pigeon pea lentils)
1 tablespoon urad dal (split & husked black gram)
enough water for soaking
½ cup fresh curd (yogurt)
Grind to a paste:
1 inch ginger or 1 teaspoon chopped ginger
4 medium garlic cloves or 1 teaspoon chopped garlic
1 to 2 green chilies
1 tablespoon water for grinding For tempering:
1 tablespoon oil
½ teaspoon mustard seeds
5 to 6 fenugreek seeds (methi dana)
1 pinch asafoetida (hing)
½ teaspoon turmeric powder
1 teaspoon chopped curry leaves Other ingredients:
¼ teaspoon baking soda
pinch sugar
1 cup tightly packed grated bottle gourd (lauki or squash)
¼ cup chopped coriander leaves
salt as required
4 to 5 teaspoons oil for greasing pan
white sesame seeds as required
Method:
In a bowl, wash the rice and dals and soak for 4-5 hours. Drain and put in a mixer. Add the curd and grind to a coarse batter. Remove in a bowl, mix well, cover and leave to ferment overnight.
Once it ferments, add the ginger garlic and chilli paste, chopped coriander, sugar, baking powder and the grated gourd. Heat oil in a small pan and add the tempering ingredients. Once they splutter, add them to the batter and stir well. Now heat oil in a wide pan and add the batter mixture in an even layer. Sprinkle more sesame seeds on top. Reduce the flame and cover. Cook for 10 minutes, then lift with a spatula to check if the bottom is browned. Once it is golden, carefully flip the cake over and cook further. Once it is done, it can be removed on a plate and sliced as you wish. Alternatively, pour the batter into a greased springform pan and bake in a pre heated oven at 200 c for 30-35 mins , or till nicely browned.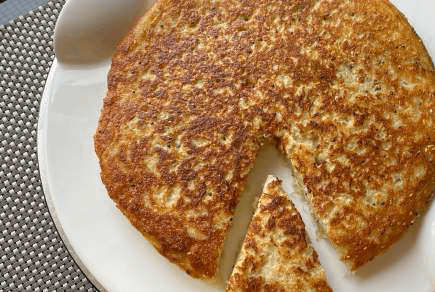 Gujarati kadhi (yogurt and gram flour curry)
Ingredients:
2 cups curd (plain yogurt)
5 tbsp besan (gram flour)
1 ½ tsp ginger – green chilli paste
salt and sugar to taste
1 tbsp coriander leaves for garnishing
For tempering:
2 tsp ghee (clarified butter)
½ tsp rai (mustard seeds)
½ tsp jeera (cumin seeds)
1 inch dalchini (cinnamon stick)
4 cloves
a pinch hing (ssafoetida)
8-10 curry leaves
Method:
Whisk together the curd with besan, salt, sugar and ginger chilli paste. Add 3 cups of water and set to boil on low heat. Keep stirring to avoid curdling or splitting. Bring to a boil. Meanwhile, prepare the tempering. In a small pan, heat the ghee. Add the tempering ingredients in the order given, wait till everything splutters. Now pour it over the boiled kadhi, and stir well. Turn off the heat. Serve the kadhi with khichadi or rice.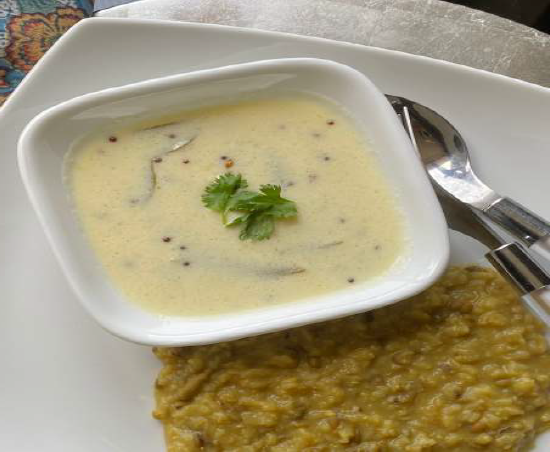 basundi (condensed milk dessert)
Ingredients:
4 cups milk
1/4 cup condensed milk
a few saffron strands
mixed nuts chopped for garnish
Method:
Heat milk in a deep non-stick pan. When it comes to a boil, reduce heat and continue to cook, stirring occasionally, till it is reduced and becomes slightly thick.
Add condensed milk and mix. Add saffron, mix and cook till the mixture thickens a little more. Pour into individual bowls. Garnish with mixed nuts and serve warm or chilled.
Pour into individual bowls. Garnish with mixed nuts and serve warm or chilled.
A little more about Gujarat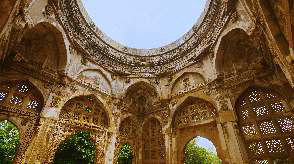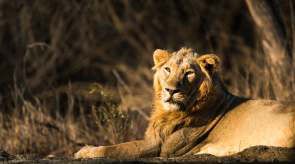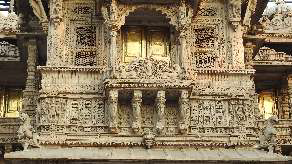 From history to archeology, salt flats to wildlife, cuisine to culture, Gujarat is one of India's richest states. Sasan Gir Wildlife Sanctuary, covered with craggy hills, heavily forested valleys, sprawling grasslands and picturesque hills, is home to the magnificent Asiatic lion. The sanctuary also supports a variety of other fauna. The Little Rann of Kutch is largest salt pan in the world, and is known as the Indian Wild Ass Sanctuary – the last natural habitat of the Indian Wild Ass. These animals run with the speed of a horse and are one of the sturdiest species in the world! Mingle with locals in villages and get a close look at the local art and craft. Velavadar National Park, once the private savanna of the Maharaja of Bhavnagar, is home to endangered blackbucks.
The Champaner-Pavagarh Archaeological Park is a UNESCO World Heritage Site, and was once the capital of the Gujarat Sultans. Walk the ancient streets that hide footprints from five centuries ago, while you explore the archaeological, historic and living cultural heritage monuments. A much venerated Kali Mata Temple sits on the hill. The Somnath Temple and the Jain Temples of Palitana are also of religious significance. Rani ki Vav in Patan, Laxmi Vilas Palce in Vadodara, and the Gandhi Ashram in Sabarmati should be part of any Gujarat itinerary. Ahmedabad is packed with heritage and cultural must see sights, like the Jhulta Minar, Hatheesingh Jain Temple, and Jama Masjid . The Calico Textile Museum is a repository for antique and modern fabrics. Let us know when we can plan your Gujarat holiday!

See you next week with more on the Spice Trail!